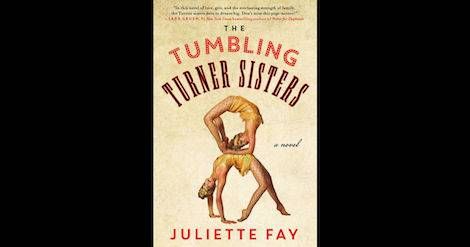 Fiction
Exclusive Excerpt of Juliette Fay's THE TUMBLING TURNER SISTERS
This content contains affiliate links. When you buy through these links, we may earn an affiliate commission.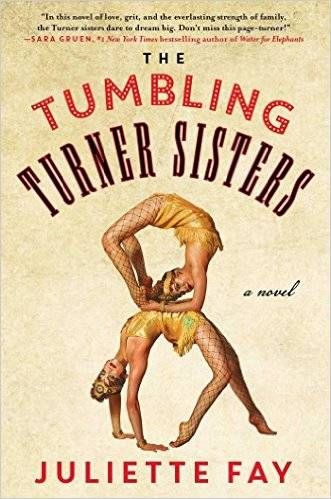 We're happy to have this exclusive excerpt of Juliette Fay's The Tumbling Turner Sisters, a tale of four sisters in 1919 New York who create a traveling vaudeville act to save their family from poverty. Comes out today! Take a look:
---
"If opportunity doesn't knock, build a door." ~ Milton Berle, comedian and actor
The act.
It was Mother's idea, and so of course I hated it. At first.
It was one of the few things we Turner girls had in common: no desire to perform. We were never the types to twirl around or sing as we hung the washing. Honestly, I don't even hum.
Mother, on the other hand, had always wanted to be onstage. Her grand plans for stardom had been tut-tutted away by her parents, then she got married quickly—very quickly—and had Nell right away. She made her bed, is all I'll say about that.
"Gert, the way you turn heads, you'd be the star of any show," she'd whisper in my ear. Of course, there was no money for dance or voice lessons, so she didn't have the means to bully us into it, which she certainly would've done, given the dough. Lord knows Dad wouldn't have stopped her. Then again, Teddy Roosevelt and the Rough Riders probably couldn't have, either.
I'll give her this: she always had her nose to the wind, sniffing out ways to improve our station in life. Once it was aprons fashioned like a cigarette girl's outfit in a swanky dinner theatre. She sewed them in black satin, with cinched waists and darts to make ample room for the bosom. We hawked them door to door, wearing them as we went. "Like models," she said.
I had the most success when a husband answered the door. I'd slide a hand down over my hip and say, "Wouldn't you like to come home to your wife cooking dinner in this?" He'd hand over the dollar, barely remembering to ask for change, and I'd beat a quick exit to the sidewalk, taking care to pinch the boredom from my cheeks before I rang the next fellow's bell.
"Gert's my top seller," Mother announced one night, trying to stir up sisterly competition.
"No surprise," Kit had muttered. At 13 years old and almost six feet tall, Kit's figure didn't exactly lend itself to fashion sales. With her longish face, big brown eyes and unruly brown mane, she looked like a baby giraffe.
As for Winnie, I nearly laughed out loud when Mother found her with a stack of unsold aprons behind a tree, reading a mouse-nibbled copy of Anne of Green Gables.
"What are you doing with that old book?" Mother snapped. "You've read it so many times it's a wonder there's still ink on the pages!"
"That's all right, Mother," I said. "Winnie wasn't selling many anyhow. She doesn't have enough up front to advertise their best feature." Seventeen years old and she was still the size of an underfed fifth grader. Her face had a childish sweetness, but her green eyes always seemed to be squinting at something—a book, her homework, or me when she didn't get my humor.
Mother let her be after that, but did I get any thanks from Winnie? Not a whisper.
Aprons were going like hotcakes (thanks mainly to my sales strategy) until the president of the St. James Ladies' Guild accused Mother of trying to turn Johnson City into one big cathouse. Sales slowed to a dribble. Murderous as a jilted bride, Mother shoved the yards of black satin she'd bought up into the attic. It sat there bunched up like a panther ready to strike.
The idea for the sister act came to her like a brick through the window in September of 1918. Of course it didn't include our oldest sister, Nell. She was married and living in an apartment the size of a hatbox a couple of blocks away, honorably discharged from Mother's army of foot soldiers. To clinch her escape, she'd just given birth to a fat baby boy who, if he wasn't sleeping or nursing, was bawling his brains out. Somehow he was beautiful, though, I suppose simply because he was ours.
A vaudeville act, for cripes sake. How I rolled my eyes at that.
---
Text copyright © 2016 by Juliette Fay. Published by Gallery Books, an imprint of Simon & Schuster, Inc. Printed with permission of Simon & Schuster, Inc.