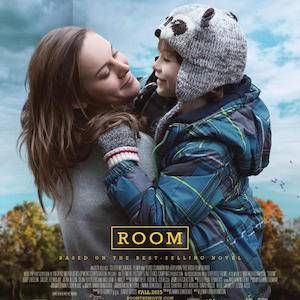 Pop Culture
Exclusive: Emma Donoghue on the Making of ROOM
Big book-to-movie season is nearly upon us, and among the most highly anticipated films this fall is the adaptation of Emma Donoghue's blockbuster novel Room. Courtesy of Donoghue, her publisher Little, Brown, and A24 Films, we're pleased to share this entry from Donoghue's set diary as well as an exclusive video from the set, as Donoghue discusses Jacob Tremblay playing the character of Jack. Room will be in theaters nationwide November 6th. Enjoy!
_________________________
What Was Unusual About Making Room
Even though I went into adapting ROOM for the screen in an excited spirit, in the back of my mind I couldn't help thinking: Watch out for the knife in the back. Just about every film or TV show I've seen about writer-goes-to-Hollywood, from Barton Fink toThe Player to the hilarious Episodes, replays this darkly comic plot of a naively optimistic novelist or screenwriter being seduced, then destroyed, by a voracious film industry.
Instead I had the time of my life.
It could be that ROOM was an exception to the rule because the way I got involved in it – working over several years with an Irish film company, instead of selling rights outright to a big Hollywood studio – kept it very participatory. But during the film shoot, I came to realize that there were several other very unusual things about this production.
To start with, in order to help our eight-year-old star Jacob orient himself and figure out how five-year-old Jack would be in each scene, ROOM was filmed to a great extent in chronological sequence. This is a great luxury, and very rare. Several of the adult actors told me that knowing where they were in the journey of their character and the film as a whole made it much easier for them to know how to tackle any given scene. It also meant that the shoot mimicked the storyline: the first half was entirely done in a studio, inside the eleven-by-eleven-foot set of Room itself, which produced a cloistered kind of intimacy. I think we all missed that, when it was finally time to leave for a messier, crazier Outside, with Canadian winter weather and passersby. As the Producer put it, 'Once we're out in the world it's all up for grabs.'
The age of our child star also imposed strict time limits on how many hours he could put in, and – because every scene in the film involves him – there wasn't much that could be done without him, so that limited the working hours of everyone else too, and prevented really anti-social timing (no midnight shoots), which was appreciated by everybody. The whole shoot was relatively long – two and a half months – which allowed us to settle in and get to know each other.
I also think that ROOM's child-centred storyline made what you might call child-friendly values dominate the whole production. By that I mean that I saw no outrageous ego-tripping: the actors and crew all had to be a friendly team, and patient about the stops and starts and flexibility that working with a young actor requires. (Mind you, Jacob was such a consummate, no-tantrum professional that he didn't strain anyone's tolerance. My eight-year-old daughter, visiting the shoot, pointed out in a delighted whisper that they were having to do another take because one of the adult actors, rather than Jacob, had forgotten her lines!)
It was hard for me to get the hierarchies straight in my head when the most important people behaved so unpretentiously: our Producer kept arranging me rides to the train station so I wouldn't miss my kids' arrival home on the school bus, and our lead Star (Brie Larson) changed the milk carton in the coffee machine for me after I'd stood like a complete idiot for several minutes listening to it gargle and choke.
Something else that was distinctive: Lenny got Jacob to improvise both verbally and physically, to maximize the warmth and playfulness of Jack's bond with Ma in Room. This established a really naturalistic feel and spilled over into scenes between adults too. As the screenwriter and author of the book, I was amazed to find how much I enjoyed watching these inventions, rather than twitching and thinking Stick to my script!
_________________________
[youtube]https://www.youtube.com/watch?v=MWC_w4PcP0E[/youtube]