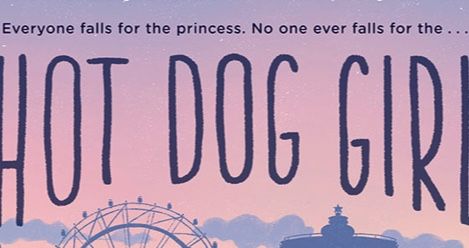 This content contains affiliate links. When you buy through these links, we may earn an affiliate commission.
If you're a listener to the Hey YA podcast with me and Kelly Jensen (if not, there's still time to fix that), you've probably heard me in absolute stitches every single time I've brought up Jennifer Dugan's debut YA novel, Hot Dog Girl.
From the moment I heard about the book, back when it sold, I knew I wanted to read it just from the single sentence blip in Publisher's Marketplace. Everything about this awkward love story has me screaming for an early read. Hint, hint, Putnam.
And I'm so excited to have the exclusive cover reveal here, for you Book Riot readers. Here's a blip about the book from the publisher:
Elouise (Lou) Parker is determined to have the absolute best, most impossibly epic summer of her life. There are just a few things standing in her way:
She's landed a job at Magic Castle Playland…as a giant dancing hot dog.
Her crush, the dreamy Diving Pirate Nick, already has a girlfriend, who is literally the Princess of the park. But Lou's never liked anyone, guy or otherwise, this much before, and now she wants a chance at her own happily ever after.
Her best friend, Seeley, the carousel operator, who's always been up for anything, suddenly isn't when it comes to Lou's quest to set her up with the perfect girl or Lou's scheme to get close to Nick.
And it turns out that this will be their last summer at Magic Castle Playland—ever—unless she can find a way to stop it from closing.
Still, Lou's absolutely positive she's just one good plan away from getting this summer back on track.
I emailed Jennifer Dugan about the cover to this hilarious sounding novel, and why she'd write a novel about…well, a girl dressed up as a hot dog.
Hot Dog Girl is really a love letter to teens who felt the way I did when I was younger. Growing up, I didn't have access to books where queer characters, especially queer girls, ever got to be the ones having all the great adventures.
If they were present, they tended to be relegated to side characters or struggling their way through tragedies—oftentimes ending up dead in the process. I would have loved to see someone like myself in a light-hearted romance, so I decided to do a little wish fulfillment—I cobbled together everything I loved about being a teen, along with everything I hated, and Hot Dog Girl was born: a romcom about a bi girl who's a little bit of a mess, trying her hardest to have the best summer of her life.
The main character, Elouise Parker, is navigating some really complicated family and friendship dynamics throughout the story, which I wanted to explore within the framework of an epic summer romcom. It seemed real to me that way, since the teenage years can be such a time of upheaval as we struggle to figure out who we are and who we want to be.
I love the way this cover captures the essence of her story. From a design perspective, I was excited to see how the artist was able to incorporate the bi pride colors into the finished look. And I love that we get to see Elouise front and center in the hot dog suit…but we also can see just how much is going on around her—not only with her friends and coworkers, but also with the amusement park itself (which plays a crucial role in her story).
Elouise isn't a perfect person. She doesn't have everything figured out, and she makes a lot of choices that make her life more complicated when she's actually trying to make it easier—but she's a good kid…and great hot dog.
The novel hits bookstores everywhere via Putnam in April, and you better believe I already have a pre-order in. And now, the cover.