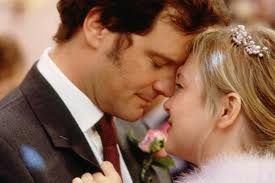 I hope someone else on the internet already told you this (because it blows to be the one having to break bad news), but if you haven't heard, Mark Darcy from Bridget Jones' Diary is dead. The Sunday Times recently broke the news that in the third installment of Bridget's adventures Bridget Jones: Mad About the Boy, Bridget Jones will be a widowed single mother. WIDOWED FROM MARK DARCY. WHICH MEANS MARK DARCY IS DEAD.
I want to slap Helen Fielding's British butt with a wrongful death suit for killing off Mark Darcy. That should be a legal thing I'm able to do. Look, I get when a character's death contributes to a story (see: every time a character dies on Buffy the Vampire Slayer). But how can ANYTHING GOOD come from killing off Darcy? Without having read the third novel (it comes out October 8th), I don't see how killing off Colin Firth in a dorky Christmas sweater with a dripping wet shirt underneath Mark Darcy can be considered anything but a cataclysmic mistake.
As follows, my eulogy for Mark Darcy:
Dear Bridget Jones Readers,
We are gathered here to mourn the loss of our dear friend and masturbation fantasy Mark Darcy. Mark Darcy was a character that was delicious in his specifics, from the dorky Christmas sweaters his mother made him wear every year at that awful turkey curry buffet to the tales of the paddling pool from his younger days. At first we thought Mark was full of himself and completely rude (but handsome, and also a lawyer, which in the UK they call a barrister, so double handsome) but we, like Bridget, eventually fell under his spell of Magical Awkward Handsomeness. Over the years, Mark Darcy has done so many, many, many handsome things. Remember when he got Bridget that exclusive on-air interview with a client he was defending? Or when he rescued her from Thai prison? Or when they were broken up and he accidentally ran into her naked in the dark hallway of his home and he was scared to death and then he told her he loved her and they got back together? Or when he told Bridget he liked her exactly as she was JUST LIKE A BILLY JOEL SONG? Do you remember all of that? I remember, I remember all of it… in my dreams!
Mark Darcy was a dream man precisely because he felt like a real man. He wasn't a debonair secret agent who wrote free-verse poetry and taught first graders how to ride bicycles in his spare time. He was super smart and handsome, but awkward and reserved, and could be both stupid and blunt, and still managed to always get it right at the end (We all remember when he told Bridget's mom over the phone that Bridget "was coming" and then dropped the phone into the water glass, right? Because I for one WILL NEVER FORGET IT UNTIL I AM DEAD LIKE MARK DARCY.)
Death is a fact of life but it is not a fact of fiction. We do not have to see our favorite literary characters die. They can remain frozen in time looping around and around the cycles of their stories. Laura Ingalls will always be headed west in a covered wagon, Harry Potter will always have that lightning bolt scar on his forehead. If a character doesn't die in a story, a character just doesn't die and we all accept this. Even when a beloved character does die, an author can choose to bring him back to life, and not only do we accept this, we RAISE THE ROOF in celebration (see Sherlock Holmes and Reichenbach Falls). But when an author kills a character, we have no choice but to mourn. Yes, Mark Darcy is alive in Bridget Jones' Diary and Bridget Jones: The Edge of Reason, and he will always be alive in these novels. But he is dead in Bridget Jones: Mad About the Boy. And he will always be dead in this book.
I do not believe it was Mark Darcy's time. I believe Darcy had so much more awkwardness and handsomeness to contribute to this world. I am saddened that we were only allowed to know Mark Darcy for two novels (and two movies, if you count movies). I know we only got his predecessor Mr. Darcy for one book (and we have milked that cow HARD). But I wanted Mark Darcy for three books. I just wanted him for three books.
Goodbye, Mark Darcy. We'll always have the novels in which Helen Fielding was smart and made you alive. And internet fan-fiction. And my dreeeeeams.
What about you guys? Who else is mourning the loss of our dear, dear, dear, Darcy?
_________________________
Sign up for our newsletter to have the best of Book Riot delivered straight to your inbox every two weeks. No spam. We promise.
To keep up with Book Riot on a daily basis, follow us on Twitter, like us on Facebook, , and subscribe to the Book Riot podcast in iTunes or via RSS. So much bookish goodness–all day, every day.