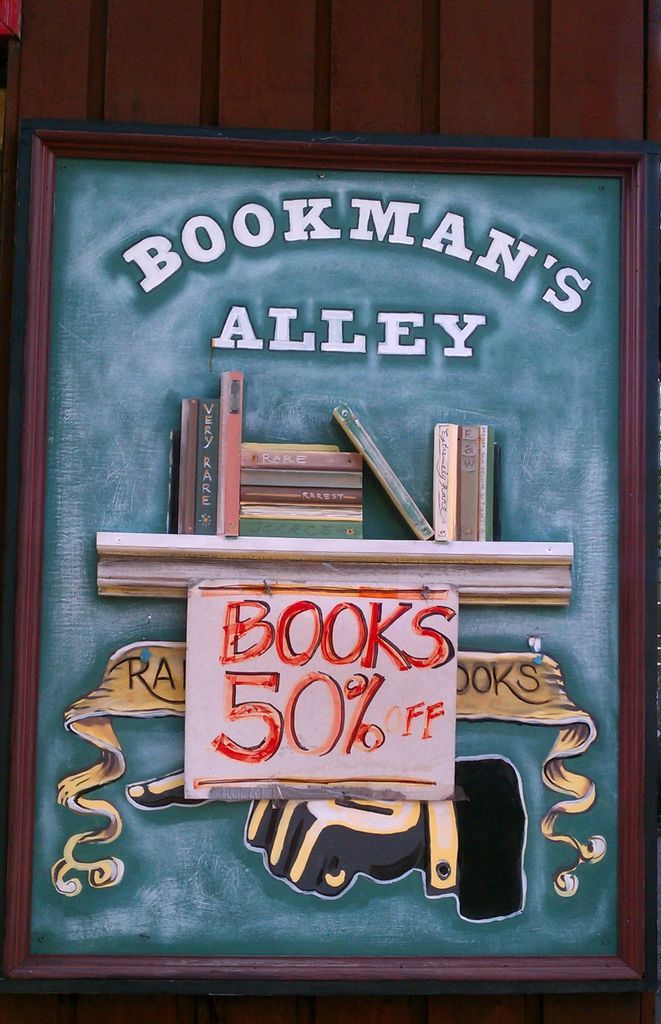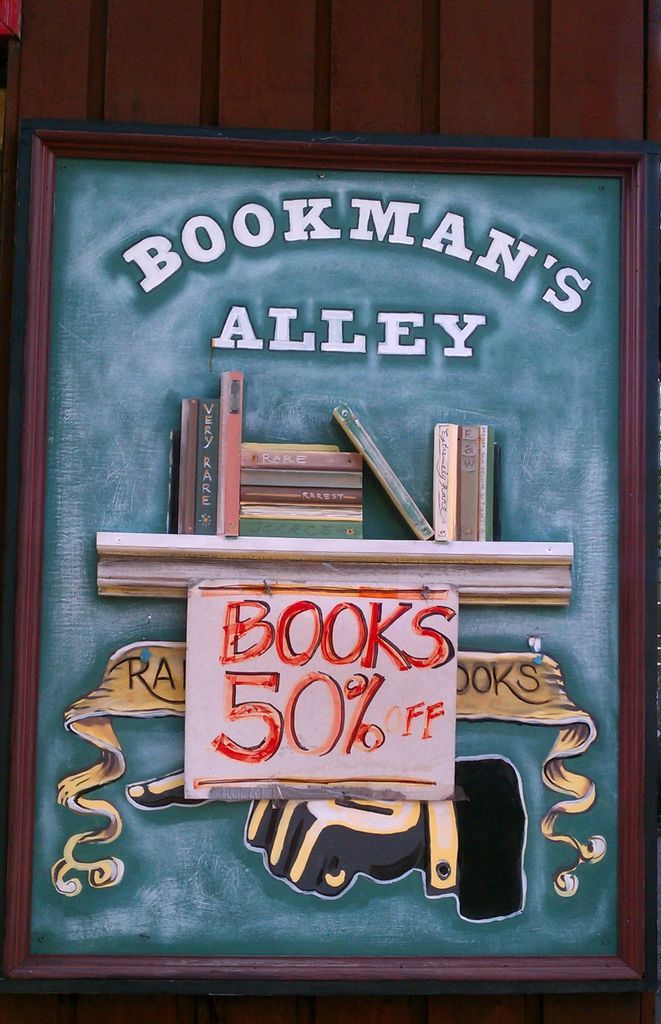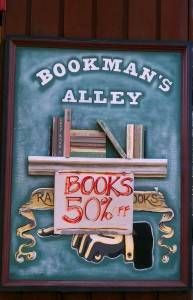 It's the kind of place you happened upon, or maybe heard about from a friend. Tucked in an alley, it seems as though it was designed to be discovered, to make you feel that serendipity and the gods of good reading guided you there. Its rambling rooms were packed with bookshelves–themselves stuffed floor to ceiling–tables, and cabinets displaying vintage art, old photographs, and an impossible-to-catalogue collection of miscellany. It was a bit dusty, in the way that the best bookshops are, and damn if it didn't smell like heaven.
I first visited Bookman's Alley in Evanston, IL in the first semester of my freshman year of college. I'd taken the train up from Chicago with a few friends, and as we strolled down Sherman Street, one of us (I like to think it was me) spotted the sign. We stopped in for a quick peek, which turned into hours of browsing and whispering to each other about our finds, and I bought a seemingly ancient copy of The Scarlet Letter. I think it cost six dollars–couldn't have been more than ten on my college student's budget–but it was gorgeous, and the thought of it on my shelves made me feel like a million bucks.
Bookman's Alley quickly became a destination and a necessity. My then-boyfriend (now my husband) and I whiled away winter afternoons soaking up its warmth, picking out books for each other, sharing quiet conversations about our favorites, and relaxing into the comfortable silences that develop as a relationship deepens. For my money, there's no better place to learn to be silent together than a bookstore.
We fell in love with Bookman's Alley as we fell in love with each other; it is a piece of both of our personal histories and a shared landmark. So we were sad to find it closed–not for good yet, but for the day–when we visited Evanston earlier this week. I had read recently that it would be closed by the end of July, and I hoped we'd get to spend one last hour taking time-worn volumes off the shelves, not knowing until we opened them whether we were holding a two-dollar copy of a forgotten novel or a two-hundred-dollar volume of a cared-for classic. I hoped for one final conversation with the owner, who was always friendly and knowledgeable as he presided over the store from a desk in the sunlit entry room. I hoped for one more quiet kiss between the stacks. I hoped to make one last memory.
Instead, when we tried the door and found it locked despite the hour being earlier than the posted closing time, we shared a moment of silence and murmured a bit about what the store meant to us. Now that I've had time to reflect on it, I'm almost glad we weren't able to go in. It would have been sad to see shelves that were once overflowing near-empty, difficult to conjure the glow of nostalgia while taking in the end of a place that has meant so much to me. This way, whenever I think of Bookman's Alley, I will think of it as it was that first autumn day. And if the owner can't know what he gave us personally, I hope he knows that he gave countless readers a great gift with his beautiful store. It will be missed.