Lists
Essential Armenian Literature
This content contains affiliate links. When you buy through these links, we may earn an affiliate commission.
So if my name wasn't a dead giveaway, I'm Armenian. Well, half Armenian anyway. I'm also proudly half Polish. However, I think my name has always steered me towards the Armenian side of my heritage, at least in regard to reading material. There's a wealth of brilliant Armenian writers, and many of them are easily identifiable by the tongue-twisting surnames that end in I-A-N. Obviously, as a contributor to Book Riot, I wouldn't be doing my job if I didn't share the wealth.
The Sandcastle Girls, by Chris Bohjalian
This work of historical fiction is remarkable in that it catalogs the atrocities of the Armenian Genocide without making the story overbearingly depressing. Personally, I sometimes struggle to get through writing that pushes an issue nonstop, but Bohjalian manages to write a riveting tale that spans multiple generations while simultaneously examining the horrors conducted by the Ottoman Empire. The characters are easy to relate to and the pacing is perfect. For a young Armenian lad such as myself, there were also plenty of moments where I let out a soft chuckle at Bohjalian's lighthearted jokes about Armenian stereotypes and cultural misconceptions. However, be prepared for moments that will induce that horrified hollow gut feeling as well. Bohjalian discusses the Genocide with candor, and certain passages will leave you feeling haunted.
The Cuisine of Armenia, by Sonia Uvezian
If you want a lifetime's worth of Armenian culinary treasures, you have to purchase this cookbook. Uvezian's recipes go well beyond lamb and baklava. We're talking over a twenty recipes for rice pilaf alone. Oh yeah, and over 100 pages loaded with meat entrees. Add a stockpile of recipes for appetizers, soups, salads, sauces, desserts, beverages, and candies and you'll never have to think about what to make for dinner again. (And if any haters are thinking "hey, cookbooks aren't literature!" I challenge you to read this one and try and define it as anything else.)
Black Dog of Fate, by Peter Balakian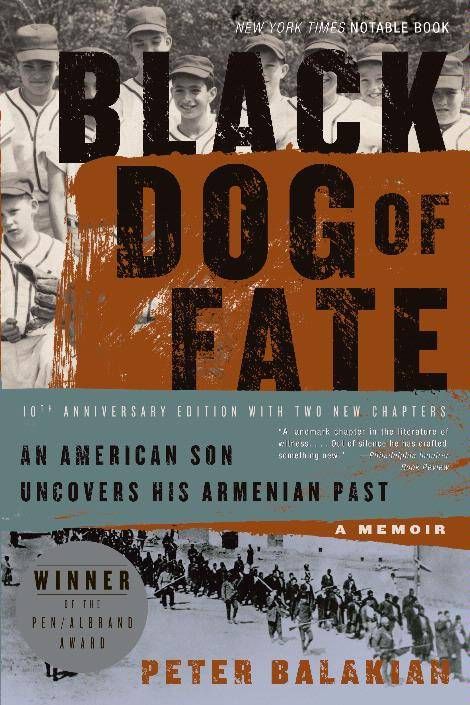 Balakian's memoir tells the story of his youth, growing up as an Armenian in the 1950's and 60's. I think what Balakian truly hits upon (and Bohjalian does this brilliantly as well) is the bizarre onus felt by Armenian Americans that are a generation or two removed from the Genocide. This makes for interesting anecdotes about growing up in a tumultuous era, but he balances it out with astute historical examination. In this way, we see Balakian go through childhood, adolescence, and young adulthood as he continues to understand his heritage in new contexts. Balakian not only illuminates us to his personal growth, but to the evolving ways in which he interacts with his culture.
Rise the Euphrates, by Carol Edgarian
I haven't had a chance to read this one, which is a big gap in my Armenian reading. This is another multi-generational story (seeing a trend here?) that follows three Armenian women through the 20th century. I think Armenian writers cover lengthy spans of time to show the long term trauma caused by the Genocide. In many ways, the Armenian population is still recovering, trying to reclaim our sense of identity. That is not to say that Armenians do not have a profoundly esoteric culture, but when half the population is systematically eliminated and that subsequently causes en masse diaspora, it takes a while to fully feel at home. (It doesn't help when people try to say your name as if you're an extinct exotic bird either) This one has been on my TBR for a while and I'm sure you'll hear more from me once I've picked up a copy.
My Name is Aram, by William Saroyan
You're damn straight this book is one of my favorites. An old beat up copy of this book used to sit on my parents' bookshelf. (Now it's on mine) It always made me happy to see my name written on it. These stories focus on Armenian immigrants in Fresno, California, making it a little easier to approach than some of the other books I've selected. Each story is written in the same elegant, transcendent, candid tone that is typical of canonized American writers such as Ernest Hemingway or John Steinbeck. I didn't actually read it until I was in college, but Saroyan's stories are lighthearted, capturing Armenian culture with clean, timeless prose. There's a reason Saroyan inspired writers like Jack Kerouac and his son, Aram Saroyan.
The Forty Days of Musa Dagh, by Franz Werfel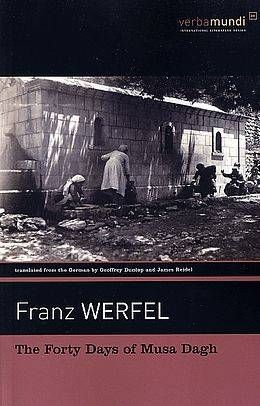 Published in 1933, this big book helped illuminate the world to the Armenian Genocide. This tome is enormous, coming in at over 900 pages. However, Werfel accomplishes a lot in this epic space, not only by documenting the Armenian Genocide but also by foreshadowing the Jewish Holocaust, which is remarkable because the book was written well before World War II. This has made Werfel a hero in the eyes of many Armenian and Jewish communities. I remember my dad and grandpa talking about this book when I was little. I always envisioned Mount Ararat as this behemoth of earth with a giant ark resting at its summit. (Use the center of the Armenian Coat of Arms for reference) David R. Godine just reprinted this book in 2012, making it easy for ya'll to snag a copy. This might be one of those great used bookstore finds too.

____________________
Expand your literary horizons with New Books!, a weekly newsletter spotlighting 3-5 exciting new releases, hand-picked by our very own Liberty Hardy. Sign up now!