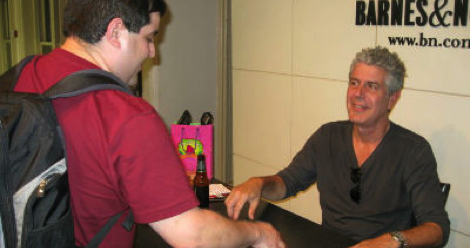 Lists
The Essential Anthony Bourdain Reading List
This content contains affiliate links. When you buy through these links, we may earn an affiliate commission.
People were pretty shaken by the news that Anthony Bourdain had died. Whether they had watched him on one of his several TV shows, had eaten in one of his restaurants (or one that he recommended), or read any Anthony Bourdain books, many felt as though they had lost someone close to them. The way my ex-boyfriend described it, Bourdain was a guy you felt like you could have a beer with, one who would welcome you to his table and make you feel like an old friend until the food ran out.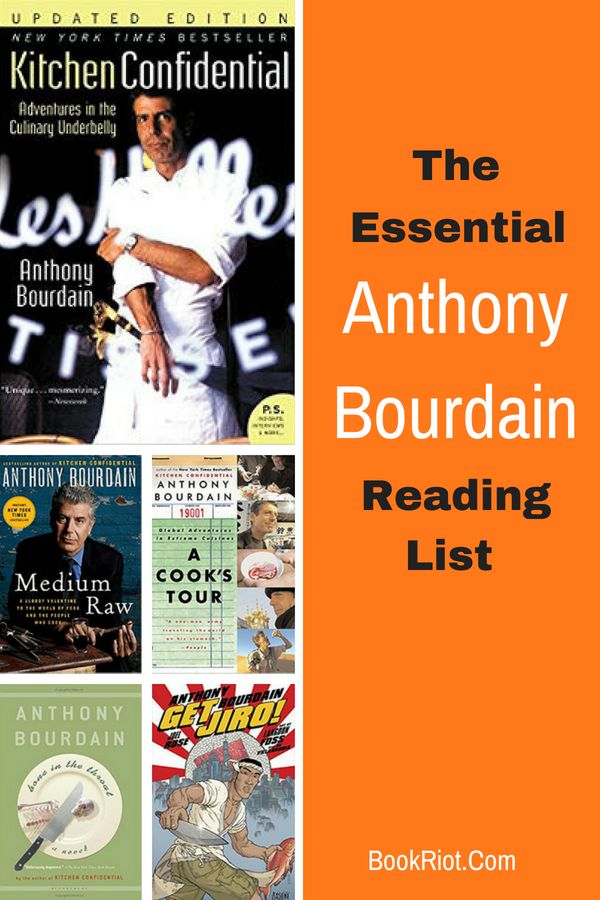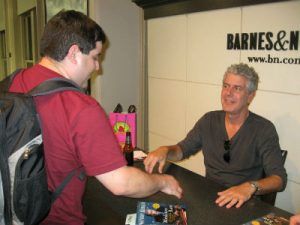 I've met a lot of authors. Bourdain is on that list, but I didn't go for me. I went for that same ex-boyfriend. It was my first trip to New York, and we stood in line at the Union Square Barnes & Noble to get signed copies of the paperback of Medium Raw. This was a first for him. Before that, he had never understood how I could stand in line to shake a hand and get a signature. Now, he got it. I had never seen him so excited to meet another human being, even if just for a moment.
Even though he'd already read the book, he started reading it again that night. For weeks, he would read it out loud to me in the evenings before we went to sleep. I'm not a memoir reader, but I could instantly see the appeal of Anthony Bourdain books. And I appreciated it because it made me understand my ex-boyfriend in a way that I never had before. You could say that, for a time anyway, Bourdain brought us closer together.
For all of you who had never read one of his books (or had one read to you), now seems the perfect time to connect to uniquely talented Anthony Bourdain.
This collection of strange and wild, but completely true, stories from Bourdain's extensive restaurant experience was updated in 2007. These are stories that first grabbed the attention of readers everywhere because they were so very real. Anyone who has ever worked in a restaurant was able to relate, and while they may have had stories to rival Bourdain's, it is all but guaranteed they couldn't tell them with the same sardonic wit. That was just one of the things that made Bourdain stand apart.
I'm not sure how much of a historian Bourdain was on the whole, but when you have a seedy story about a cook who spread disease throughout the greater New York area during the early 1900s, it only makes sense that he would be the one to tell it. I've heard the story of Typhoid Mary from the legal and healthcare perspectives, but getting it from a cook, especially one with the natural storytelling abilities of Bourdain, gives a whole new life to the story. (P.S. It's harder to find this one in print, but it is readily available as an ebook).
According to the publisher's description for A Cook's Tour, "the only thing 'gonzo gastronome' and internationally bestselling author Anthony Bourdain loves as much as cooking is traveling." When asked to describe the perfect meal, Bourdian set out on a journey around the world to taste—to experience—all that it had to offer. The result was this book and 35 episodes of a show by the same name on the Food Network. He would go on to have 3 more shows—No Reservations (which has a companion book, too) and The Layover on the Travel Channel, and Anthony Bourdain: Parts Unknown on CNN.
This book earned Bourdain comparisons to Hunter S. Thompson. Call it a brutally honest love letter to some of the biggest names in the food world, one that doesn't pull any punches. That wit comes through again, tempered by a sincere appreciation for those who have made food the center of their world. They can take the heat. If they couldn't they wouldn't be in the kitchen.
In between Kitchen Confidential and Medium Raw, Bourdain wrote another memoir called The Nasty Bits: Collected Varietal Cuts, Usable Trim, Scraps and Bones, a collection of stories from his travels to every corner of the world.
Not a lot of people know that Bourdain tried his luck as a mystery writer. This story involves a chef who ends up working at his mobster uncle's restaurant in Little Italy. His kitchen turns into a murder scene, and he has to find a way to keep alive and out of trouble. The novel garnered comparisons to Prizzi's Honor. There are two other Bourdain mystery novels with a mob theme, but alas, it's not a series. Check out Gone Bamboo and The Bobby Gold Stories.
Written with Joel Rose and illustrated by Langdon Foss (the first book) and Ale Garza (the second), the two graphic novels blend three of the things that that Bourdain loved best—cooking, Japanese food, and organized crime—and puts them in a format that appeals to a whole new (and younger) audience. Later this year, Bourdain fans will be treated to another graphic novel, this time a food-themed, Japanese-flavored horror anthology called Hungry Ghosts. It's available now as a pre-order.
Which Anthony Bourdain books do you recommend?