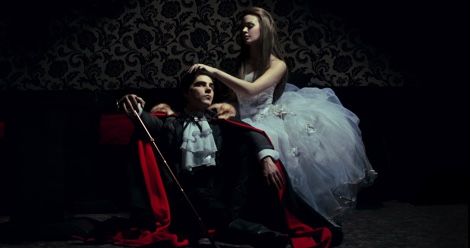 Horror
15 Erotic Horror Titles to Titillate and Terrify
This content contains affiliate links. When you buy through these links, we may earn an affiliate commission.
I count myself among those readers who want a horror romance sub-genre. Why doesn't one exist already? Both horror and romance focus on emotions, and the very best works of each genre hinge on a catharsis of some type. We do have more luck finding erotic horror works. After all, what we find arousing and we find terrifying often get labeled as taboo. Or maybe, as Patricia Elzie-Tuttle points out in this post on horror erotica of the '80s and '90s, it's just all too easy to sexualize that classic horror monster, the vampire.
Patricia also points out the downside, however. The heyday of erotic horror books seems to be behind us. Bummer. But as I delved deeper, it's not so much that there aren't any erotic horror novels coming out. It's that you need to look beyond mainstream publishers to find them.
Since erotic horror works often push against the limits of our comfort zones, I want to offer a blanket content warning for all the titles included on this list. There will be consent issues. There will be graphic violence. There will be sexual themes that shock you. Some of them blend discomfort with titillation. That's kind of the point.
Erotic Horror Anthologies and Collections
If you're new to the idea of erotic horror, like any new genre in general, I find anthologies to be a nice way to see what's out there. Less investment than a full-length novel, and multiple short stories allow us to discover several authors at once.
An anthology that features some very recognizable names from the '80s and '90s mainstream horror boom, the short stories here pushed what we considered traditional genre boundaries at the time. Our definitions of what is horror and what is sexual may have changed in the decades since this anthology was first released, but I believe it's always good to see where the sub-genre has been to give us an idea of where it's going.
Love in Vein edited by Poppy Z. Brite
I mentioned vampires earlier. Of course I'd include an erotic horror anthology about our favorite bloodsucking monster. This book, along with the second volume Twice Bitten, explores how vampires continue to embody both horror and sex.
We all love our gothic horror here, right? Given the sensual undercurrents that usually run through those tales, an anthology of gothic-style erotic horror was a foregone conclusion.
Contrary to what the title may imply, you won't find graphic tentacle sex here. Sorry if that disappoints you! (Keep perusing this list if that's what you're looking for, though.) What you will find are short stories inspired by the Lovecraftian mythos, told in a variety of styles ranging from hardboiled detective noir to Victorian-style erotica.
Unlike the other titles in this section which feature works by several different writers, The Book of a Thousand Sins present short stories by a single author. White is one of the better known splatterpunk horror writers out there, so be prepared for some disturbing and nihilistic reads. What makes his writing especially uncomfortable is that they take you to the depravities that can lurk in the human mind and leave you there.
Erotic Horror Novels
When I think of modern erotic horror, I think of R. Lee Smith. If you've never read one of her novels, be prepared. They're intense and will leave you with a book hangover when you're done. And I mean that in the best way possible. All her works combine the erotic and the horrific, but I chose this one because it firmly belongs to both those genres. Pop culture has given us various concepts of what the Scholomance is, but the original folklore holds that it's a legendary school of black magic run by the Devil. This novel goes back to those roots and follows an unusual young woman who goes to the Scholomance to find her missing friend.
Obsession runs through the pages of Taylor's Stoker award-winning novel. Sex-addicted heroine Val searches the world for fulfillment but seems unable to find it. When she hears about The City—where you can experience every pleasure and perversion beyond imagining—she embarks on a quest to locate it. Unbeknownst to her, however, a former lover stalks her steps. The kicker? He's a serial killer.
If you're really hankering for some tentacle sex, here you go. Told in epistolary format, Tuesday Apocalypse drops us into the diary of Sister Barbara, a volunteer nurse at a London hospital during World War II. But when she pulls a beautiful survivor from the wreckage of an airplane explosion, things begin going terribly wrong for the patients under her care.
The cover copy for this dark erotica is a bit misleading. A woman with a secret? Someone sending her letters claiming to know what it is? We're familiar with this premise. Except All of Her Men turns that set-up on its head. It turns out the secret, and this isn't really a spoiler because you find out in the opening pages, is that our main character's secret is that she's a serial killer.
First published in the early 1990s, Faust's novel introduces us to Caitlin McCullough, a beautiful crime writer whose investigation into a grisly murder leads her to the (then) underground world of BDSM. Her quest for the truth brings her closer to the murderer, but it also unveils some truths about herself.
An example of splatterpunk horror that combines sex, depravity, and extreme horror, This Symbiotic Fascination is, at its core, a novel about what can happen when we let our darker impulses get the better of us. If you're looking for a story featuring characters to root for, look elsewhere. People in this novel do terrible things and make awful choices, yet you somehow can't look away. Believe me, you'll cringe but you can't look away.
If you're hoping for a little more romance amongst all the darkness and horror, this book should hit the spot. Don't get me wrong. It features some key horror elements: a small town deep in the woods, a creepy cult, and an abandoned asylum. But the novel focuses on the relationship between Solomon, a man who's moved back to town to take care of an old woman, and Chaos, a woman who's been sent to recruit him for her religious cult's purposes.
Demons and magic rituals should be a staple of erotic horror, yes? Starblood delivers on that score. A young magician desperately wants his ex-girlfriend back and will do anything to achieve his goal. So he summons a demon to help him. As you do. Unfortunately, he summons Lilith instead. Yes, that one. As you can surmise, Lilith is unimpressed by this mortal who thinks he can control her and decides to wreak havoc instead.
Right about now, you might be asking where the vampire erotica novels are on this list. What? A couple anthologies aren't enough to slake your thirst? (See what I did there? Voice of the Blood introduces us to Ariane, a grad student who's a little bored with life. No worries, though. She meets a vampire and her life takes a decided turn. If you're looking for romanticized vampires, you won't find them here. Jefferson's vampires are monstrous.
Erotic Horror Manga
You knew this was coming, right?
If there's one thing hentai manga (aka pornographic manga) has cemented in our brains, it's the subcategory of tentacle sex. Despite the dinosaur erotica boom of a few years back, tentacles probably remain the most well-known of the monster erotica sub-genre. The most infamous of these stories in the manga realm is probably Urotsukidoji, because its anime adaptation shocked Western audiences by proving that animation absolutely does not have to be for children. While the anime diverges a lot from the source material (and I do mean a lot), I include the original manga here for its historical significance. The premise is simple: a human-beast hybrid named Amano Jyaku is sent to the mortal realm to find a supremely powerful god of the Demon Realm who is hiding in the body of a human. Alas, his mission is further complicated when other groups come looking for the demon god too.
---
So, there you have it! Some erotic horror titles to check out. If you have further suggestions, feel free to drop them in the comments. Or, if you've decided erotic horror is not your thing but you'd still like some other erotica recommendations, be sure to check out this list of 50 must read erotic fiction.