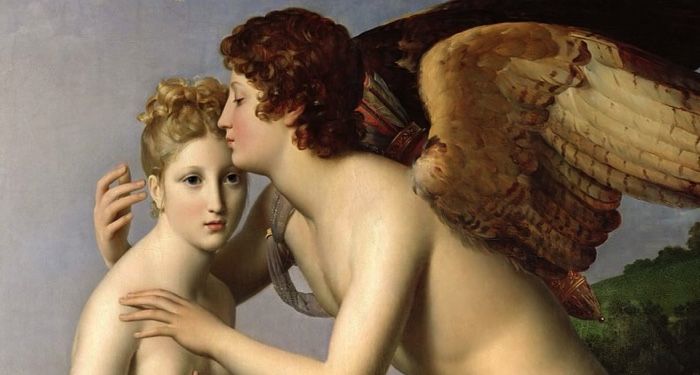 Lists
8 Lovestruck Eros and Psyche Retellings
This content contains affiliate links. When you buy through these links, we may earn an affiliate commission.
Of all the Greek mythology tales, of which there are many, the story of Eros and Psyche is my favorite (yes, even over Eurydice and Orpheus, which puts my heart in my throat every time I reread it). So let's talk Eros and Psyche retellings.
For those in need of a refresher, Eros (or Cupid, as the Romans named him) is the son of Aphrodite. Psyche is a young woman so beautiful that her community believes her to be Aphrodite personified and, to her horror, begin to worship her instead. This, uh, pisses off Aphrodite a whole lot, so much so that she orders her son to make Psyche fall in love with the most hideous creature on earth as punishment. Her father discovers that the only way to appease the gods is to tie his daughter up to a rock and let said creature carry her off. Except there is no creature: there is only Eros, ready to do his mother's bidding until he sees Psyche and falls deeply in love with her.
He has her taken to his palace, where Psyche spends her days alone, and spends her nights in the dark with Eros, who's forbidden her to look at him in the light. This holds true until Psyche's sisters come to visit. Jealous as they are of her good fortune, they convince Psyche that she's indeed married a hideous monster, and she needs to see his face to be sure.
And so curiosity wins her over: she stands over her sleeping husband with an oil lamp, expecting a monster, and finds a gorgeous man. She accidentally drips hot oil on him, and when Eros wakes to find that she's ignored his request, he leaves her. Devastated, Psyche turns to Aphrodite for help, who will only give it if Psyche performs three impossible tasks, the third of which causes Psyche to fall into a deep, endless sleep. Eros finally steps in to save Psyche, and they get their happy ending. I am paraphrasing a whole lot, and for a deeper look at the story, please read Madeline Miller's summary, and pray that she eventually does her own retelling of this deeply romantic myth.
Let's take a look at some modern retellings of Eros and Psyche's love story. There is a little something for everyone on this list, from classic retellings to introspective adaptations to steamy romance.
Eros and Psyche Retellings
---
There are many fresh angles on the story of Eros and Psyche to help you appreciate the facets of their tale. For more retellings of classic Greek stories, check these out: