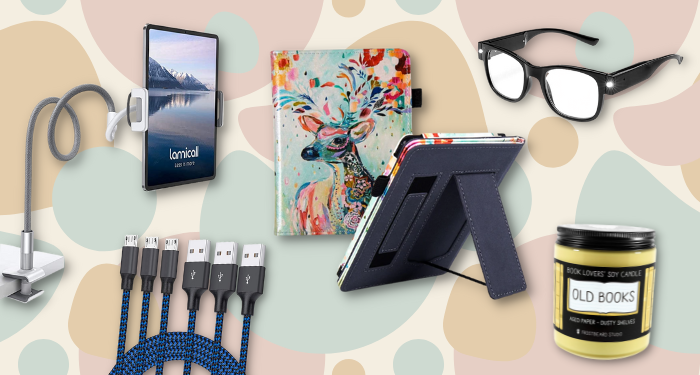 Book Fetish
Ereader Accessories For The Avid Readers In Your Life
This content contains affiliate links. When you buy through these links, we may earn an affiliate commission.
Now that it's December, the end-of-year holidays are officially here. Winter gatherings often have two components: food and gift-giving. I love ebooks, and I treasure my ereader. While I know better than to put it in my "desert island" go-bag, it goes almost everywhere else with me, so I am always on the lookout for things that may make my ereading life flow more smoothly. It turns out there are a lot of ereader accessories!
Personally, I prefer an ereader that uses e-ink instead of a backlit one (the more tablet-style, like iPads, etc.). I find they're easier on my eyes, and I can read on them longer without fatigue. It does mean, though, that I need a separate light source, and I've found some of the best options below.
Odds are, there's someone on your holiday gift list who has an ereader. If so, they're likely also on the lookout for ways to perfect their reading experience.
I've organized this list of ereader accessories into rough categories so that you can easily choose the accessory that will best suit your recipient. There are holders, stands, chargers, lights, screen protectors, and more!
This side-bound combo cover/stand is excellently engineered. I like that the stand is on the inside of the front cover. Genius, and comes in many different color options. $15 at Light in the Box.
---
With that, I wish you and yours a very happy and book-filled holiday season! Don't forget the hot cocoa!