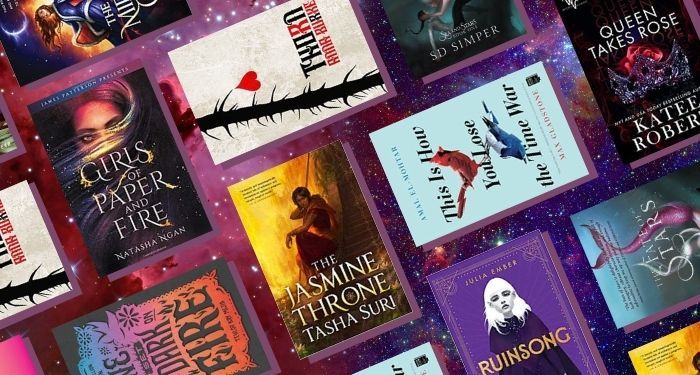 LGBTQ
Oh Yes, It's Ladies Fight: 10 Fiery F/F Enemies to Lovers Fantasy Books
This content contains affiliate links. When you buy through these links, we may earn an affiliate commission.
Sometimes you're in a really particular reading mood, and an F/F enemies-to-lovers fantasy novel is the only book that will do. I get you. Fantasy novels are an ideal setting for the enemies-to-lovers trope, because there's a lot of hay to make with what fantastical elements breed enmity. Rival magic-using factions. Curses that go back generations. Two people questing for the same mystical object with differing motivations.
And if you're in the mood for that relationship to be sapphic, I get you. Again, fantasy novels can be great settings for WLW relationships, as the stories don't necessarily have to be saddled with the hardships and obstacles that can befall earthly characters. One of the beauties of queerness is the freedom to create relationships in imaginative ways. And imbuing a sapphic relationship with magic is a beautiful notion, mirroring the real-life magic inherent in queerness.
So this list aims to exhibit some of the bounty available to lovers of F/F enemies-to-lovers fantasy novels. You'll find both YA and adult books among these choices. A word of warning for the romance readers: this isn't a list of fantasy romances. No HEAs guaranteed! If that's what you need, believe me, I respect it! I'll send you over to my list of queer fantasy romances. But if you're in for a little uncertainty, and that thin line between love and hate, read on.
---
It's a true wonder to be in the hands of an author who can swing your opinion on a character a full 180 degrees. Those are the best enemies-to-lovers stories: the ones that take you on the same journey as the characters. And I'm well aware that this list could not possibly satisfy the hunger you have for this classic trope. Luckily, there are even more LQBTQ fantasies that rely on it, as well as a bevy of romances contemporary and historical. I wish you a lifetime of characters you love to hate and subsequently love to love.