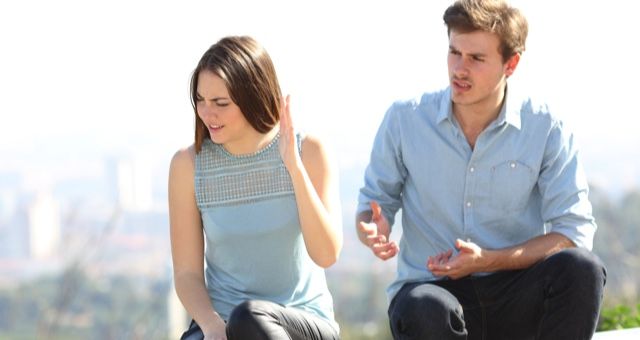 This list of enemies to lovers contemporary romances is sponsored by The Unhoneymooners by Christina Lauren, from Gallery Books.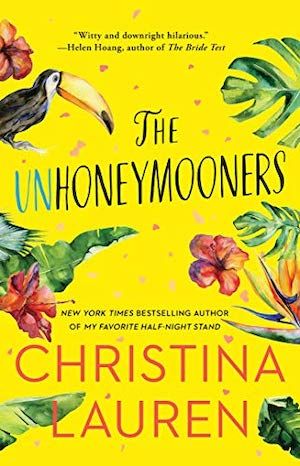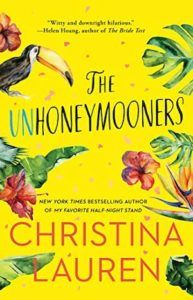 When everyone at her twin sister's wedding gets food poisoning, it's Olive's chance to enjoy a prepaid Hawaiian honeymoon. Too bad she has to share it with the only other healthy member of the wedding party, the best man (and her nemesis), Ethan. But in paradise, anything can happen for two sworn enemies—maybe even love. The perfect rom-com for fans of Helen Hoang and Jasmine Guillory!
---
The enemies to lovers trope is one of the most popular tropes in books. Characters start out disliking each other and not being able to stand each other, but are somehow forced to work together, find out that they actually have a lot in common, and then fall in love. Call me a romantic, but it's one of my favourite tropes, and I love seeing it in any genre. Here's a round-up of six enemies to lovers contemporary romance books. Enjoy!
I Wanna Be Where You Are by Kristina Forest
Chloe is forbidden from going to a dance audition by her mom, so she hatches up a plan. A plan to drive to the nearest audition and come back before her mom even notices she's gone. She just didn't expect her annoying neighbour Eli to insist on coming along, and she can't refuse because he threatens to tell her mum. What starts out as a simple road trip becomes anything but simple as old feelings and memories come up along the way and Chloe experiences the joys and fears that come with risking everything to chase your dreams.
Red, White & Royal Blue by Casey McQuiston
After a scandal, First Son of America Alex and Prince of England Henry are forced into a fake friendship. Even though they can't stand each other, they have to act like they're best friends. In the process, they get to know each other better and see that the other isn't as bad as they thought. But Alex has worries of his own and he doesn't need these blossoming new feelings he's having for Henry. The two enter a secret relationship which, if revealed, could damage relations between the two countries and destroy what Alex has worked hard for. Is it worth the sacrifice?
Pride by Ibi Zoboi
Set in Bushwick, Brooklyn, this modern and diverse retelling of Pride and Prejudice follows Haitian-Dominican Zuri Benitez. Zuri loves her family, poetry, and her neighbourhood. But as more rich people move in, her neighbourhood starts rapidly gentrifying until it's becoming barely recognizable.
Another wealthy family moves into the neighbourhood: the Darcys. It doesn't take her long to find out that she can't stand Darius, but after a series of events she sees that they might have some things in common. But with the changing neighbourhood, her worries about college, and trying to keep her sisters in check, will she be able to keep it all together or lose herself in the process?
The Right Swipe by Alisa Rai
Rhiannon Hunter may have created the most successful dating app, but in real life she guards her heart and love life with strict rules. Her rules aren't enough to stop her attraction to Samson, who suddenly disappears after spending an amazing night with her. Months later he shows up asking for a second chance, but now he works for a rival company. Will she be able to stick to her rules once again, or will she break them and be able to bear the consequences?
The Wedding Party by Jasmine Guillory
Maddie and Theo hate each other. The only thing connecting them is their best friend Alexa. With Alexa's wedding coming up, they have to work together as part of the bridal party. Simple, right? That's until they end up in bed together one night, after which they agree to have a casual fling which will end once the wedding is over. But you know things don't always go as planned, especially in romance novels. What happens when something that's supposed to be limited to the physical starts turning into something more?
If you can't get enough of this book, check out The Wedding Date which is Alexa's story. You don't have to read the first book to totally enjoy this one, although there might be some spoilers.
Starry Eyes by Jenn Bennet
Zorie and Lennon used to be best friends, now they are enemies that do their best to avoid each other. After a camping trip ends up being a flaming disaster, they are left stranded in the middle of nowhere. As they try to find their way back home while being at each other's throats, secrets, feelings, and memories are revealed.
What's your favourite bookish trope? If you love the enemies to lovers trope as well, what are your favourite books with this trope? If you want more recommendations, check out this post about YA books with the enemies to lovers trope.