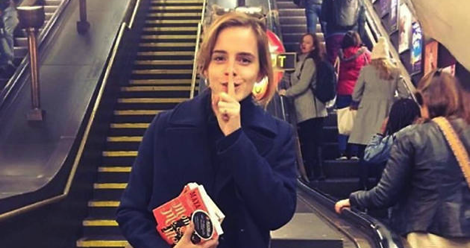 News
Emma Watson is Hiding Books Around Paris
This content contains affiliate links. When you buy through these links, we may earn an affiliate commission.
Haven't read The Handmaid's Tale yet? Don't worry Emma Watson has got your back! The actress and women's rights activist updated her Instagram and Twitter today to show that she was hiding copies of the book turned Hulu series all over Paris for anyone to take, read, and pass on to fellow book lovers.
This isn't the actress's first time being a super sneaky book fairy as in the past she has hidden books in the New York subway and the London tube. Each time she has planted books she has encouraged people to read, enjoy, and bring them back for someone else to find. This is the type of goodhearted book nerdiness that makes the world go round.
Watson has played some of the most well-known book lovers in her acting career–most recently Belle in Beauty and the Beast and, of course, our favorite witch from the Harry Potter series, Hermione Granger, but her newest role as a book fairy is one we can all get on board with.
Correction: The Handmaid's Tale is a series on Hulu, not HBO.
Save
Save