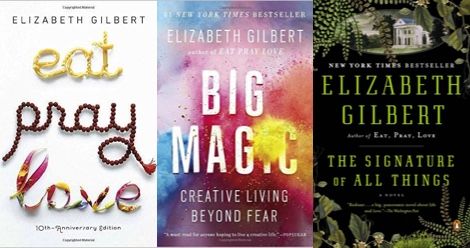 Lists
The Best Elizabeth Gilbert Books: Get Started Here
This content contains affiliate links. When you buy through these links, we may earn an affiliate commission.
Elizabeth Gilbert is best known for her 2006 memoir Eat, Pray, Love, which was later turned into a movie starring Julia Roberts. It chronicles her year of solo travel around the world post-divorce to try to reclaim her life. While this book is what made her a sensation, Elizabeth Gilbert books vary in genre and tone, ranging from a collection of short stories to an inspirational how-to.
Who is Elizabeth Gilbert?
Gilbert was born in Waterbury, Connecticut, in 1969, and grew up on a small family Christmas tree farm. She attended college at New York University, leaving her rural upbringing for the urban sprawls of New York City.
After graduating, she spent a few years doing various jobs from bartending to waitressing to being a ranch hand gathering writing fodder. Gilbert also wrote as a journalist in such publications such as GQ and New York Times magazine.
Let's break down everything she's written by category.
Nonfiction Elizabeth Gilbert books
This is her most well-known book and the one that catapulted her to fame. This is the travel memoir chronicling her year of travel after her divorce where she rediscovered eating, spirituality, and the possibility for love. Gilbert wrote her way through her grief and what her healing process looked like, giving us a raw, vulnerable look at her as a person.
A companion book that was published ten years later. Gilbert wrote the introduction for this book which is comprised of 50 different stories of reader's responses to Gilbert's memoir and the changes made in their lives as a result.
This is the first nonfiction book that Gilbert wrote. She explores what American male identity really means through the lens of Eustace Conway, a frontier man in the Appalachian Mountains. Conway traps animals for clothes, builds fire for warmth, and lives off the land completely.
Committed is the first book Gilbert wrote after Eat, Pray, Love, in which she examines her ambivalence towards the institution of marriage. After her first marriage ending so tumultuously, she and her new love didn't want to get married, but the United States immigration laws had other plans. Gilbert and her new man did end up tying the knot, but it took much consideration and writing through research for them to reach that decision. Committed takes us through that with her.
This is her most recent book and delves into Gilbert's creative process. Here she explores all kinds of creative living by embracing curiosity and letting go of negativity. You'll want your highlighter as you read this one because it is designed to inspire and doesn't disappoint.
Novels by Elizabeth Gilbert
This is the second novel Gilbert published and the first novel published after Eat, Pray, Love. This novel follows the Whittaker family, specifically Alma, a botanist and dedicated researcher. In the course of her studies, she comes across Ambrose Pike, an artist, and falls in love. The combination of her scientific mind and his creative one lead to a beautiful pairing of people trying to understand the complexity of the world.
This is Gilbert's first novel. Ruth Thomas is back to the coast of Maine after boarding school. Thomas decides to join the tough, cursing men of the lobster boats. A coming of age tale that gives breathtaking Maine the descriptions it deserves as well as depth to the characters.
Pilgrims is the first book Gilbert published. A series of short stories known for their compelling dialogue, Pilgrims was a PEN/Hemingway finalist.
Miscellaneous
At Home on the Range is a cookbook that was co-written by Gilbert's grandmother, Margaret Yardley Potter, in the form of an old journal Gilbert found and revised.
Do you love Elizabeth Gilbert books? Which ones are your favorite?