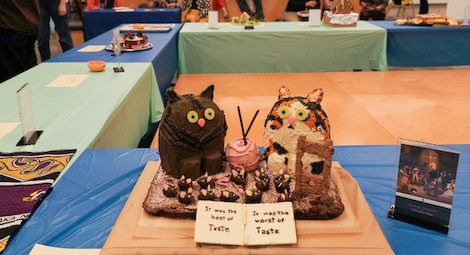 Critical Linking
Edible Book Festivals Are for Pun and Food Lovers: Critical Linking, March 28, 2019
Sponsored by The Perfect Girlfriend by Karen Hamilton. Published by Graydon House Books.
---
The UC Berkeley Library Edible Book Festival, held this year on March 18, takes the form of a contest, with prize categories such as Punniest, Eye Candy, and Least Edible. Last year's Festival featured "The Handmaid's Tamale," a riff on Margaret Atwood's dystopian novel, and "Gravy Teas Rainbow," a curved array of teacups filled with different colors of gravy (winner of 2018's "Least Edible"). This year, entries included "The Communist Antipasto," "The Tails of Two Kitties," and "Infinite Zest." Berkeley's edible books, Powell says, tend to be less gorgeously decorated cakes and more punny, plated displays. Literature-wise, most of the books represented are well-loved classics and popular, recent publications.
Puns + books + food = my personal catnip.
---
So how does the billionaire book lover remember what he reads? The trick, he says, is context.
"If you read enough, there's a similarity between things that make it easy, because this thing is like this other thing. If you have a broad framework, then you have a place to put everything," Gates says in the Quartz video, "How Bill Gates remembers what he reads."
How Bill Gates remembers what he reads. This…doesn't sound especially simple to me.
---
Poet and essayist Claudia Rankine has written and published three books with Minneapolis' Graywolf Press, including the National Book Critics Circle-winning "Citizen: An American Lyric," which was a New York Times best-seller.
Graywolf announced today that Rankine's fourth book with them, "Just Us: An American Conversation," will be published in September 2020.