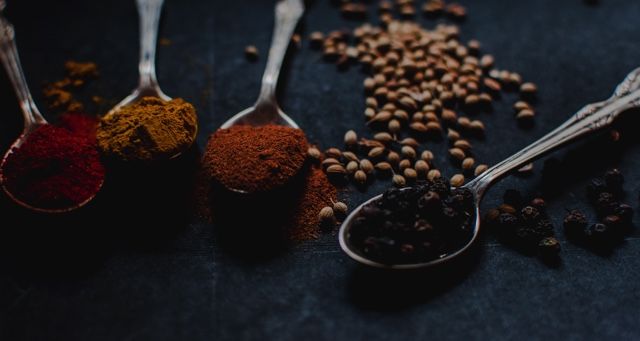 Lists
6 Edgy Indian Cookbooks
This content contains affiliate links. When you buy through these links, we may earn an affiliate commission.
If you don't like Indian food, you probably lack a beating pulse; but if you're not sure about cooking Indian food, you've got company. A lot of company, actually. For those unfamiliar with the techniques and ingredients, Indian food can seem dauntingly inaccessible, and often, Indian cookbooks exacerbate the issue. Tradition-heavy, bearing a stamp of authenticity like it's a pageant tiara, Indian cookbooks all too often feel stodgy and lack verve.
Fortunately, there's been a slew of some of the best Indian cookbooks by edgy, interesting chefs, designed to get you cooking edgy, interesting food. Dosa Waffles? Curry Leaf Popcorn? Rainbow Root Raita? Roti Pizza? Read on!
The best Indian cookbooks
Subtitled "Indian spice, Oakland soul," this cookbook by Oakland, California, restaurateur Mistry juxtaposes innovative recipes with the story of the evolution of her identity as a queer brown chef in a predominantly white space. Chapter headings include "Authentic? Hell, Yeah!" Sadly, Mistry's titular restaurant is no more, but you can dish up her playful, imaginative recipes such as Mistry's mom's take on chili, masala fries with tamarind ketchup, and shrimp Po' Bhai. And speaking as someone who can't make circular dosas (lentil crepes), Mistry's hack to glop the batter on to a waffle maker is genius.
Agrawal began a food blog called the ABCDs of cooking (for the uninitiated, ABCD refers to American-born Confused Desis, or Indians) while working at a tech start up, before moving on to her own start-up—a small-batch condiments company called Brooklyn Delhi. Agrawal focuses on South Indian cooking, which is quite different from its creamy-buttery North Indian cousin. This book features loads of stews and curries, with an emphasis on coconut and asafetida and curry leaves, and is a palate-changer for those who think of Indian food in terms of those $9.99 chicken curry buffets. Agrawal also provides a detailed explanation of all things Indian cooking; no more confusing your urad with mung.
3. Gunpowder by Harneet Baweja, Devina Seth, Nirmal Save
Gunpowder is a traditional South Indian spice blend that usually accompanies dosas, but in the Gunpowder restaurant in London, it pops up in the most unexpected dishes. This book's authors include a husband and wife team of restaurant owners and their head chef, and their recipes are as imaginative and elaborate as you'd expect at a top restaurant. Dishes include grilled partridge, roasted quail and rabbit pulao; for the less game-oriented, there's masala chai crème brulee and bulgur mung salad. This technique-heavy book is best for experienced chefs who want a deep dive into Indian cooking.
Season is a cookbook, but it's also the story of Sharma finding acceptance, first as a gay man within the Indian community, and second as a brown home cook in the mostly white world of haute cuisine. Sharma trained as a molecular geneticist, and the hallmark of his recipes are precision and imagination. "Think of your kitchen as a lab," he says. Well, the Sharma lab has created Margherita naan pizzas, date and tamarind loaves, and tarragon lassi, and each dish is marked by intelligence and flair. And the photographs (taken by Sharma himself) are glorious. Is there no end to this human's gifts?
The subtitle says "Incredible Indian Dishes with an American Twist," but author's modus operandi in this book is to take on American classics—burgers, pizzas and tacos—and endow them with Indian spices. Her pizza pockets feature cumin and an onion-tomato chutney, while her potato-based burger patty contains turmeric and chili powder. Despite the obvious American slant to the recipes, this book is for those who can stride confidently around Indian grocery stores, homing in to ginger-garlic paste and distinguishing their nigella from asafetida at a glance—the explanations are on the skimpy side.
Krishna's book, which boasts a foreword by Padma Lakshmi, is a tribute to her mom's cooking; the mom in question is a busy software engineer who takes her wine very seriously. The result is a book with quick, flavor-packed recipes that speak to the life a busy working mother. Lots of Indian-inspired sandwiches, a shortcut channa masala, a riff on Ramen, and no elaborate techniques or hard-to-find ingredients make this one a perfect gift for novice cooks. The beating heart of this book, however, is the lovely Krishna family—the affection the author has for her parents comes shining through on each page.
Find even more of our cookbook recommendations here!