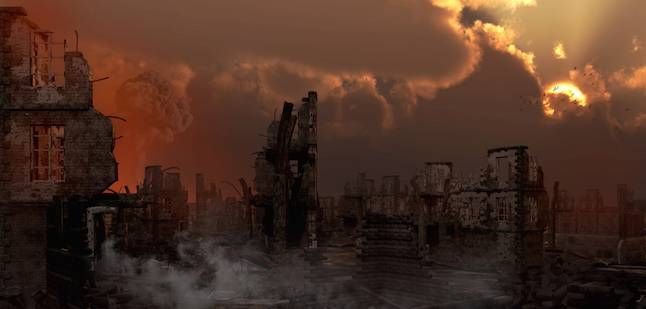 25 Must-Read Dystopian Short Stories
This post contains affiliate links. When you buy through these links, Book Riot may earn a commission.
Egomaniacs run the government, war threatens on every front, police target select populations, the environment is under threat, you are being watched, and technology runs amok. Sound like current news? I hate to tell you this, but we're living in a dystopia, folks. Time for some dystopian short stories to show the way.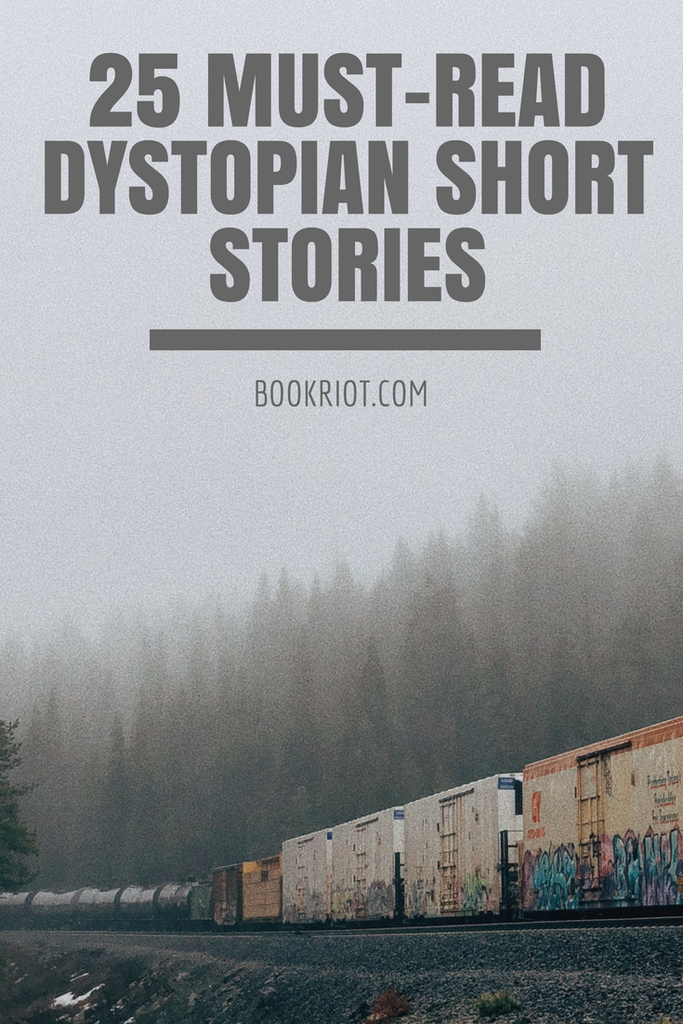 Why dystopias?
Fiction has already prepared many of us for a dystopia, even if we never actually imagined it would happen. And if you've never read any dystopias before, well, now's your chance to experience the many frightening scenarios writers have warned us of, from oppressive governments and climate change to surveillance and rogue AI.
In these stories heroes and heroines fight oppression and imagine new worlds, but they also succumb to tyranny and die. Well, these are dystopias.
What I love about dystopian short stories in particular is their focus (I've raved over short stories before). Because they're so short, they often need to zoom in on the individual. So they're less about the big picture dystopia and more about the personal toll, though there are some big picture dystopias in this list too.
The best dystopian short stories
What dystopians should do is inspire us to change. To revolt. Here are 25 must-read dystopian short stories and anthologies—from classic authors to new finds—that should inspire anyone to rebellion. And once you're done with these, you should keep reading more.
Did you know E.M. Forster—the author of Howard's End and A Room with a View—dabbled in SF? Forster wrote this story in 1909, before WWI, yet he imagines a global war, technology taking over lives, videoconferencing, and an early version of cell phones. It's pretty impressive. And also a good story.
Butler is a must-read in SFF, and this collection of five stories, along with some of her essays, is a great starting point, or to pick up where you left off. These stories are both disturbing and lyrical.
Hossain, an Indian/Bangladeshi woman, published this feminist utopia in 1905. She imagined a world where women worked while men stayed home and cooked. It's incredibly imaginative and innovative, especially given the time it was written.
Vonnegut needs no introduction. This short story is kinda like what The Rainbow Fish would look like in a dystopian future.
"The Lottery" started my love of dystopias. I even performed it as a monologue in high school. If you haven't read it yet, you need to. And if you have, it's one that's always worth rereading.
Have you watched Blade Runner? Total Recall? Minority Report? All these movies and more are based on Philip K. Dick stories. He's a master of dystopia but warning: his depictions of women will definitely induce some eye rolls and frustration.
The title alone demonstrates the lyricism of this short story. Le Guin often depicted dystopias, or problematic utopias, in her fiction. This story won Le Guin the Hugo in 1974.
The master of short stories tackles a dystopian prison system. This also appears in Tenth of December, a wonderful collection.
If you really want a dystopian fix, this anthology is dedicated to dystopian stories, and contains several of the stories on this list.
"Damage" by David D. Levine
Damage explores a fighter spacecraft's memory, and its revulsion of war. A unique AI perspective on a dystopian world.
An epic short story about Alonso—a brother, a friend, an uncle—in a crime-ridden city where the young die from gunshot wounds. You'll definitely make connections to today.
A ghost story set in Russia from the perspective of a corrupt politician's chauffeur. Disturbing and all too realistic.
Iraq + 100 edited by Hassan Blasim
Editor Hassan Blasim asked 10 Iraqi authors what might your home city look like in the year 2103—exactly 100 years after the disastrous American and British-led invasion of Iraq? These are their mostly dystopian responses.
A conceptual story that entwines technology and memory to analyze the way society treats the elderly.
"Folding Beijing" By Hao JINGFANG, TRANSLATED BY KEN LIU
Lao Dao wants the best for his daughter, even if that means traversing first and second space, when he belongs to the third. Winner of the 2016 Hugo for best novelette, the world building in this story is amazing.
An alternate history where the Cold War wasn't so cold, and nuclear warfare has affected fertility. I want this as a novel, I loved it so.
A depressing tale where a man recalls his time working on an underwater tunnel connecting two countries. It's also collected in The Paper Menagerie and Other Stories, which has a few dystopian tales. All of Ken Liu's stories are worth reading for their poignancy and deft touch. I highly recommend the entire collection.
Less a story than a mythology, this delightfully depressing flash fiction will take you all of two minutes to read.
Clone Harry Lee competes to be the best clone Harry Lee. When he fails test after test even though he knows he's giving superior answers, he decides to approach the top and demand to be allowed to pass the test. Another unique dystopian world.
The title says everything about this super fast read.
Tender by Sofia Samatar
While not all of the stories in this collection are dystopian, a lot of them are, and Samatar's weird, humane stories aren't to be missed.
Maybe it will be after you read this story.
Quotas and babies. While dissimilar worlds, the themes are close enough that I wonder if writing this short story helped inspire Bannerless.
Bees and wasps are the main characters, and they don't like each other that much. A+ on originality.
A collection of cli-fi (climate change fiction) edited once more by John Joseph Adams. This collection features fiction by Margaret Atwood (the same story on this list), Paolo Bacigalupi, Kim Stanley Robinson and more.
What are your favorite dystopian short stories?