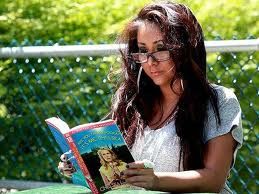 Drop It Like It's Haute: The Jersey Shore Booktionary, Volume II
Welcome to Drop It Like It's Haute, a weekly celebration of that unholiest of marriages between pop culture and literature.
__________
Aaaaaaand we're back with Volume II of our Jersey Shore Booktionary (check out last week's installment here).
With a little help from this three-part Jersey Shore glossary we found at The Daily Beast, we're borrowing phrases from everyone's favorite guidos and guidettes to bring you a book list that will totally have you DTR (down to read, natch). Join us, Rebecca Joines Schinsky and Jeff O'Neal, for a trip to the shore like no other. And you better hurry because caaaaabs are here!
__________________________
butterface flavor ( n.)—a nonexistent variety of gelato to describe a girl who frequents the ice cream parlor and manages to maintain her figure, "but her face" does not exactly induce the "yum" factor
translation: a book which has one really great element and one really damaging one
RJS: The Hour I First Believed by Wally Lamb. There's no question that Lamb is a master storyteller, but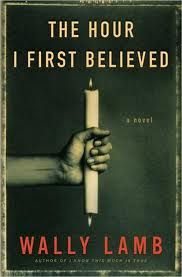 sometimes less really is more. The primary plotline of this book had more than enough legs to stand on, but Lamb insisted on propping it up with side stories about BIG FAMILY SECRETS and skeletons buried (literally) in the back yard, and all I could think for the last several hundred pages of it (that's right, it's long enough that are several hundred last pages) was "What? Did his editor lose the magical red pencil?" I mean, I get that he's Wally Lamb and there are people who are going to buy his books regardless of how long and rambling they become, but COME ON. It's not like he has something to prove. Cut the junk already.
JO: I think the word for that is "Best-seller Bloat': once an author gets huge (aka an Oprah sticker on mass market paperbacks), then they don't get edited.
For my pick, I'm going with Ready Player One by Ernest Cline. This is a pretty cool sci-fi/ya book that relies heavily on pop culture from the 1980s and 90s with an immmersive setting, compelling plot, and pretty damn good action. But Holy Marty McFly, the dialogue is so bad. And I do not accept the Harry Potter defense (i.e. that teenage characters are excused from having interesting dialogue). There is also an awkward gender/race moment toward the end that isn't offensive so much as it is tone-deaf.
__________________________
blast in a glass (n.)—1. a synonym for an alcoholic beverage that one loves. 2. one who provides the equivalent amount of fun that said alcoholic beverage provides. 3. "definitely [sic] a great compliment," according to Deena (see also, walking holiday).
translation: an author you can't help but love for the way they make reading fun
RJS: Is this the part where I get to propose to Sarah Vowell? Of all my author crushes, she's the one who really makes me weak in the knees. Only Sarah Vowell could have me giggling over those quirky Puritans and seriously considering a vacation spent visiting sites related to assassinated presidents. And that voice! I die.
JO: Sorry, Book Lady, but anyone who is a regular contributor to THIS AMERICAN LIFE is dq'd from this. You need someone not only hysterically funny, but crude, unpredictable, inspiring, and textually manic. I give to you Tom Robbins. There's no way I can do him justice, so I'll just enter a few of his titles into the record as Exhibit A: Half-Asleep in Frog Pajamas, Jitterbug Perfume, Still Life with Woodpecker, Fierce Invalids from Hot Climates. Need I go on?
RJS: Think we could hook them up and get them to make literary babies?
JO: Hmmmm. Authors we wish would pair up so we can read their offspring. Let's remember that idea.
__________________________
stage five clinger (n.) a member of the opposite sex who becomes excessively attached incredibly early on in the relationship.
translation: the book or author you can't get away from no matter how hard you try–you're not interested, but it pops up everywhere
JO: If there's one book that's haunted me since I started writing about books online it's The Book Thief by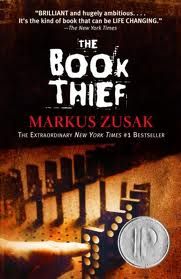 Markus Zusak. At first I was all "Ah interesting a book about books that's narrated by Death." And then it was "Wow, I can't believe how many people love this book." And now finally "If I hear one more damn thing about this freaking book, I am going to switch to knitting." I'm sure it's great and that I am missing out on a singular experience, but I'm passed the point of caring.
RJS: I enjoyed the narrative creative of that one, but it wasn't nearly as mindblowing to me at 25 as it would have been at 15.
I know Lord of Misrule by Jaimy Gordon won the National Book Award. I own not one but two copies of it. I'm almost positive I would like it, but I just. can't. do. it. I don't have an explanation or an excuse. It's just not happening. See also: Bret Easton Ellis. I've seen and enjoyed American Pscyho, but I've never had the desire to give him more than two hours in my brain.
JO: Yea, I'm blowing the grenade whistle for you on Bret Easton Ellis. I don't read books to feel worse about the human condition. That's what talking to customer service reps is for.
__________________________
mind condom (n.)—a theoretical prophylactic for one's head when he or she is being messed with by someone.
translation: which book do you wish you had a "mind condom" on while reading to prevent getting fucked with?
JO: I can't say too much about it or I will be committing the literary equivalent of a vasectomy on the book, but the ending of Pincher Martinby William Golding blindsided me like no other book ever has. I've read enough and seen enough to have a sense of where a book is going most of the time, but not here. It's like if I had ordered a cheeseburger and I got a .357 Magnum instead.
RJS: And then you were all, "Where is my cheeseburger!?" Also, the words Pincher Martin just sound painful, right? Why would I want to read something with that title?
I was going to mention Mr. Peanut, but I'll be citing Adam Ross elsewhere in this series. Philip Roth fucks with my head and makes me feel like my inner monologue has been taken over by a person I don't like very much. I'm not sure if a mind condom is enough to protect me from him or if it's really a double bagger situation.
JO: (Totally, The Ghostwriter and Operation Shylock require full cognitive prophylactics)
__________________________
beat up the beat (v.)—to pound the dance floor of a nightclub with one's fist in a circle with one's friends and slowly rise up to a full standing position
translation: a writer who gets better with each successive work/a series in which each book builds on or is better than the one that came before it
RJS: Jonathan Evison. There are vast oceans of space and growth and insight between his debut All About Lulu (which was solid—I mean, the messed up kid is in love with his stepsister, what's not to love?) and West of Here . It's such a pleasure to see a writer develop this way! And we'd be remiss not to mention Jennifer Egan, who exemplifies the evolution of a fiction writer. She had me with Look at Me, and there are just no words for how deeply I loved A Visit from the Goon Squad.
JO: Seconded for Evison. You know Michael Chabon fits this pattern, the run-up to The Amazing Adventures of Kavalier and Klay was pretty steady. I'd also point out Jon Clinch whose first novel, Finn, was a re-telling of Huck Finn from the point of view of Huck's dad (the Bill Sykes of the Mississippi). It was really interesting, but his second novel Kings of the Earth was a major step-up–a difficult, honest, and artisanal novel that doesn't seem to care if the reader likes it, which is a real turn on.
RJS: You know who else does that for me? Philipp Meyer. American Rust was ballsy and brilliant, and I am *so* hoping his next book (coming out fall 2012) will be beat-up-the-beat worthy.
__________________________