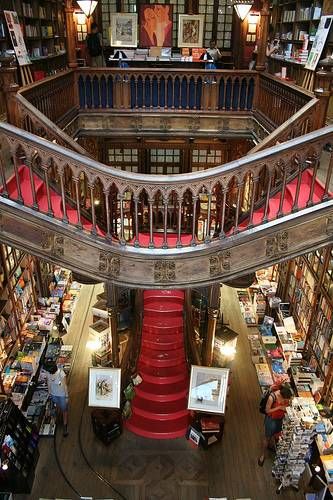 Opinion
Dreaming Up a Members-Only Bookstore
An article on Bloomberg News a couple of weeks ago re-stated an idea that has been popping up from time to time in the ongoing public discussion about how to keep physical bookstores open: paid browsing. Here's the core of this particular version of it:
Separate the discovery and atmospheric value of bookstores from the book-warehousing function. Make them smaller, with the inventory limited to curated examination copies — one copy per title. (Publishers should be willing to supply such copies free, just as they do for potential reviewers.) Charge for daily, monthly or annual memberships that entitle customers to hang out, browse the shelves, buy snacks and use the Wi-Fi. Give members an easy way to order books online, whether from a retail site or the publishers directly, without feeling guilty. And give the place a good name. How about Serendipity Books?
While I think the details here aren't compelling, it got me thinking: what would be? What could a physical bookstore offer that would get me to pay for the privilege of just going there at all? The part of the equation that calls for paid browsing misses the fact that buying books at most physical bookstores, especially independent bookstores, is already a premium experience. You get, at least most of the time, a great atmosphere, a curated selection of titles, browsable displays, and on-site, in-person advice. And for this, you pay full cover price. That's essentially the value proposition of an independent bookstore.
Ideas like paid browsing are really efforts to undermine showrooming. It seems to me that paid browsing would certainly eliminate showrooming, but I would think that a significant portion of casual buyers would also be warded away. The task would then be making enough extra money on the remaining, loyal customers to make up for the lost revenue. I don't know enough about the economics of running a bookstore to say.
But what I do know is that there is some version of this that I would pay for. In fact, for a collection of amenities, I might pay quite a lot for it (think the equivalent of a gym membership or more).
Here's my list of what would induce me (in fact, if there were enough of the below offered, it would force me really) to become a member of a bookstore. Remember, this is specific to me and not a prescription for the whole bookstore world.
1. Delivery. I've got two young kids, and my local indie really isn't local. It's damn hard for me to get there, and this is one of the major reasons I don't buy as much from there as I would like. But if shipping/delivery of orders over X amount was free and relatively quick (even, say, next-day would be possible in some places), that would compete well with Amazon Prime (which is a deadly attractive feature, if you have every used it).
2. Special treatment at events. This could be a bunch of things. Reserved seating/ticketing. First in line for signings. First dibs on events. Members-only events.
3. Let me use the bathroom. I am not kidding about this.
4. Bookstore credit. Make a portion of my membership fee essentially a giftcard that I can use at the store. For example, say my annual membership was $500, but it included $100 in merchandise. Hell, make the whole membership essentially a glorified giftcard. Let me pre-buy $500 worth of stuff, and you throw in some of these sweeteners. You get a guaranteed $500, and I get some perks. This would make a heck of a gift idea too.
5. Storewide discounts. Doesn't have to be much, 10% would do. But it includes books, coffee, chocolate, whatever.
6. A bookstore CSA. This might be a program of an in itself. Basically, for a set monthly fee (again, thinking 50 bucks), I get 2-3 titles of what the store thinks is cool. It doesn't have to be tailored for me or a fancy edition or signed or anything (though those are excellent programs) but a monthly sampling of what the staff is really into at the moment. And like a CSA, sometimes you won't like everything you get, but the surprise and knowledge that you are buying locally is part of the product.
7. Members-only reading area. Maybe a little side-room with chairs, someplace where I can get out of those and read that isn't Starbucks and I know I can get a seat. If I want to bring my own book and sit down for awhile, you are not only going to let me do that, but be happy about it. Maybe I can bring one guest.
8. Coffee. This isn't really about memberships necessarily, but my ideal bookstore has coffee available. Just even drip caff and decaf. Make it good, and price it reasonably. That will get me in the store as part of my daily life, which is good for you because I am weak-willed.
9. Drop the anti-ebook/Amazon/romance/whatever attitudes. Actually, you should do this right now. I have a lot of amazing choices when it comes to buying books, and you aren't my only source for books. I like buying from you, but signs that say I have to put my phone away or your social media that cracks on other places where I get books makes me feel unwelcome. I also like to read things that not everyone thinks is literary/good, so be cool with that as well. You do enough cool things not to slag on other things. Don't make me choose.
Alright, there's my list. What would be on your bookstore membership wishlist?
____________________________
Sign up for our newsletter to have the best of Book Riot delivered straight to your inbox every two weeks. No spam. We promise.
To keep up with Book Riot on a daily basis, follow us on Twitter, like us on Facebook, , and subscribe to the Book Riot podcast in iTunes or via RSS. So much bookish goodness–all day, every day.