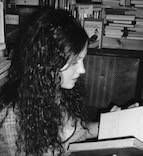 The comics industry has a lot of milestone birthdays coming up over the next year. Fantagraphics has a 40th anniversary book coming out; Drawn & Quarterly has a 25th anniversary book; Conundrum Press has a 20th anniversary book; Dark Horse is reaching its 30th anniversary. As Tom Devlin, executive editor of Drawn & Quarterly, observed at the company's panel at ALA Annual in Orlando, publishers are proud of their histories and keeping the record straight. Although the panel was named after "Graphic Novels Today," there was a lot of history to share.
Peggy Burns is the publisher for Drawn & Quarterly and Devlin is her husband. She was recruited to Drawn & Quarterly in Montreal 13 years ago, back when she was a publicity director for DC Comics in New York. Together, the two discussed Drawn & Quarterly's history as well as provided commentary on a number of D&Q titles that have been published over the years.
Drawn & Quarterly's history with women in comics was a recurring point. For starters, 20 of the company's 22 employees are women. Their first standalone publication was by Julie Doucet (Dirty Plotte), who had then been turned down by Fantagraphics. Between Tove Jansson, Lynda Barry, and Kate Beaton, D&Q has seen great success with female creators, with each representing a different side of comics. In reference to Jansson, Burns said, "We are in a golden age of reprints, but women have been left out. Now, here's a female cartoonist who was printing in the London Evening News." Jansson was better known for her prose writing, with her Moomin comics mostly collected in floppy trades "like Garfield comics," but D&Q's hardcover collections have given her graphic works a more handsome treatment. Sales hit a new high, but were outpaced by reprints of Barry's works (What It Is, Syllabus), which use unique approaches to encourage readers' creative impulses and find their voices. Topping the sales charts, though, was Beaton, whose Hark! A Vagrant came with a built-in internet following that instantly recognizes her books at every venue. "In a short span, we published three female cartoonists who blew up and sold like crazy."
Drawn & Quarterly also helped unearth the work of a couple more women in comics, writer Astrid Lindgren of Pippi Longstocking fame and its original illustrator, Ingrid Vang Nyman. The Pippi Longstocking comics, in addition to their entertainment value, are an interesting piece of comics history. Ingrid Vang Nyman wanted higher royalties than the market paid in the late 1940s, including in America and Germany, so publishers replaced her with another illustrator. D&Q's editions were the first to reach America, helping to shed light on a talent who could not enjoy the full breadth of her creation's success.
Burns and Devlin were recruited to D&Q by company founder Chris Oliveros, who originally ran the business solo. My favorite piece of trivia about him, though, is that he commissioned Exit Wounds from Rutu Modan, who is one of my favorite comics creators. I can only imagine the phone call: "Hello Rutu, I'm good thanks, hey, how would you like to produce a complete graphic novel packed with beautiful, watercolor illustrations depicting a story reflecting on death, family, social roles, and modern living in Israel. Okay, you're the best, bye."
Burns takes pride in the diversity of their catalog and bristles at the thought of D&Q's aesthetic fitting a simple label. D&Q cut its teeth picking up Canadian cartoonists who were ready to be taken seriously but didn't have many avenues to publish. According to Burns, Drawn & Quarterly succeeds "because people want relationships [with their publisher], not just big [publishing] houses." One of their early collaborators, Adrian Tomine, has worked with D&Q since he was 18 and still in college. Tomine reached out to manga master Yoshihiro Tatsumi and became editor of the English adaptations of his work, most notably the autobiographical A Drifting Life. Tomine also helped bring Daniel Clowes (Wilson) aboard.
"It could only happen in Montreal that a book wins an award at Angouleme and you can go to a bookstore and read it the next day," was the description for Marguerite Abouet and Clement Oubrerie's Aya series, which depicts 1970s middle-class life on the Ivory Coast. Beautiful Darkness was another Angouleme-related find, "a feminist Lord of the Flies" discovered without translation by Devlin, who was nonetheless bewitched by the artwork and what elements of the story he could deduce. He also described Pyongyang by Guy Delisle, which was, at the time, the only book in print about North Korea by someone who'd actually been there.
After visiting the Drawn & Quarterly booth, I was able to get a mostly black and white advance copy of Sarah Glidden's Rolling Blackouts (check out how that cover was designed). While press coverage and reviews won't roll out until October, I can not-so-secretly declare with confidence that the D&Q catalog's future looks as bright as its past. Having read nearly all of the books mentioned here (all in due time, Pippi!), I heartily endorse them from a personal perspective independent of the publisher panel.