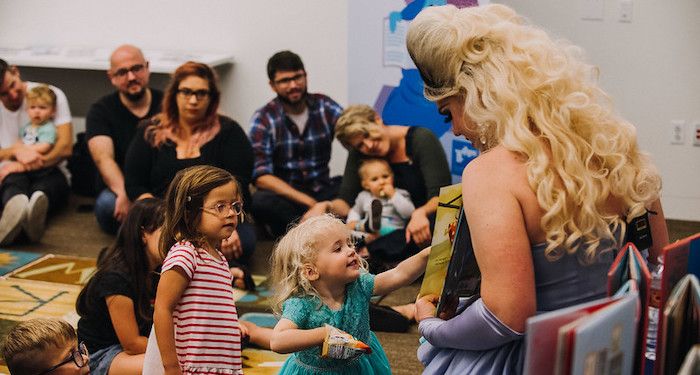 Essays
Drag Story Hour is Controversial, But Important
Drag Story Hours are being protested across the country. So why should we still have them? Let's chat about what drag story hour is, why it's important, and why we should fight to keep it.
So what is Drag Story Hour? It's an event happening in libraries, bookstores, summer camps, museums, schools, and after school programs across the world where people use the art of drag to read stories to children of all ages. Drag Story Hour started in 2015 in San Francisco. It was originally created by activist and author Michelle Tea and RADAR Productions. Tea came up with the idea for Drag Story Hour after attending library events with her son at her local library and finding them welcoming but "really straight." Tea wanted to create a space for children that promoted diversity and inclusion.
Now there are Drag Story Hour events all over the world. Some are official chapters and some are unofficial offshoots inspired by the original. These events are aimed at young audiences, usually children aged 3-11, but all are welcome. The readings include all sorts of books appropriate for young children, but the focus is on stories supporting LGBTQ+ issues and inclusion.
But while Drag Story Hour has grown significantly and has its many supporters, the events are also facing criticism, protests, and even laws that aim to put a stop to the program. Some of the protests have even turned alarmingly violent. Armed Proud Boys members have disrupted Drag Story Hours in San Francisco and New York. Threats of violence have lead some Drag Story Hours to shut down. According to GLAAD, there have been more than 166 protests and threats to drag events since 2022. Many of those events were Drag Story Hours.
Conservative protestors of Drag Story Hour have argued that the programs indoctrinate young kids and have even used the term "grooming" to describe what happens at these children's events. Jason McGuire, the president of the New Yorker's Family Research Foundation, argues that Drag Story Hour "really is more about desensitizing children to gender fluidity and some of the issues that I think really confuses children. And I just don't think we need to confuse kids. We ought to be really helping them to realize who they are created to be. Not confusing them about their sexuality or gender identities."
But for as many protestors there are speaking out against these events, there are just as many counter-protestors. And Drag Story Hour events have refused to buckle to the pressures put upon them by their nay-sayers. But why has this become such a serious and heated debate? And why is it so important to stand up for Drag Story Hour?
Let's start with one of the most important things about Drag Story Hour: representation. A HRC study conducted in 2018 found that less than a quarter of transgender and gender expansive youth feel comfortable being themselves in their homes. It's important for young people to see themselves reflected in adult role models and in the stories they read so that these kids know it's okay to be their true authentic selves. Drag Story Hour provides representation in both the stories they choose to share and the people who read them.
Drag Story Hour also encourages acceptance and understanding. Sixty-nine percent of transgender and gender expansive youth have been targeted with negative remarks because of their gender identity, and 42% have received physical threats. To avoid these types of confrontations, it's important for children to learn to be accepting of one another and even learn how to celebrate differences. For children who attend Drag Story Hours and don't identify as LGBTQ+, these events teach children how to be good allies. It shows them that it's possible to understand and empathize with people, even if they don't look and act exactly like you.
Drag is also an art form that encourages individuality, creativity, and expression in a world that can often rewards conformity. "Children love larger than life, magical characters, and drag queens have the biggest hearts and most creative minds," Tea says. Children's book author/Drag Story Hour performer Lil Miss Hot mess argues, "Drag activates creativity and play, expanding traditional ways of thinking."
Drag Story Hour performers are also using the art of drag to promote literacy in young children. These performers exude joy and enthusiasm while reading these stories to children, and that enthusiasm is contagious. It's effective to see reading as a fun activity that even adults enjoy. When kids see adults fired up about reading, they get excited about reading too.
It's also important to note that the material shared at Drag Story Hours are always age-appropriate. At these events, Drag Queens (and sometimes Drag Kings) read a few children's books. Some story hours also include arts and crafts and songs, all geared towards children's interests and material that's appropriate for them to read. Nothing sexual in nature is shared at these events, and it's important that we learn to not conflate gender expression with sex.
Drag Story Hour is an important tool to help kids learn about literacy, inclusivity, diversity, creativity, self-expression, and so much more. It's also age-appropriate and harmless. So how do we help support and promote these programs rather than fighting against them? Drag Story Hour has started a "Shields Up!" program to create a counter-protestor support group, providing safety and security at Drag Story Hours for all participants. The program is providing online training so that volunteers can support Drag Story Hours across the country.
Wondering how you can start your own Drag Story Hour chapter? Fill out this form to get started with an official DSH chapter. The program has a serious vetting process to make sure all official Drag Story Hours are safe and appropriate for kids of all ages.
Looking to learn more about the history of Drag Story Hour? Check out Book Riot's Annotated podcast for a look at how Drag Queen Story Hour became a public library phenomenon.