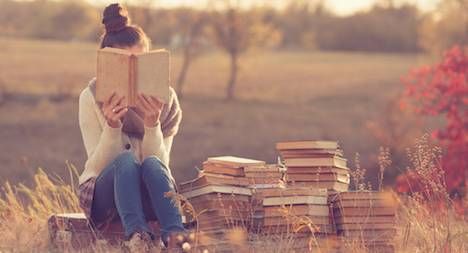 This content contains affiliate links. When you buy through these links, we may earn an affiliate commission.
This is a guest post from Maureen Stinger. Maureen is a lifelong book devourer who reads just about anything she can get her hands on. Still recovering from years of practicing law, she now sells books at Fountain Bookstore in Richmond, Virginia. Follow her on Twitter @mo_stinger.
---
The last time I had insomnia and knew I wouldn't be sleeping, I picked up an advance copy of Joe Hill's new book, The Fireman, around 11:45 p.m. I finished at 7:30 the next morning. The advance copy I had was 747 pages long.
I read pretty fast.
Bragging is not my intent. Reading quickly is not a skill into which I've put effort in order to master. It's not a gift or a talent, it's not even something to be proud of. It's just part of how my brain works, along with my tendency towards anxiety and my lifelong inability to pronounce the word "bougainvillea."
Calling this a "downside" may be puzzling. Who doesn't want to be able to read more in less time? Any book lover knows there aren't enough hours in a lifetime to read all of the glorious books out there. Being able to read quickly also helps with my job: as a bookseller, I feel obligated to read as many books as I can to help match customers with books that they will love and appreciate. The faster I read, the more I can read, the more book matchmaking I can do, the more people I can make happy. Win-win-win-win.
Speed reading isn't all it's cracked up to be, though. For any of you who think you are a slow reader, or just wish you could read a lot faster than you do, allow me to share some of the disadvantages of flying through the printed page at Mach One:
Focus. Ever turn the page of a book and realize you had just zoned out, and while your eyes moved across the page your brain didn't absorb anything you just read? Try dealing with that when it's an entire chapter at a time without getting completely annoyed at yourself.
Memory. Plenty of research shows that the faster you read, the less you comprehend, but I have an even bigger problem. I can fall completely in love with a book that I'm reading, plow through it not wanting it to end, be moved to tears by it . . . and within a few weeks, forget that I even read it, much less what it was about. Part of this is a function of comprehension, and part of it is simply a matter of quantity: when you read four to six books a week, you simply can't remember them all months later. Then you wonder: what's the point of reading them to begin with?
Impatience/Giving up too quickly. Some books do take longer to read, even for me. If the language is particularly dense (not necessarily a bad thing, see Donna Tartt) or if the book is written in a particular style, my eyes and brain will slow down. Sometimes this happens, though, when a book just isn't that interesting. When I do slow down, how do I know why? How can I tell whether it's worth continuing? I usually can't, but I give up anyway. I've no doubt missed a lot.
Impatience/Selectivity (the wrong kind.) When I get on a roll and in the habit of reading at a particular pace, I will put off reading things I will likely enjoy tremendously, books that potentially could make that indelible mark on my life that some books make, simply because they would take too long to read. (I'm SORRY,

Eleanor Catton

and

Anthony Doerr

!)
Loneliness. I'm really glad the Internet provides so many opportunities for people to discuss books. Shared reading can bond individuals in some very unique ways. Often, however, I really want to talk about books I've read with friends, in person, to share the experience among people who understand each other. These in-person talks also help me process and remember what I've read much better than online discussions, but without knowing anyone reading as quickly and often as I do, I miss out on one of my favorite parts of being a reader.
Obviously, none of these problems are actual Problems. I really wish I could learn how to slow myself down, but I would rather read too quickly than read too slowly to enjoy the experience at all. But all you slow readers out there, take heart: the grass isn't greener for us on the other side. It's just a different shade.