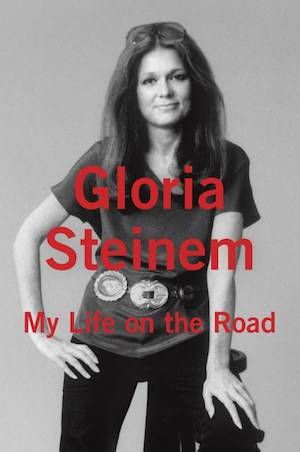 Feminism
Don't Think You're a Feminist? Read Gloria Steinem's MY LIFE ON THE ROAD.
This content contains affiliate links. When you buy through these links, we may earn an affiliate commission.
"What seems to be one thing from a distance is very different close up," writes Gloria Steinem in the preface to My Life On the Road. She's speaking, through a landscape, of us–of people, all of us, in our wild, unpredictable singularity. She's speaking against punditry. And she's asking us–because our individual intricacy leads into grand interconnection–to look around, and to see each other.
The recognition that we live together becomes a directing force in Steinem's book, which, though about her life, spends considerable time celebrating other women. Flo Kennedy is given credit for helping to shape Steinem's speaking voice. Bella Abzug helps her to see how critical political participation is.
Wilma Mankiller becomes a guiding spiritual presence and a symbol of the reclamation of women's power. And Hillary Clinton is here, too, reminding Steinem–and readers through her–that you can do everything right, and other women may still resent you for not being as mired as they feel.
Gloria Steinem's book so becomes about growing into ourselves through interactions with others. This is feminism at its intersectional best: self-aware, credit-sharing, inquisitive, and affirming.
_
Gloria looms as a feminist talisman. Those who don't understand or like the movement swing against her wildly, and those of us who claim it regard her with due awe. My Life on the Road, though, seeks to root her amongst us.
She was first the girl with the traveling father who always craved a home. She was first the young woman who lamented her mother's pushed-aside dreams. She grew into the traveling advocate whose work always sought, in part, to reconcile those threads.
This is a travel narrative, sure–Gloria goes from India to Indian country, across segregated America, up to Washington to hear Martin Luther King, Jr., and across the States with candidates, students, and fellow organizers. She traverses some odd fifty years as a feminist advocate and a writer, taking us from Civil Rights protests to the upcoming election.
It's equally a reminder that every pause in our movement may be of tremendous import. Gloria keeps running into people whose courses she affected decades earlier, some even before they were born.
I was moved, in part, because I am one of those people. If feminism has become the guiding principle of my life, Gloria Steinem is my patron saint.
—
Here are the minor miracles she's enacted for me: Free to Be (You and Me), a Ms. project that untaught notions of gender conformity, courtesy of my Aunt Barbara. The Ms. clippings that my mom placed in my lap when I was home sick from school. Seeds. Women don't have to be any one thing, and one thing they can be is badass.
Outrageous Acts and Everyday Rebellions at the right moment, too, because I really only meandered my way toward feminism. I was recalcitrant along the way, denying the existence of glass ceilings, dismissing unwanted pregnancies as a consequence, thinking my femininity was a barrier. That equality was still just a goal occurred to me too slowly.
Gloria's essays found their way into my lap when I was still publicly resisting the feminist label. I cried over them in an airport. I packed my reluctance away. I have not excused my feminism since.
I cannot pretend that this book isn't gospel to me. This is total kvelling. Don't love Gloria Steinem yourself, yet? Buy My Life on the Road. You'll get there.
—
I'd like to prescribe My Life on the Road as a panacea for everything poisoning our national conversations. Don't think one political decision matters much? Read Gloria; she'll show you how congressional votes can tumble into presidential upsets. Don't think our words matter? Read Gloria; she'll show you how one student in an auditorium can offer a declaration that reverberates for decades.
There are what might have beens: what if we'd listened to Vietnam detractors, what if Eugene McCarthy had been less icy and more like Bobby Kennedy. There are reminders: that women have been equal in society before; that we only think of feminism as radical because our memory is so poor. There are lessons: about the people who preceded us, particularly those native to the United States, and how they might inform our values.
Gloria records conversations with luminaries and people you've never heard of, and lets them all teach us something. She puts us in key historical moments: beside Geraldine Ferraro on the campaign trail, in Shirley Chisholm's campaign, and at the founding of the National Women's Political Caucus. She remembers Betty Friedan's stinginess, but lets that be a lesson, too.
Along the way, she lights your torch. These are not just memories; these are encouragements to change the world with her.
__
I recommend reading My Life on the Road before voting. I recommend reading it before next opining regarding feminism. I recommend reading it if you ever feel detached from the people around you. "Inside, each of us has a purple motorcycle," Gloria insists–a vehicle to personal empowerment, and to greater connection through it. I recommend making a downpayment.
Gloria Steinem's autobiography may outwardly be about her own traveling life, but reading it, you'll come to better understand your own road. Her story becomes its own kind of activism, and her hopefulness the planning that you won't want to resist.
Read it.
Change everything.
Save