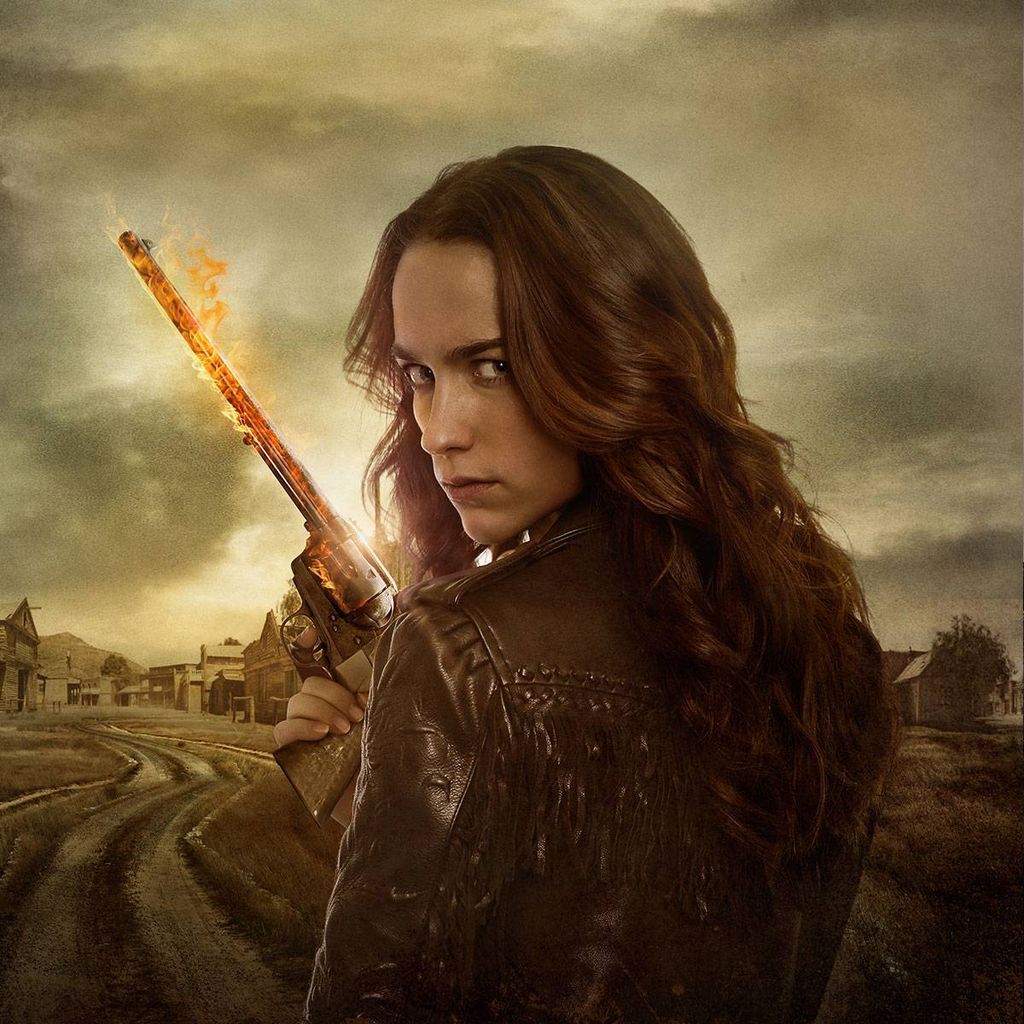 Long before I discovered my love of comic books, I was a devotee of a television show called Buffy the Vampire Slayer. Buffy Summers, a blonde former cheerleader tasked with saving the world (a lot) from various supernatural threats, is at first resistant to fulfilling her destiny as "the Slayer." Along the way she gathers a group of colleagues, friends, and family, affectionately referred to as the "Scoobies," who help Buffy on her journey.
Chances are, you already know Buffy, but have you met her television descendant?
Wynonna Earp, one of SyFy's newest scripted television shows, began as a limited IDW comic series in the late 1990s. Like Buffy, Wynonna isn't exactly enthusiastic about her role as the "Earp Heir." You see, Wynonna is the great granddaughter of the legendary Wyatt Earp, and her destiny revolves around sending demons, or revenants, back to hell with the help of Wyatt's ridiculously long barreled pistol, Peacemaker. Said demons, are the former men killed by Wyatt, trapped in Purgatory (literally the name of the town) and bent on killing off the Earp family. The show refers to this as the "curse," and frankly, it seems like it's as much a curse for the revenants as it is for the Earps.
Outside the whole dispatching of demons, you might not see that many similarities between the two shows at first glance. There's the obvious Hellmouth / Purgatory parallel, of course, but I would argue that the place where Buffy and Wynonna are most alike is within their casts of characters. As such, I offer my take on the character parallels within both Buffy the Vampire Slayer and Wynonna Earp.
The Hero – Both eponymous women are the sun around which the other characters revolve. Tough, witty, and gifted with supernatural fighting abilities, both struggle to bear the weight of responsibility not of their own making when initially tasked with it, but ultimately find that "the fight" is what they are best at. Wynonna is older, and perhaps more damaged than Buffy, but losing half your family to a gang of demons can do that. These characters share a sense of hope and a willingness to continue on, no matter what, buried under layers of sarcasm and snark.
The Ally – Waverly's introduction comes in the first episode as she tries to shoot her sister Wynonna with a pump action shotgun. Not to fear, it's totally a case of mistaken identity, but from the first scene it's obvious that Waverly is both fashionably challenged and isn't going to take any crap from anyone. She fills the role of best friend, as well as sister for Wynonna. She is the brains, the researcher, the person who sends Wynonna off to do battle with an actual chance of knowing what might be behind it. She is kind and sweet, the light to Wynonna's dark. Also, like a certain red-headed hacker from Sunnydale, I think Waverly might be "kinda gay." Wait and see on that.
The Mentor – Brooding. Stoic. Secretive. I could be talking about either of these two characters. First season Giles and Dolls have more than just a mysterious backstory in common. Dolls is Wynonna's partner, but also her trainer, mentor, and boss. He knows more than she does, and he's not always willing to share that information. In his defense, he deals with most of the bureaucracy involved with reporting to a secret division of the government. Like Giles, I believe that the relationship between Dolls and Wynonna will grow stronger through their shared adversity and evolve into one of the strongest relationships on the show.
The Outlaw – Of the many traits that Doc and Spike share – moral ambiguity, murderous instincts, bad accents – my favorite is their utter swagaliciousness. Early on in the series, Doc tosses out this defining gem: "Darlin', I'm everybody's type." It's incredibly true, and the arrogance and honesty behind it says more about Doc than any backstory could. Instead of leather we see throwback western wear, as both men seem to revel in costume-like fashion. As with Spike, you can never be sure if Doc is going to kiss someone or stab them in the back. Six episodes in, he's still playing both sides, with his own agenda at the forefront. However, he often protects both Waverly and Wynonna at great personal risk.
Honorable mention – Nicole Haught, pronounced "hot" (I see what you did there SyFy), is the deputy sheriff of Purgatory and in my opinion, the Tara McClay to Waverly's Willow. If only wishing made it so.
In collaboration with SyFy, IDW also brought back creator Beau Smith to launch a new Wynonna Earp comic as well. Issue #4 just hit stores on May 18th, so it's not to late to catch up. Additionally, if you're interested in the original run of comics, a small word of warning – 1990s Wynonna Earp is very different from the current incarnation. Politically incorrect doesn't even begin to cover it.