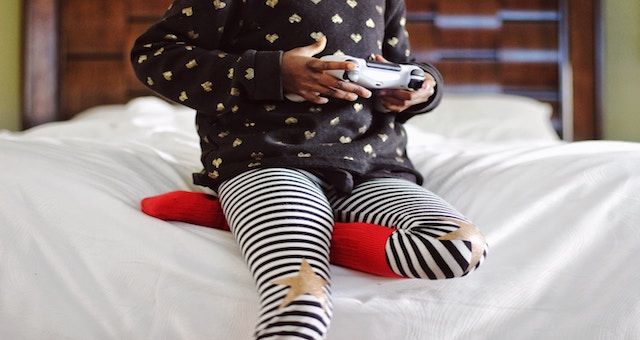 Critical Linking
Does Gaming Improve Literacy Skills? Critical Linking, October 21, 2019
Critical Linking, a daily roundup of the most interesting bookish links from around the web is sponsored by Libro.fm

---
"A new study will explore the relationship between video games and literacy engagement among school children, thanks to a partnership between the two worlds.
Games trade body UKIE has teamed up with major book publisher Penguin Random House Children's and the National Literacy Trust, a charity dedicated to boosting these skills, for this research."
I type super fast because when I was five I was unaware I was playing a video game teaching me how to type, so this sounds like a great study that can lead to great games to further literacy.
---
"Joni Mitchell is a woman of many talents—too many for the label "singer-songwriter" to encompass. It does not capture the literary depth of her lyricism, the unique strength of her distinctive voice, or the deftness and versatility of her guitar playing. Nor the fact that she's one of the most interesting personalities in rock (or folk-rock/folk/folk-jazz, whatever). Mitchell's biography is riveting; her chatty and cantankerous interviews a treat.
And, if you somehow didn't know from her many album covers, Mitchell is also an accomplished visual artist. "I have always thought of myself as a painter derailed by circumstance," she said in 2000. "I sing my sorrow and I paint my joy." It's a great quote, though she also sings her joy and paints sorrow—as in the portrait of her hero, Miles Davis, made just after his death. (Davis was a painter too, and they bonded over art.)"
Joni Mitchell fans can look forward to her rarely seen paintings and poetry in a new book!
---
Been waiting a while to announce this & now I can. Excited to be developing/adapting a wonderful YA Book written by @isabelinpieces, "Gabi: A Girl in Pieces" into a one-hour drama for HBO Max. Wish me luck getting it to series. Will do my very best…! pic.twitter.com/5gxN0JxjUQ

— Ligiah Villalobos (@JalapenoFilms) October 16, 2019