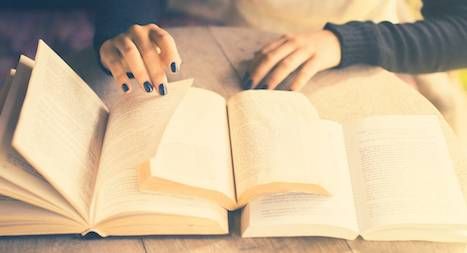 I've gone to many a reading and author signing, and I've had fun doing it. I like to rattle off the names of authors I've met and reminisce with friends about signings we've attended. I like to get signed copies of books and keep them on a special shelf. But I still have mixed feelings about the whole enterprise.
The problem with meeting authors is that it can go wrong in so many ways. And if you have a bad or even a so-so experience meeting an author, it's hard to keep that from influencing how you feel about their books. I had the chance to meet three of my favorite authors a while back (Heidi Julavits, Maggie Nelson, and Sarah Manguso) who did a panel together at the Center for Fiction. I had bought and read all their books well before I'd heard of the panel, so when it was announced, I was thrilled. And then I promptly spilled coffee on their books, all neatly stacked on my desk, the books I was going to have them sign. I wasn't sure what to do. I could have bought all new books so they could sign clean copies, but that felt silly and wasteful. I could simply not have them sign books, but that would be disappointing. Or I could have them sign the coffee-stained books and try to turn it into a joke.
That's what I did. When I met the authors, I explained that I loved their books and read so them so intently I lost control of myself and knocked my coffee mug over. They seemed amused, and I was happy.
But then Heidi Julavits suggested that the booksellers might swap out my stained books for new ones. I got a little confused – why would they want to do that? Why would anybody ask them to? I said no politely, and Julavits looked a little hurt, like she really wanted to help me, to make something cool happen, and I was thwarting her. But I'd owned those books for a long time and had read them and even written in them. I didn't deserve new copies! She shrugged and signed my coffee stain:
It was only later that I realized Julavits probably didn't know I'd owned those books for a long time. She must have missed me saying I'd read them already and thought I'd just bought them. Maybe it was Nelson and Manguso who heard me explain what had happened while Julavits was talking to someone else waiting in line. Her attempt to get me new books made more sense if she thought I'd spilled coffee on them immediately after buying them. But it was too late to explain.
The whole thing was silly – not a big deal, a small misunderstanding – but every time I think about Julavits and her book, I think about that exchange. I hate it when I'm misunderstood! I hate it when I can't explain what really happened because the moment has passed! I hate it that I disappointed a favorite author, even if only in a very small way!
Thinking about this, I begin to believe it's better never to meet authors, or if I do meet them, to stick to a very simple script: "Hi, would you sign my book? Thank you so much, nice to meet you," and never say a word more than that.
Human interaction is too complicated and difficult to try to have a meaningful conversation with somebody I admire in just a quick exchange. The chances are too high that I'll say something dumb or wrong or confusing. It's too high-stakes. But, on the other hand, I'm glad I got to meet those authors and I'm glad they signed my books. I just can't decide which feeling wins out.