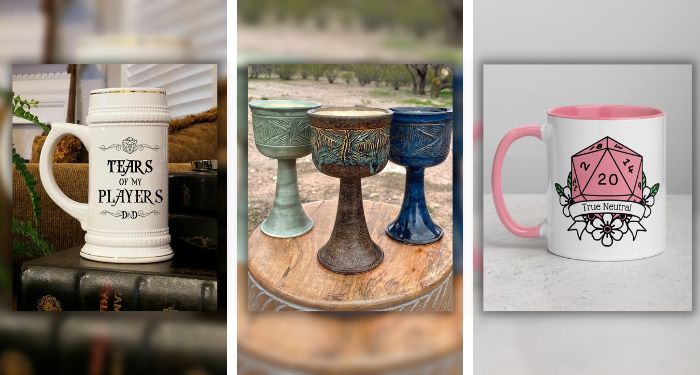 This content contains affiliate links. When you buy through these links, we may earn an affiliate commission.
The game is all prepped and ready to go. Now, you just have to get ready to grab some new D&D mugs, goblets, and chalices for your table. Beverages are a necessary component of a Dungeons & Dragons game after all and you need the perfect drinking vessel to match the vibes.
There is a lot of talking that goes on over the course of a D&D game that can last anywhere from one to nine hours. Any more than that and you're party might be in the danger zone of fatigue and an overall lack of food breaks. However, while you are at the table, little snacks and drinks are vital components of gameplay and the right dishware really ties the game together. D&D mugs, goblets, and chalices are the best way to add a bit of fun to your hydration schedule. I promise it's worth it.
For my own game, I made my party hand-thrown individualized ceramic mugs with their names on them. No one got their drinks mixed up at the table and everyone stayed reasonably hydrated. I think everyone deserves a nice little D&D mug for their game too. It is equal parts whimsical and practical. So, now it really is time for you to get your own.
I hope you liked some of these D&D mugs, goblets, and chalices. If you are looking for more D&D goodies, try checking out these D&D dice rollers, these D&D gifts, or these D&D maps.