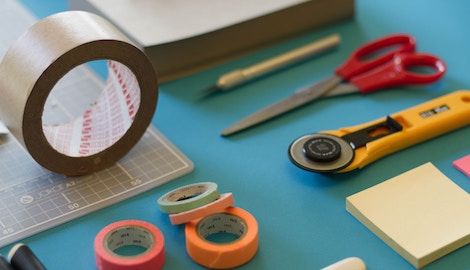 Crafting
25 Unique (But Still Easy!) DIY Gifts For Book Lovers
Finding the right gift for the holidays can be tough. You want it to be something they will actually like and use. You want it to be meaningful (i.e. no gift cards). But, you also don't want to break the bank. And even though it seems like finding the right gift for a reader should be easy ("Books, duh."), it can actually be really tough! You don't know what they have already read, what is sitting in the TBR pile on their nightstand, which authors they love and which they hate with the fire of a thousand suns. What is a gift-giver to do?
Well, luckily, the internet is just chock-full of creative ideas for homemade gifts and many would be the perfect thing to bring a little cheer to the readers in your life during this holiday season. From stocking stuffers to keepsakes, we've got a list of DIY gifts for book lovers that will bring a smile to your loved one's face!
Bookmarks
Bookmarks are great stocking stuffers, easy and quick to make, and you ALWAYS need one!
These button bookmarks couldn't be easier: just some cute buttons, large paper clips, and a hot glue gun!
If you want to take those buttons to the next level (homemade bookmark-wise), these ribbon bookmarks are adorable.
If you like your ribbon to have a little more staying power, try out these magnetic ribbon bookmarks.
Practice your embroidering skills and make this cute lil' guy for a friend (or yourself)
Have a lot of embroidery thread left over? These tassel bookmarks are a great way to use up that stash and mark your books in style.
Do you have a reader on your list that loves to annotate and take notes? This crocheted bookmark is a two-for-one gift: a bookmark AND a pen holder.
If your crafting style skews more toward the Ron Swanson–esque side of woodworking, these thin wood bookmarks might be right up your alley.
Journals
Reading and writing go hand-in-hand. Whether they want to pen their own masterpiece, to jot down notes, or just keep track of what they've read and what they want to read, the writerish reader on your list will love any of these easy DIY gifts for book lovers.
With a little bit of felt, some embroidery floss, and a hint of creativity, you can turn a regular ol' composition book into a one-of-a-kind, personalized journal (with a pocket!).
This is a great way to snazz up pre-made journals and turn them into unique presents.
If cross stitching is your thing, let this journal be your canvas (literally) and add a special message to your loved one's gift.
Take your DIY skills up a notch and make your own hardbound book. How can that not wow and amaze whoever receives it?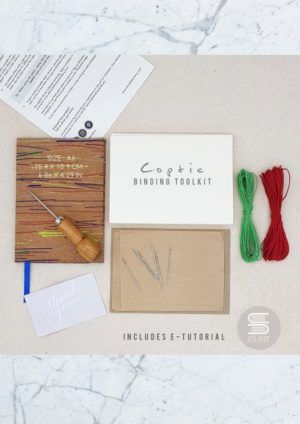 These kits will teach you the art of bookbinding, leaving you with a beautiful handmade piece to give away (or keep).
Kindle/Ereaders
Just because your tech-loving friends and family prefer using a ereader doesn't mean they need to miss out receiving lovely DIY bookish gifts!
Help protect a tablet with this super cute felt cover!
Help free up the hands of your ereading loved ones with one of these cute (and squishy) stands.
Why not be super meta and use an old hardcover book to make a cover for an ereader. (#bookception)
Book – Creative Reuse
Sometimes the coolest gifts can be made with items you have lying around your house. Breathe a new life into old books with these creative reuse gifts!
Succulents are Having a Moment right now. Make your trendy present unique by creating a planter out of an old book.
Make a special box to keep special treasures with this upgraded hollow-book idea.
Give someone special in your life an EXTRA special accessory out of their favorite book.
For Kids
Help your littlest loved ones celebrate the holidays AND their love of reading!
Sew these up, tuck a book into the pocket, and give the little ones (or the grown-ups) a cozy reading experience on the go.
Harry Potter Baby Activity Cube
If you want to get the babies in your life on the Harry Potter train early in life, these cute fabric cubes will do the trick.
Not gonna lie, these are not beginner-level projects. But if you feel comfortable with your sewing abilities or are up for a challenge, these tutorials will walk you through creating a variety of pages for a quiet book for babies, which helps develop their motor skills.
Accessories
Give the gift that says, "Yes, I am all about that Book Life."
If your loved one has a favorite quote, follow this easy tutorial to turn it into their new favorite accessory.
Ugly Christmas Sweater for Your Book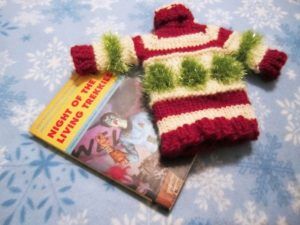 Why should your books miss out on all the Ugly Sweater Parties? Deck them out with one of these.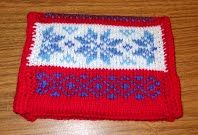 Or, if you just want a book to be cozy, this knit book cover will be right up your alley.
Composition Book Crochet Throw
Get snuggly, get nerdy.
---
Looking for more bookish gift ideas? Check out these posts:
5 Cheap (or Free) Last Minute Homemade Bookish Gifts