Crafting
Reclaim Your Shelf Space With These DIY Bookshelves
There are people who have bookshelves with books on them because they look good. Then there are the people who need bookshelves to house the many, many, many books that find their way home with them. They need shelves with plenty of space. How the shelves look is of minimal concern. They care more about how well the shelves do their job and how much they'll cost. They wouldn't want to divert too much from their book buying budgets. Here are a few simple and stylish DIY bookshelves (we shared some more DIY options here) that will keep those precious books off the floor without costing a fortune.
Here's what we're going to hit on the DIY bookshelves front:
Ladder shelves
DIY corner bookshelves
Cinder block shelves
Bookshelves made out of old drawers
Ladder Shelves
There are a couple of different approaches to DIY bookshelves when it comes to ladders. There's the ladder that you hang along the wall. There's the ladder that you set up and build shelves across the rungs. And there's the more sizeable shelves you get when you're lucky enough to get your hand on two (or more!) old ladders that need a new purpose.
Materials
Wooden ladders are the best to work with, especially if you're going for that whole rustic look. There are usually a few available on Etsy, or you can watch your local flea markets, antique stores, or Craigslist. You can also find new, plain wooden ladders at your local hardware store.
If you're doing a standing shelf, and you need boards for the actual shelves, then you have a few options.
Find an old pallet or two, rip them apart, and use the pieces to construct your shelves. There may be a few cuts you'll need to make, but nothing too complicated.
You can buy new boards at your local home improvement store. If you've got your exact measurements ready when you get there, they'll help you pick the right board and, often, even do the cutting for you.
Buy pre-cut shelving. Again, knowing your measurements before you buy is best. Shelf board is often already stained or painted, so you may want to pick up some fine sandpaper to rough up the surface a bit before painting, if that's in your plans. It's always good to be prepared.
Tutorials
Here's a great how-to for a DIY ladder wall shelf in the corner from Tabitha Blue. The key to the wall shelf seem to be the wall brackets. They don't just hold the ladder up, they also help keep it just far enough away from the wall to leave plenty of room for the books.
The simple, unfinished ladder shelf above was inspired by a trip to Japan. The board shelves are anchored to the rungs of the ladder with simple L brackets, which give the shelf stability. But they are also as quick and easy to remove as they are to install, meaning you can easily dismantle the shelf for moving or storage. Check out the how-to on A Pair and a Spare.
The two-ladder shelf above is similar to this one from Vintage Revivals, where they show you how to take the ladder shelf game to a whole new level.
Corner Shelves
In the homes of many a bibliophile, the corners are wasted space. These shelves may not hold a ton of books, but they do allow you to maximize the space you have. This corner shelf is created by repurposing an old door or pair of shutters.
Materials
The nice thing about these DIY bookshelves is that there is minimal modification to the door or shutters involved. All you need are pieces of wood to use as shelves and a few pieces of hardware to hold it all together. Any cuts that need to be made are simple and straight, and a good cordless drill will make assembly a breeze.
As with the ladders, you can find vintage shutters on Etsy, the flea market, or a local antique store. Consider checking out your local Habitat for Humanity ReStore, too. They have a lot of really great building materials for a good price, and it helps a great cause.
Tutorials
Here's a how-to on splitting an old door in half to make a corner shelf from Grit Antiques. Because you have to split the door to make this work, it is going to be a bit more involved in terms of tools and time.
Here's how you can make a folding closet door into a cool corner shelf from Beckwith's Treasures. Since these doors are already hinged, the only real work to do is with the shelves. That makes things go alot faster.
Here's a look at how you can take a couple of old window shutters and make a shorter shelf, if that's what you need (image via, tutorial for similar). These shelves make excellent additions to screened-in porches, sunrooms, or breakfast nooks.
Cinder Block Shelves
When the budget is especially tight and/or you aren't the handiest person (read: you have never picked up a screwdriver or saw and probably shouldn't), a good set of cinder block shelves may just be your best bet.
They're easy to dress up, too. There are lots of different style blocks available, and, of course, you can do great things with paint. My mom built a set for our toys when we were kids, so I'm giving this idea my personal endorsement.
Materials
Depending on what you are looking for in terms of either shelf height or visual appeal, you have a few different blocks to choose from. There's the standard Oldcastle block, which generally cost less than $2 each. Decorative blocks, like this one with a floral motif, run about $2.50 each. There are even cylinder blocks. You can keep them simple, dress them up with paint, or potentially spend a little more and get something that looks more like stone than cement.
Once you have chosen your blocks, figure out how you want to arrange them. This will determine how wide your boards need to be. If you're looking for serious storage capacity, you want a good, sturdy wood. Try Red Oak or Koa. Know how long the shelves need to be before you shop, so you can get them to make any cuts you might need in the store.
Tutorials
Here's a Snapguide for the basic cinder block setup. It really is just as simple as stacking woods on blocks. This method is particularly well-suited for a corner shelf unit.
For an upgraded version, check out this how-to from The Crazy Craft Lady. She stained her boards a nice dark color, and she used a variety of flat paving stones to stack between shelves. This is a great way to vary the heights of your shelves if you have a lot of different types of books.
If you want to see a good set of cinder block shelves put to to the test, here's a peek at what 580 books look like on a set of shelves with painted concrete blocks.
Coming Soon – DIY Bookshelves With Old Drawers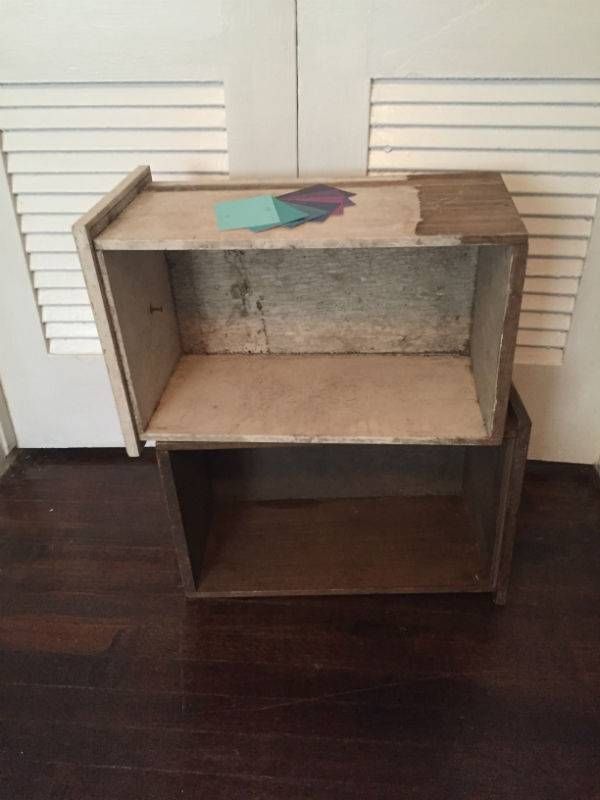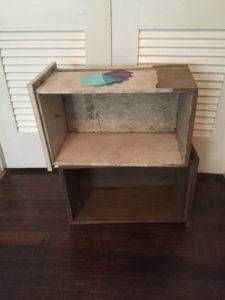 I am currently building my own DIY bookshelf, using two old drawers that I picked up at a local flea market. I've been documenting the process, and I will be back soon with my own tutorial on how to build a shelf with a lot of color and character.
I'll go ahead and tell you that it involves chalk paint, decorative drawer pulls from Home Goods, and a set of legs meant for a bed from Ikea. It has taken me awhile to find just the right pieces and just the right colors, but I'm very happy with how it is all coming together!
Do you have any design inspiration for your own DIY bookshelves?
Save