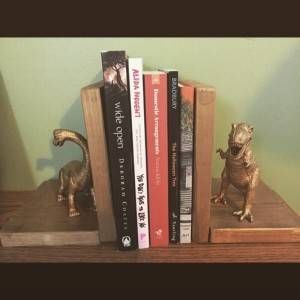 Crafting
DIY $5, Five Minute Dinosaur Bookends
My friend made me the best birthday gift a couple of months ago on a whim. She wasn't sure if we were doing an exchange or not, and she thought it would be better safe than sorry.
"It's okay if you hate them or think it's cheap or whatever" is how she prefaced the gift. And usually, with a disclaimer like that, I know it's going to be something I really love. Because to me, the best gifts are those ones that come from the "this reminded me of you"/"this is something that combines your interests and I recognize that" realm.
I was not wrong when she presented these:
Those are dinosaur book ends she made for me the night before we got together. They have a prime spot on my bedroom bookshelf, containing some of my to-be-read pile (obviously, this is not the entire thing).
More than one person has asked where to get these book ends when they've seen photos of them or seen them in person. And the secret is this: you can have a pair of golden dinosaur bookends yourself if you have five minutes and 5 or so dollars.
Supplies:
Plastic dinosaurs or other plastic animals of choice. Buy them cheaply at a dollar store or big box store, but make sure they are able to stand up the way you want them to. What they look like on the outside doesn't matter. You're going to end up buying . . .
Spray paint in whatever color you love. I happen to find the gold my friend used very classy and attractive. I think these would also look great in a neon color or even a plain white.
One piece of wood. I know nothing about wood sizes, but you really only need one piece and it can probably be smaller than a 2×4. Go to a home improvement store and pick up a piece you could cut 4 smaller, equal sizes pieces from that fit the size of bookends you'd like to make. Some home improvement stores will cut the wood for you or have small pieces of cut wood from other projects — then you are really saving yourself time and energy. The pieces I have are roughly a little bigger than a mass market paperback in height, but not quite as tall as a trade paperback. I like that size. You might be able to salvage your wood pieces from around the house, too, which would make this step even easier and less expensive.
Super glue or gorilla glue or hot glue. You want something that will HOLD.
A saw or other tool to cut your piece of wood into 4 equal pieces.
Newspaper or cardboard or fabric you don't mind getting covered in spray paint.
Optional bling for your bookends — possibilities include sequins, googly eyes, stickers, washi tape, regular paint, whatever. If you want your dinosaurs or lions or other plastic creature to be fancy, you go ahead and fancy that shit up.
Directions:
As suggested above, cut your wood into four equal pieces. After you do that, glue two of them together so they meet at a right angle. Do the same thing with the other two. Let that glue dry nice and solid. Ta-da, you have bookends.
While the glue is drying, spray paint your plastic creatures. Let them dry all the way.
When the bookends are dry and when the spray paint is dry, go ahead and superglue the plastic dinosaurs or animals onto the bookend.
Decorate further as desired. I prefer a really minimalistic look personally.
Congrats! You now own a pair of inexpensive and totally unique book ends to keep for yourself or gift to a friend who will love the creativity and DIYness of your present.