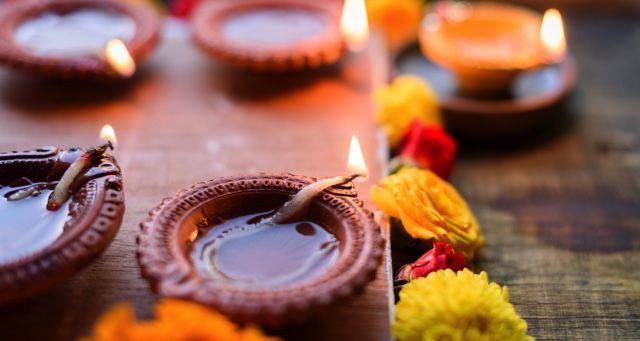 Lists
Celebrate The Festival of Lights With 5 Beautiful Diwali Books
This content contains affiliate links. When you buy through these links, we may earn an affiliate commission.
Growing up as the only Sikh girl in my class, I felt left out of the holidays that my classmates celebrated. Christmas, Hanukah, Easter—I didn't understand where I fit in. Sure, I got plenty of presents, and there was a whole Santa Claus bit that my uncle did (where he dressed up as Santa, dollar store beard and all), but it still didn't feel like my holiday. It wasn't until I started to learn more about my own history that I learned about Diwali. Known as the Festival of Lights, Diwali is celebrated by literally millions of people across the world. Different religions and regions (predominantly originating from Southeast Asia), celebrate for different reasons. As families migrated across the world, traditions followed them to their new homes, my parents included. My family lit candles (diyas), painted rangoli art with sidewalk chalk, gorged on samosas, and handed out crisp $20 bills in decorated red envelopes. It's a shame that there are still not enough Diwali books about the holiday available—did I mention the millions of people who celebrate worldwide? I gathered a few Diwali books (with a focus on children's lit) to get you started.
Children will love the three adorable monkeys at the center of this Diwali book as they investigate a mysterious gift. Through their adventures, readers have the opportunity to learn more about Hindu Gods, Diwali and the traditions around the holiday.
One of the few children's Diwali books I've found that pays equal attention to the Hindu, Sikh and Jain traditions. This simple picture book does a nice job of explaining to children the different reasons to celebrate Diwali.
Author Rina Singh uses beautiful photographs along with her own personal stories and recipes in this well-researched book, ideal for those really looking to dig into the educational history and mythology surrounding Diwali.
This Diwali book celebrates focuses on Diwali as the celebration of the birth of Lakshmi, the goddess of wealth and the transition from the fall monsoon to winter. The simple sentence structure and colorful full-page illustrations make this perfect for young children age 3–5.
This picture book is part of an ongoing series by Pixar designer Sanjay Patel (who created the charming Sanjay's Super Team). Here, Sanjay illustrates Ramayana, one of the most important epics in Hindu mythology. In this epic is one of the more popular stories behind the Diwali festival, Lord Rama's return home from exile after defeating the Demon King Ravana. The illustrations are excellent as you can imagine, and it's an extremely digestible retelling of the epic (which clocks in at a whopping 24,000 verses and nearly 500 chapters).