This content contains affiliate links. When you buy through these links, we may earn an affiliate commission.
I feel as though the summer offerings for diverse romance reading is a little paltry. I was hoping for endless recommendations, but aside from the usual names we see and books from the Harlequin Kimani Romance line, other recommendations are few and far between. If you want to see previous diverse romance reading recommendations, visit the diverse romance tag! And while all the books might not be available for preorder yet, all of them are on Goodreads to add to your TBR piles.
The books below feature people of color as one or both of the protagonists, are written by a person of color, and feature characters that may be genderqueer or disabled. I've always added some symbols to help readers find the books they'd like to read. An asterisk (*) means that a book is written by a person of color or member of the LGBT community, but features white or heterosexual protagonists, and a cross (†) means that while the characters are diverse, the author may not be (i.e. a straight woman writing about gay characters, a white author writing about a black heroine, etc).
Also, please keep in mind that a majority of the information used to determine whether a book belongs on this list comes from the cover image, jacket copy, and some Googling.
May

Crazy for You by Rina Gray (5/8): Baseball hotshot Jake Ross isn't looking for love, only a good woman to come to his rescue. His bad boy rep lands him on the covers of gossip rags instead of sports magazines and could cost him a multi-million-dollar sponsorship deal.
Enter Charlotte Jones. The shy media coordinator is determined to lose weight and avoid the health concerns that run in her family, but after months of middling results, she needs someone to talk her out of throwing in the towel.
If Charlotte pretends to be Jake's girlfriend, he'll coach her on how to hit her numbers on the scales. It's a home run of an idea … until sparks begin to fly. But has Jake really forsaken his playboy ways?
†Until Sage by Aurora Rose Reynolds (5/9): Sage Mayson had Kimberly Cullen once, and the memory of that brief encounter has tortured him since the moment he pushed her away. He should have followed his gut, but he didn't, and now he's left watching the woman he wants more than anything from afar.
Kimberly vowed to protect her heart from Sage, but when her sister is murdered and her world starts to fall apart, he's the one person she finds herself leaning on.
Getting a second chance is something Sage knows is rare. He's not going to squander the one he's been given, and he won't take no for an answer when it comes to making Kim his.
But what Sage doesn't know is Kim has a secret that could leave them both devastated and heartbroken.
†Primal Need Anthology by Parker Foye, Holley Trent, & K.L. White (5/15): A sexy male/male paranormal romance anthology that will leave you hungry for more…
An exiled wolf shifter meets his mate and experiences a desire so intense it could be the death of them both.
A coyote pack alpha must convince a human to let down his guard and accept him—the man and the beast.
And a Kelpie naval officer discovers that the man marked for sacrifice is the man he's crossed oceans to find.
This anthology includes:
Wolf in King's Clothing by Parker Foye
The Alpha's Claim by Holley Trent
Dark Water by K.L. White
Letter of the Law by Carsen Taite (5/16): Federal prosecutor Bianca Cruz has spent her life balancing motherhood with the call of her career. As she draws closer to making the case against the notorious Vargas brothers, danger casts dark shadows over her family. When her case leads her to a gorgeous horsewoman with a mysterious background, will she take a chance at love even if it means risking everything she's worked her entire life to protect?
To horse breeder Jade Vargas, happy family is a fiction. Unlike her privileged half sister, she grew up knowing her heritage was rooted in darkness, yet she's managed to live in the light despite the looming criminal enterprise ever poised to drag her down. When crisis strikes, will she burrow back to her past or will her undeniable attraction to the prosecutor investigating her family pull her out of the darkness once and for all?
Royal Rebel by Jenny Frame (5/16): Princess Rozala of Denbourg enjoys her reputation as a wild child, especially when it annoys her father, the King. When Rosa's latest girlfriend brings scandal to the palace doors, her father sends her to Britain, in the hopes that time with her cousin Queen George and the new Queen Consort will finally make her face her responsibilities.
After overcoming personal demons and quitting the high-stakes world of finance, Lennox King is content to keep her life simple. As the new director of a hospice charity, she uses a strict business approach to help the charity grow and prosper.
When Rosa comes to work at the charity under orders from the Queen Consort, babysitting a spoiled princess is definitely not on Lennox's agenda. But when passion flares between them, will Lennox's past stop their relationship in its tracks, or will a twist of fate bring a new future that neither was expecting?
Devil's Deal by Michele Arris (5/22): CEO Billionaire Lucas Marx isn't used to hearing the word "no." So when he hits on gorgeous moonlighting waitress Bailey Walters and she coldly turns him down, he becomes focused on finding a way into the captivating woman's heart.
Bailey knows men are more trouble than they're worth, and golden boy Lucas is especially dangerous. Turns out he's not just any guy, but the ex of her boss, who is determined to get him back. Bailey is focused on building her career in interior design, and if her boss finds out she's stolen her man, she'll lose everything.
When Bailey's assigned a design project for Lucas's home, their attraction soon becomes too hot to handle, and Lucas resorts to bribing Bailey's best friend into setting up a date for them. But building a relationship on lies and deceit is never a good idea…
Can Lucas crack Bailey's steely façade to find the vulnerable woman hiding beneath? Or will he discover it's his own heart that needs defending?
†The Wrong Woman by Cass Lennox (5/22): As an independent filmmaker, Katie Cherry is used to difficult shoots—but a band's music video in a tiny lesbian bar is proving worse than most. Stress-busting, expectation-free sex with Zay, the calm, gorgeous bartender, seems just the ticket. But then she and Zay discover the band's lead singer beaten into a coma in the bar bathroom. They need an alibi, but playing girlfriends is a role Katie's never excelled at, so she can't see this ending well.
Zay Fahed-Smith finally getting her life back together after her junkie ex broke it apart. She's working part-time while pursuing her dream of being a lawyer, and definitely keeping things chill on the girls front. Of course, that's when a crime happens in her bar and her ex shows up wanting to try again. "Dating" Katie seems like the best way for Zay to keep her head down and teach her ex a lesson.
Except pretty soon, the charade begins to feel less and less like acting. And when the attacker turns his attentions toward Katie, they have to cut through the lies to discover what's real.
The Beauty & the CEO by Carolyn Hector (5/23): Makeup artist Zoe Baldwin can't believe the gorgeous guy she flirted with on the way to a job interview was her potential boss. So when Will Ravens, CEO of his family's cosmetics company, tells Zoe her innovative approach isn't right for his brand, she agrees to work alongside him at a beauty pageant to prove her skills. But where there are sparks, there's certain attraction…
Will is fighting to keep his family legacy afloat. He's going back to basics at Ravens Cosmetics, leaving no time for romance or Zoe's avant-garde ideas. But despite his intentions, he finds himself falling deeper under Zoe's sensual spell. Amid the chaos caused by company sabotage, can
Miami After Hours by Yahrah St. John (5/23): She's got sky-high ambitions to match the glamorous penthouses she shows, but real estate agent Angela Trainor keeps both feet firmly on the ground. Her attraction to her sexy boss, Daniel Cobb, needs to remain at bay, or it could derail her promising career. But when Daniel takes Angela under his wing, introducing her to clients at society events, mutual admiration becomes a sizzling physical connection.
Daniel has turned his starter company into Miami's premier agency. In the process, he's earned his place among the Millionaire Moguls–an elite and exclusive organization dedicated to paying success forward. He's known for showering women with lavish gifts, attention…everything except commitment. Now the lovely Angela has discovered the pain in his past and is daring him to open up. But will it be enough to convince her that he wants so much more than just an unforgettable fling?
Tempo of Love by Kianna Alexander (5/23): It's the opportunity of her career, a story that may save Nona Gregory's job at one of North Carolina's most respected papers and put the ambitious reporter on the map. All she has to do is get reserved architect Ken Yamada to open up about what inspires his unique art. But soon Nona finds herself beginning to fall for the part-time musician who plays the drums with a beat so dangerously in sync with her heart.
Fiercely protective of his scandalous past, Ken is surprised that Nona's in-depth profile starts to uncover the real man behind his legend. Nona shares a love of music and a passion so deep that Ken doesn't want to believe that she could betray his trust. The scoop of a lifetime would expose a family secret that might destroy his career while making Nona's. Is she willing to sacrifice their chance for a future in perfect harmony?
†Until I Saw Your Smile by J.J. Murray (5/27): At Smith's Sweet Treats and Coffee, you'll find Brooklyn's best house blend and the freshest homemade pastries. It's more than a business to owner Angela Smith. It's her home and her refuge–one she stands to lose thanks to her gouging landlord. Then a new regular offers to cover her rent increase if Angela lets him meet his clients there. If Matthew McConnell weren't such a persuasive lawyer–and so sweet, funny, and sexy–she wouldn't dream of letting him in.
Since he left a high-paying, soul-sucking legal firm to go solo, Matthew has been striking out, professionally and personally. The best part of his love life is regaling Angela with date-from-hell stories over steaming, fragrant coffee. Behind her captivating smile is a smart, sensual woman he'd love to get close to. And when a secret from her past is suddenly exposed, he gets a chance to prove he's the man she needs, in every way that matters. . .
When Dimple Met Rishi by Sandhya Menon (5/30): A laugh-out-loud, heartfelt YA romantic comedy, told in alternating perspectives, about two Indian-American teens whose parents have arranged for them to be married.
Dimple Shah has it all figured out. With graduation behind her, she's more than ready for a break from her family, from Mamma's inexplicable obsession with her finding the "Ideal Indian Husband." Ugh. Dimple knows they must respect her principles on some level, though. If they truly believed she needed a husband right now, they wouldn't have paid for her to attend a summer program for aspiring web developers…right?
Rishi Patel is a hopeless romantic. So when his parents tell him that his future wife will be attending the same summer program as him—wherein he'll have to woo her—he's totally on board. Because as silly as it sounds to most people in his life, Rishi wants to be arranged, believes in the power of tradition, stability, and being a part of something much bigger than himself.
The Shahs and Patels didn't mean to start turning the wheels on this "suggested arrangement" so early in their children's lives, but when they noticed them both gravitate toward the same summer program, they figured, Why not?
Dimple and Rishi may think they have each other figured out. But when opposites clash, love works hard to prove itself in the most unexpected ways.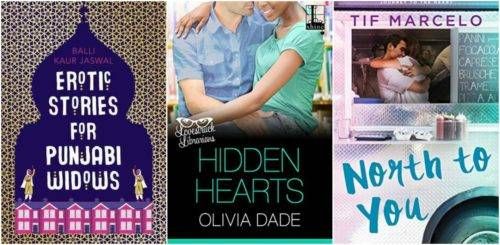 June
North to You by Tif Marcelo (6/5): In this warmhearted and charming debut from Tif Marcelo, a food truck chef and her long lost Army love clash when they cross paths in San Francisco.
Camille Marino has got a full plate. As the sole guardian of her eighteen-year-old sister and the head chef and owner of a food truck, she's used to life being a juggling act. With food to cook, social media accounts to manage, and a little sister to look after, she doesn't have time for much else.
That is, until Drew Bautista walks back into her life.
Drew is Camille's former high school crush and he returns to San Francisco to repair his relationship with his father before he ships out for deployment. By helping his father renovate his failing Filipino restaurant, he hopes to win back his respect. But when sparks fly between Drew and Camille—his father's major competition and sworn enemy—Drew is conflicted. Should he join his father in the war against her food truck? Or surrender to the woman who's given him a second chance at love?
*Sight Unseen Anthology by Sherry Thomas, Meredith Duran, Emma Barry, J.A. Rock, and, Erin Satie (6/6): Sight Unseen: A Collection of Five Anonymous Novellas
What stories would you tell if you could? Where would your mind take you, if you let it? Five of the top voices in romance dare you to explore the most distant corners of their imaginations as they test the limits of storytelling and break the boundaries of what even they thought possible, teasing and tormenting you shamelessly as they go.
But there's a twist—the author of each story is a secret at the time of release. They're each plumbing the depths of the human heart and mind in ways they've never attempted before. Taking you high, bringing you low, until you will be hardpressed to guess who wrote what. Can you tell? Want us to?
Too bad our lips are sealed . . . for now.
Erotic Stories for Punjabi Widows by Balli Kaur Jaswal (6/13): Nikki is a modern young Punjabi woman, who has spent most of her twenty-odd years distancing herself from her community and living an independent (read: western) life. But after the death of her father leaves her family in financial straits, she takes a job as a creative writing teacher for a group of aging widows at her temple and discovers that the white dupatta of the widow hides more than just a few greying hairs.
These are women who have lived in the shadows of fathers, brothers and husbands their whole lives, being dutiful, raising children and going to temple. They may not have a great grasp of English but what they do have is a wealth of stories and fantasies that they are no longer afraid to share with the other women in the group.
As Nikki realises that she must keep the illicit nature of the class secret from the Brothers—a group of highly conservative young men who have started policing the morals of the temple and the wider community—she starts to help these women voice their desires, and also begins to uncover the truth about the sudden recent death of a young Sikh woman…
Silver Silence by Nalini Singh (6/13): New York Times bestselling author Nalini Singh introduces a bold new chapter in her extraordinary paranormal romance saga with the Psy-Changeling Trinity series. Wild passion will encounter the darkest of betrayal…
Control. Precision. Family. These are the principles that drive Silver Mercant. At a time when the fledgling Trinity Accord seeks to unite a divided world, with Silver playing a crucial role as director of a worldwide emergency response network, wildness and chaos are the last things she needs in her life. But that's exactly what Valentin Nikolaev, alpha of the StoneWater Bears, brings with him.
Valentin has never met a more fascinating woman. Though Silver is ruled by Silence—her mind clear of all emotion—Valentin senses a whisper of fire around her. That's what keeps him climbing apartment buildings to be near her. But when a shadow assassin almost succeeds in poisoning Silver, the stakes become deadly serious…and Silver finds herself in the heart of a powerful bear clan.
Her would-be assassin has no idea what their poison has unleashed…
A Miami Affair by Sherelle Green (6/20): He'll give her everything
Corporate raider Joshua DeLong is at the top of Miami's list of most eligible bachelors, and happy to stay there. Always playing to win in the boardroom and the bedroom, he intends to shake up the refined Millionaire Moguls. Josh has big plans for their next benefit–especially once he meets the charity's beautiful, buttoned-up PR director, Becca Wright.
Although independent overachiever Becca isn't looking for a bad boy with big bucks, she needs to convince Josh to support her foundation. That means visiting his yacht and accompanying the sexy tycoon to glitzy events. Suddenly Becca's letting her hair–and her guard–down…and starting to see beneath the trappings of Josh's success. Is she just the latest challenge for a man addicted to conquest, or the first to make him dream about forever?
†Hidden Hearts by Olivia Dade (6/20): AN ADMIRER WITH A SECRET . . .
Mary Higgs could be the poster girl for the buttoned-up librarian. She follows the rules. Stays 'til closing. Her kindness and dedication to her patrons are legendary. But those patrons have no idea what she's typing to the mysterious shut-in who emailed the library three months ago . . .
A year ago, Miles O'Connor was a gleaming, ab-sational star of the small screen. Then came the accident. Now he's a wounded recluse with a pizza habit and fears so unshakable that only the thought of losing Mary to an online date could lure him out of his cabin.
Soon their email rapport has turned into weekends on the couch, watching tearjerkers and driving each other insane with red-hot makeout sessions. But as their desire grows and their horizons expand, the life that brought them together might not be enough for either of them . . .
It Started in Paradise by Nicki Night (6/20): Two rivals. One desire.
Stunning, sensual Puerto Rico is the perfect place to combine business with pleasure. Yet Chloe Chandler can't indulge her attraction to Donovan Rivers when they cross paths at a convention. Heir to an exclusive Long Island venue, Donovan is vying to host the same A-list gala that her parents' restaurant hopes to gain. And as events director for her family's empire, Chloe and her loyalty are being tested by an intense longing for a man who's determined to win both her…and the client.
An in-demand bachelor who plays by his own rules, Donovan never stops until he gets what he wants. Falling for his beautiful competitor will anger their families, but Chloe has already sacrificed too much to please others. Now Donovan intends to show her everything she's been missing–including the heat of his embrace. But when the competition comes between them, will their ambitions force them to lose out on love?
Playing with Temptation by Reese Ryan (6/20): North Carolina pro footballer Nate Johnston built his reputation on talent, drive and good sportsmanship. But a devastating recent loss derails his team's shot at winning the championship…and Nate's career when a compromising video goes viral. In need of a miracle, the star wide receiver feels ambushed when his brother enlists media consultant Kendra Williams to do damage control. The reignited desire for the woman he once wanted to spend forever with can only cause Nate deeper heartache.
Walking away from the man she loved seven years ago is the biggest regret of Kendra's life. Now her son needs a closer relationship with his father…and Kendra needs to win back Nate's trust. After breaking his heart, repairing his career is the least she can do to help save his dream. Powerful passion still smolders between them, tempting the former lovers to move beyond their painful past. Will the emergence of a jealous ex with a vicious revenge scheme sabotage their second chance at a future and a family that's almost within reach?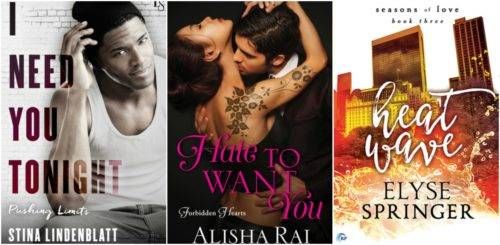 July
Prince Ever After by A.C. Arthur (7/1): A royal wager
Playboy prince Roland DeSaunters is ready to live up to his royal legacy—by betting on his future. Winning the beautiful Valora Harrington in a poker game is a scandal waiting to happen. Lucky for him, Val has no intention of getting involved with the younger brother of the man to whom she was once engaged. But after sharing an earth-shattering kiss with Val, Roland is the one swept off his feet.
An ill-fated engagement to a man she didn't love convinced Val that finding Prince Charming wasn't in her cards. That was before she was drawn into a passionate clandestine affair with the handsome bad boy of the reigning family. With dangerous enemies plotting the noble dynasty's downfall, are Val and Roland ready to gamble on an uncertain future? Or could a last-minute challenge lead to the biggest surprise wedding Grand Serenity has ever seen?

Chasing Down a Dream by Beverly Jenkins (7/4): NAACP nominee and USA Today bestselling author Beverly Jenkins continues her beloved Blessings series with a heartwarming novel about what really makes a family.
There's never a dull day in Henry Adams, Kansas.
Tamar July has never had a great relationship with certain members of her family. In fact, she'd characterize it as a "hate/hate relationship." But when her cousin calls her with the news that she's dying and wants Tamar to plan the funeral, she's shocked but is willing to drop everything for her.
After a horrendous storm, Gemma finds a young boy and his little sister walking on the side of the road. She takes them in, and quickly falls in love with the orphaned siblings. But when Gemma contacts Social Services to try to become their foster mother, she's told a white woman cannot foster African-American children.
In the midst of these trials, Jack and Rocky are trying to plan their wedding. The entire town comes together to lend a helping hand.
Though the residents of Henry Adams face seemingly insurmountable obstacles, each of them will discover that family comes in many forms, especially during the most trying of times.
Secret Miami Nights by Pamela Yaye (7/18): His passion is like no other
Everything has come easily to Ashton Rollins, the handsome, uberwealthy heir to an aeronautics empire and president of the Millionaire Moguls. The only thing his riches can't do: help Ashton put a tragic accident behind him. Petite, sexy Haley Adams is the first woman to truly intrigue him since he lost his fiancee. Until a secret about that long-ago night resurfaces and threatens his picture-perfect world…
Haley's charity work is worlds away from Ashton's palatial home and jet-setting lifestyle. He's introducing her to fabulous vacations, exquisite cuisine–and a simmering seduction that leaves her craving more. As power struggles within the Moguls collide with family revelations, Ashton realizes that Haley's the one thing he can't bear to lose. But is she willing to stake everything on the enigmatic man behind the fantasy?
†I Need You Tonight by Stina Lindenblatt (7/11): Old habits die hard. But in this sexy, heartwarming romance, a musician who's addicted to the temptations of the road falls for a good girl who makes him want to clean up his act.
Mason Dell's band, Pushing Limits, is a sensation, and he's having a blast on their biggest tour yet. Then he gets a call from his best friend, who's in the Navy, asking him to find out why his sister isn't answering her phone. The dude once saved Mason's life from a suicide attempt related to a gambling problem—so the two-and-a-half hour drive from L.A. to her small town is nothing.
What he finds is a sweet, successful boutique owner who's too busy to notice when her phone dies. Nicole McCormick has nothing better to do than work. She's bored of all the men she's been dating: stable, career-oriented guys who are nothing like her destructive father. Mason's is a breath of fresh bad-boy air. Their sexual connection is explosive, and with her shop undergoing renovations, Nicole even joins Pushing Limits on the road. But when Mason falls off the wagon, that's one path she swore she'd never go down again.
While Nicole picks up her broken heart and heads home, Mason misses her like crazy. Although he wants to forge a future with her, he just doesn't know how to leave the past behind. But for love, it's time to learn.
Surrender to Me by Donna Hill (7/18): No woman has ever caught him…until now
Rafe Lawson is driven by two things: his music and living a life away from the influence of his powerful senator father. The woman he meets at a high-profile family celebration won't change his playboy ways. Still, Rafe is intrigued by the stunning Secret Service agent who never mixes business and pleasure. He has no choice but to jet to DC and use his legendary Lawson power of seduction to win over Avery Richards.
The first female in her family to rise up the ranks of high-level government security, Avery is comfortable flying halfway across the world at a moment's notice. But her desire for the sax-playing heir to a political dynasty creates more tension than being on presidential detail. Their fathers are enemies who share a long, bitter history. When Avery falls for Rafe, her loyalty to her family is tested and Rafe's contentious feud with his father could cost them everything. They must now decide what's most important—the life they've always lived or the one they can possibly make together.
Hate to Want You by Alisha Rai (7/25): One night. No one will know.
That was the deal. Every year, Livvy Kane and Nicholas Chandler would share one perfect night of illicit pleasure. The forbidden hours let them forget the tragedy that haunted their pasts-and the last names that made them enemies.
Until the night she didn't show up.
Now Nicholas has an empire to run. He doesn't have time for distractions and Livvy's sudden reappearance in town is a major distraction. She's the one woman he shouldn't want…so why can't he forget how right she feels in his bed?
Livvy didn't come home for Nicholas, but fate seems determined to remind her of his presence–and their past. Although the passion between them might have once run hot and deep, not even love can overcome the scandal that divided their families.
Being together might be against all the rules…but being apart is impossible.

Love Blooms by Jamie Pope (7/25): When mistakes haunt your every choice, how do you find the courage to follow your own heart?

An unstable childhood and a bad marriage have left Nova unable to trust anyone–especially herself. She'd do anything for her young son, but feels she'll never be a good enough mother. She's got major talent as a stylist and makeup artist, but big-time success would mean leaving the safety of Martha's Vineyard and the only family she has left. Still, she needs to kick-start her life in a new direction. The last thing she needs is her childhood frenemy, Tanner Brennan, confusing her even more.
An Ex-Army Ranger, Tanner was looking for peace and routine when he came back home to Martha's Vineyard. Scrapping with Nova reminds him of the hopeful boy he was, before secrets and guilt closed him off. But there's no way he can fight her raw vulnerability–or his longing to become part of her life. And as their all-too-fragile bond is threatened in ways they never expected, he and Nova have only one chance to finally come to terms with the past–and find the future in each other.
Locked in Temptation by Brenda Jackson (7/25): His job is to protect her…no matter the cost
Police detective Joy Ingram's connection to elite security expert Stonewall Courson is instant. Undeniable. Electric. But her commitment to protect and serve has always come first. Everything else is secondary—especially when she uncovers an underground surrogate baby-making ring. Joy can't risk a distraction during the most important case of her career, not even one as sexy as reformed ex-con Stonewall.
There are few things Stonewall values more than a strong woman. But when Joy's investigation draws her into a deadly conspiracy that goes deeper than she ever imagined, he must convince her that he's the best man to protect her. And while he puts his life on the line to save hers, the insatiable attraction between them becomes the one danger neither of them can escape.
Heat Wave by Elyse Springer (7/31): Sara Walker's life is going nowhere fast: she has a job she enjoys but doesn't love, friends who are too busy to hang out with her, and no boyfriend in sight. Then a phone call on a lonely Friday night changes everything, and suddenly she's spending her weekends with Laura. Newly single and openly bisexual, Laura makes Sara think decidedly not-straight thoughts.
Laura Murphy, with her red hair, freckles, and killer curves, is any guy's wet dream. But Laura's done with guys for now, and it's Sara who can't stop dreaming about her. When Sara finally gives in to the curiosity, Laura blows her mind and pushes her further than she's ever gone before.
But Laura makes it very clear that this is only a rebound fling, and she's still planning to move to California. She's more than happy to tie Sara up, but she's not ready to be tied down. If Sara wants to keep her, she's going to have to work hard to convince Laura that New York is worth staying for . . . and so is she.
Did I miss any recommendations? Let me know in the comments!