This content contains affiliate links. When you buy through these links, we may earn an affiliate commission.
February is such a good month for romance reading! Unfortunately, March and April aren't as bountiful, but there are still some good picks If you want to see previous diverse romance reading recommendations, visit the diverse romance tag! And while all the books might not be available for preorder yet, all of them are on Goodreads to add to your TBR piles.
The books below feature people of color as one or both of the protagonists, are written by a person of color, and feature characters that may be genderqueer or disabled. I've always added some symbols to help readers find the books they'd like to read. An asterisk (*) means that a book is written by a person of color or member of the LGBT community, but features white or heterosexual protagonists, and a cross (†) means that while the characters are diverse, the author may not be (i.e. a straight woman writing about gay characters, a white author writing about a black heroine, etc).
Also, please keep in mind that a majority of the information used to determine whether a book belongs on this list comes from the cover image, jacket copy, and some Googling.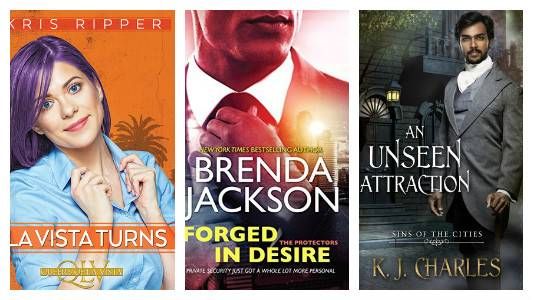 February
All He Needs by Shirley Hailstock (2/1): She's all he ever wanted
Wedding consultant Renee Hart is finally ready to take the plunge…as creator of an innovative bridal magazine. Her own dreams of happily-ever-after were shattered when Carter Hampshire broke off their relationship without warning. Newly relocated to the Big Apple, Renee discovers that her former lover–more charismatic than ever–is now also her greatest rival.
Carter came home to New York to oversee his family's publishing empire. Finding out the woman who got away is working for the competition–in his own building, no less–doesn't deter him from his new mission. Three years ago, he thought he was doing the right thing by letting her go. Now all he wants is a second chance. But when the media-frenzied launch of Designed for Brides leads to accusations of industrial espionage, could Carter lose Renee again–this time forever?
Feel the Heat by Cheris Hodges (2/1): Behind closed doors?
Relationship blogger and bestselling author Mimi Collins built her brand by talking openly about sex and love. But after a blog she posts negatively depicting a speed-dating site goes viral, she needs legal advice, and fast. Lucky for her, she has an irresistible advocate in Brent Daniels, her gorgeous new neighbor. The celebrated attorney and TV personality just took on her case. And he plays to win—in and out of court.
Putting the moves on his client is taboo, but how can Brent turn down his feelings for Atlanta's hottest romance expert? He knows what a woman really wants: candlelight and roses, champagne and seduction. Until a legal victory leads to an intimate tête-à-tête…and a very public kiss. But with a tragic secret buried in his past, Brent can't afford any negative publicity. And now that his reputation is on the line, so is his future with Mimi. And he doesn't intend to lose his chance with the woman he loves without a fight.
Forged in Desire by Brenda Jackson (2/1): Strong enough to protect her. Bold enough to love her.
When good girl Margo Connelly becomes Lamar "Striker" Jennings's latest assignment, she knows she's in trouble. And not just because he's been hired to protect her from an underworld criminal. The reformed bad boy's appeal is breaching all her defenses, and as the threats against her increase, Margo isn't sure which is more dangerous: the gangster targeting her, or the far too alluring protector tempting her to let loose.
Though Striker's now living on the right side of the law, he's convinced his troubled past keeps Margo out of his league. But physical chemistry explodes into full-blown passion when they go on the run together. Surrendering to desire could be a deadly distraction—or finally prove that he's the only man qualified to keep her safe, and win her love.
Full Court Seduction by Synithia Williams (2/1): Playing for keeps
Straitlaced conservationist Danielle Stewart is known for passionately protecting the Florida coastline. Only one man knows about the other side of Danielle, the one she keeps concealed behind prim cardigans and glasses. Back in college, Danielle shared a sizzling night with Jacobe Jenkins. Next day, he left for the NBA draft, and his talent for troublemaking has made him as infamous as his on-court skills. Now chance has thrown them together again, and Danielle sees a perfect way to boost awareness for her favorite cause.
He's older, wiser and a lot more notorious, but one thing about Jacobe hasn't changed: his deep attraction to Danielle. Supporting her conservation efforts could improve his public image—and give him a second chance with the woman he still regrets leaving behind. But the lasting kind of love takes more than a trick shot. Will he overcome his bad-boy reputation and put his heart on the line for what could be the biggest play of his life?
How to Steal a Lawman's Heart by Kathy Douglass (2/1): Forgiveness starts with a stolen kiss
Chief of police Trent Knight had it all until an accident took his wife and he was left alone to raise two beautiful girls. Now the person he always blamed for his loss is back in town, and all bets are off. But soon his anger toward Carmen Shields gives way to a very different emotion–awareness of Carmen as a woman. On one hand, it feels like a betrayal of his late wife's memory. On the other, it could be his second chance at life–and Carmen's shot at redemption. Maybe she can go home again–with the help of a certain lawman…
This is Love by Nana Malone and Sienna Mynx (2/1): Valentine's Day holds sensual and sexy surprises in these two irresistible stories…
Illusion of Love by Nana Malone
Valentine Anderson's parents clearly gave her the wrong first name. Her last two relationships ended on Valentine's Day, and her current one implodes right before her sister's wedding. Then the dashing and adventurous photographer next door suggests a fake relationship to keep her family and his boss's overattentive wife at bay. It's just an act, until Val starts acting on her impulses…and make-believe becomes undeniably too real!
From My Heart by Sienna Mynx
First Aniyah Stevens is jilted a week before her wedding. Now she's stuck with the bill for a romantic and lavish Italian honeymoon. Rising above her disappointment, she goes solo–only to find that it's a couples-only getaway. Charming resort owner Niccolo Montenegro has his own heartache to bear. But kindred spirit Aniyah tempts him with an offer that could make their Valentine's Day memorable for all the right reasons…
†Guarding Mr. Fine by HelenKay Dimon (2/14): In this steamy novel of seduction and international intrigue, two brave men are stripped of their defenses—and exposed to dangers and desires that simmer below the surface.
As an agent with the CIA's special activities division, Seth Lang lives for risk—and yet he's stuck playing bodyguard to the U.S. consul general in Munich. Although Seth's last assignment nearly killed him, babysitting some desk jockey in a suit sounds way too easy. But when he lays eyes on the new top man, tactical expert Rick Fine, Seth's thrilled to see just how hard this job is going to get. Mr. Tall, Dark, and Quiet has a body worth guarding—and he requires hands-on attention day and night.
Dispatched to a German consulate to expose the murder of his predecessor, Rick finds himself in an extremely vulnerable position. He needs a man like Seth—in so many ways. This mission will inevitably plunge them both into jeopardy, but each new threat only brings them closer. Rick just hopes that he can keep his deepest, darkest secret hidden—or else risk imperiling a relationship they're both fighting for their lives to protect.
†An Unseen Attraction by KJ Charles (2/21): A slow-burning romance and a chilling mystery bind two singular men in the suspenseful first book of a new Victorian series from K. J. Charles.
Lodging-house keeper Clem Talleyfer prefers a quiet life. He's happy with his hobbies, his work—and especially with his lodger Rowley Green, who becomes a friend over their long fireside evenings together. If only neat, precise, irresistible Mr. Green were interested in more than friendship. . . .
Rowley just wants to be left alone—at least until he meets Clem, with his odd, charming ways and his glorious eyes. Two quiet men, lodging in the same house, coming to an understanding . . . it could be perfect. Then the brutally murdered corpse of another lodger is dumped on their doorstep and their peaceful life is shattered.
Now Clem and Rowley find themselves caught up in a mystery, threatened on all sides by violent men, with a deadly London fog closing in on them. If they're to see their way through, the pair must learn to share their secrets—and their hearts.
Sin for Me by Lisa Marie Perry (2/21): Fans of Empire will love Lisa Marie Perry's stylish, addictive novels of passion, drama, and seduction. The high-powered men and women behind Devil's Music have made their fortunes building the hottest label in hip hop, but it's the action behind the scenes that's seriously steamy.
For Dante Bishop, music died the night he found his father's body next to a syringe of lithium. Ditching Atlanta, Dante jumped on his Harley and left the family business to his sister. She became the heart and soul of Devil's Music—until the board, including Dante's ex, masterminded a takeover. Years later, Dante's doing something he never thought he'd do: returning to Georgia to put his songwriting skills to good use. Reuniting with Chelsea Coin only sweetens the deal.
As the perfectionist COO of Devil's Music, Chelsea doesn't dwell on the past. If she did, she'd never forgive herself for betraying the Bishops in a corporate power grab. Now Chelsea needs help to save the company, and Dante's a nonnegotiable part of the arrangement. Still brooding and hot as hell, Dante wastes no time stirring up unfinished business—and carnal memories Chelsea would rather keep buried. She's come too far to risk everything on a man. But for desire this intense, she might just enjoy the sexiest mistake of her life.
As La Vista Turns by Kris Ripper (2/27): Zane Jaffe has almost lost track of what conception cycle she's in. (That's a lie: this is cycle thirteen.) She's fake-dating her pal Mildred to get her best friend off her back, but judging by how hot it was when they accidentally kissed, her feelings might be somewhat less platonic than she'd thought.
And she's decided that healing the fractured local queer community can only be accomplished through a party. Or maybe it's actually a wake. Whatever it is, it'll take place at Club Fred's, and there will be alcohol.
Trying to conceive is an unholy rollercoaster of emotions, and Mildred won't let them kiss again until Zane figures out how she feels. Between the wake (exhausting as hell, and that's just the fun stuff), the constant up-down cycle of trying to get pregnant, and saving the world in the meantime, Zane has no idea. Fall in love with Mildred isn't on her list, but maybe it's time to let go of that rigid future she's been working toward, and instead embrace the accidents that can lead to something better.
The Inheritance by Rochelle Alers (2/28): In bestselling author Rochelle Alers' passionate, uplifting new series, four friends from very different backgrounds find new beginnings amid the sultry beauty of New Orleans…
Corporate attorney Hannah DuPont-Lowell always pictured herself returning to New Orleans to retire—just not yet. But after her Manhattan company abruptly lays off its staff, there's no better place to figure out a next move than the porch of her plantation-style home.
Nestled in the stunning Garden District, the DuPont House has been in Hannah's family for two centuries. With its eighteen rooms and two guesthouses, it's far more home than widowed Hannah needs. Still, it could make a wonderful inn, especially if she can convince her friends and former coworkers Tonya, Jasmine, and Nydia to join in the venture. But in the meantime, Hannah has a high school reunion to attend…
College Professor St. John McNair, Hannah's one-time classmate, is still the finest guy in any room. Between Hannah's willowy, blonde beauty, and his uncanny resemblance to Marvin Gaye, they make a striking pair. And gradually, their rekindled friendship moves toward romance. Still, Hannah is too bruised by her late husband's infidelities to trust a man again. But her friends' arrival and encouragement just might show her a path through uncertainty—straight to a vibrant, joyful new life…
March
Love Tango by J.M. Jeffries (3/1): The rhythm of desire
Former child star Roxanne Deveraux is stepping back into the spotlight. Tired of growing up in front of sitcom cameras, she left Hollywood and her controlling parents to finally follow her true passion, which exists offstage. Still, the offer to appear on Celebrity Dance is hard to resist—as is Nicholas Torres, her dance partner. He's creative, passionate, and they're growing more and more in sync—until family interference throws everything off balance.
Nick had a hunch that Roxanne would prove a smash-hit contestant. But he's taken aback by her beauty, poise and his desire to partner with her off the dance floor. Watching her confidence and skill soar each week is a thrill. But as Roxanne's chaotic past resurfaces and a secret threatens to tear his own family apart, both must weigh old loyalties against the promise of a brilliant future together.
Mine at Midnight by Jamie Pope (3/1): Is this their happy ending?
After her plans for a storybook wedding are derailed by a shocking discovery days before the big event, Ava Bradley retreats to a tranquil beach cottage. Days of intense soul-searching turn into nights of passionate yearning when she clashes with her infuriatingly arrogant and incredibly sexy Hideaway Island neighbor. Derek Patrick is tempting her, not just as a lover but as a soul mate, and it's a connection unlike anything she's ever experienced before.
The up-by-his-bootstraps entrepreneur is proud to be mayor of the beautiful, secluded tropical island. Derek doesn't need some social-climbing diva messing with his hard-earned serenity. Yet Ava keeps surprising him. When their no-strings affair leaves them both hungry for more, Derek is tempted to take their island affair to the next level. But Ava doesn't intend to make her permanent home there…until a natural disaster threatens Derek's beloved island, making them realize what matters most—a love too precious to lose.
Playing with Desire by Reese Ryan (3/1): Summer Loving
Next in line as CEO of his family's international luxury-resort empire, Liam Westbrook didn't make his way to the top playing it safe. So when the fast-living British bachelor spies an exotic beauty under a smoldering North Carolina moon, he makes a scandalous proposal. The night culminates in an all-consuming passion that leaves them both burning for more. Liam knows he can't just walk away. But after a devastating past betrayal, can he trust where his heart is leading him?
Maya Alvarez's two young daughters are her entire world. But when she ends up alone—on her birthday—the divorced single mother does something totally out of character. She accepts an invitation that leads to a hot summer fling with a seductive stranger who makes her feel bold and desirable again. When Maya must return to the real world, will Liam and their pleasure-fueled fantasy end up as only an affair to remember?
Seduced by the Bachelor by Pamela Yaye (3/1): A game of seduction
Tatiyana Washington will do whatever it takes to right a wrong for her beloved sister…even if it means deceiving one of LA's most celebrated attorneys. Flirting with elegant, sexy Markos Morretti on a Florida-bound plane is the first step. The irresistible Italian plays right into her hands when he invites her to be his guest at a celebrity-studded charity golf tournament. Spending a sizzling weekend together is a perk Tatiyana didn't expect. Too bad it can never lead to anything permanent.
The wealthy Hollywood divorce lawyer splits couples up for a living. Yet once he meets Tatiyana, all Markos wants is to lavish her with all his passion. And once he discovers they have met under false pretenses, he only desires her more. Markos vows that two can play at this game, until a brewing political scandal threatens to make his career ambitions crash and burn. Faced with an impossible decision, will he choose the promise of love?
†Crossing Hearts by Rebecca Crowley (3/21): New to the U.S. soccer scene, not to mention the English language, compact yet explosive Chilean soccer legend Rio Vidal is driven to define a role on his new team, Atlanta Skyline. But he must also adapt to a new culture—and accept that he can't do it alone. His beautiful interpreter, Eva, has been his voice, his refuge. But she is becoming so much more. If only he could convince her he isn't like the other men she's worked with, players on—and off—the field.
As a translator for pro athletes, Eva Torres is used to dealing with self-interested super stars. But Rio seems different, and she's blindsided when he locks eyes with her across a church pew. By now, after weeks of close contact with the endearing athlete with whom she shares a language, her thoughts are far from holy. She must remind herself flirtation is probably just his default style. Plus, she's the only one he can really talk to. But when his ambition threatens to derail his career—and their deepening connection—they'll both have to lay their hearts on the center line.
†Hot in the City by Jules Court (3/27): The first time Detective Brian MacGregor met Priya Shah, he was bleeding. Injured apprehending a suspect, he just needed a few stitches. He didn't expect to feel a gut punch of lust for the beautiful ER doc. But another emergency called her away before he had a chance to ask her out…or kiss her. Or find out if she shared his sudden sex-in-a-dark-hospital-room fantasy.
The second time he met Priya, she was protecting a murder witness.
Protecting is putting it strongly, if you ask Priya. Her cousin may have witnessed a murder, but she had nothing to do with it. Even if the hot ginger cop seems like the perfect solution to Priya's summer dry spell, they both have more important things to worry about. Like finding Sara before the murderer does.
As far as Brian's concerned, Priya is the key—her cousin is bound to come back to her eventually, and when she does, he'll be there. They just need to keep their hands off each other until then. But when attraction burns this hot, it's only so long before someone has to break…
An Extraordinary Union by Alyssa Cole (3/28): As the Civil War rages between the states, a courageous pair of spies plunge fearlessly into a maelstrom of ignorance, deceit, and danger, combining their unique skills to alter the course of history and break the chains of the past . . .
Elle Burns is a former slave with a passion for justice and an eidetic memory. Trading in her life of freedom in Massachusetts, she returns to the indignity of slavery in the South—to spy for the Union Army.
Malcolm McCall is a detective for Pinkerton's Secret Service. Subterfuge is his calling, but he's facing his deadliest mission yet—risking his life to infiltrate a Rebel enclave in Virginia.
Two undercover agents who share a common cause—and an undeniable attraction—Malcolm and Elle join forces when they discover a plot that could turn the tide of the war in the Confederacy's favor. Caught in a tightening web of wartime intrigue, and fighting a fiery and forbidden love, Malcolm and Elle must make their boldest move to preserve the Union at any cost—even if it means losing each other . . .
Hope Blooms by Jamie Pope (3/28): When tragedy destroys everything you've built, how do you find the strength to go on? In Jamie Pope's powerful novel, one woman must come to terms with grief—and a passionate but uncertain chance at remaking her future.
In one shattering instant, schoolteacher Cassandra Miller lost everything that mattered to her. Stricken with guilt and sorrow, she has no reason to care about tomorrow. The last person she wants help from is the man she wants to forget. In childhood, Wylie Everett was her cherished best friend. In adulthood, he was the secret lover who left her without explanation. Now he's the person who won't let her go down without a fight. And as he renews her joy in small things, and challenges her to take a fresh perspective, the desire they once shared burns more fiercely than ever—and proves anything but safe.
An ex-Marine, Wylie has always loved Cass, though their backgrounds were as different as could be. Years ago, he walked away believing he could never be good enough for her. But he's never stopped regretting his decision. Now, helping her heal is the only way he can make amends, and hopefully make up for lost time. But their rekindled passion will be tested by pain he's never resolved—and mistakes for which forgiveness may not be enough. Can he and Cass find one last way to move forward, and risk rebuilding their lives…together?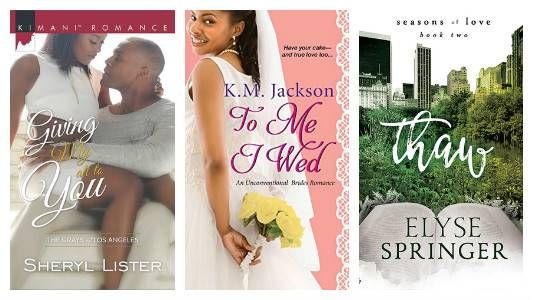 April
Always My Baby by Martha Kennerson (4/18): The sweetest surprise
Ambitious environmental attorney China Edwards pursues every goal with drive and dedication. Having a baby is no different. No husband? No problemshe'll find the perfect donor. Then one spontaneous passionate night with bachelor executive Alexander Kingsley leaves these two longtime friends with an unanticipated benefit, and throws China's future plans into turmoil.
China's brilliant legal mind and friendship are indispensable to Alexander and his multibillion-dollar oil firm. And the possibility of her moving on makes him realize how deep his feelings actually run. Then their all-business relationship takes a wildly erotic detouruntil Alexander is drawn into a company scandal that rocks his life. With trust in tatters, can an unplanned bundle of joy lead them to become the family they never expected?
Giving My All to You by Sheryl Lister (4/18): A hero's touch
Faith Alexander's guardian angel has a body built for sin. Ever since she woke up in the hospital after a car crash, her rescuer, Brandon Gray, has been by her side chivalrous, caring and oh-so-fine. Faith came to Los Angeles to find her long-lost father, only to learn that he's a partner in Brandon's family business. How can she reveal that her inheritance stands in the way of Brandon's career dreams?
All Brandon's focus is on his long-coveted role as CEO until he stops to help a mysterious beauty. With chemistry this irresistible, he's ready to share a future with Faith, but he feels beyond betrayed to discover what she's been hiding. If desire and trust can overcome pride, he'll realize he's found the perfect partner in the boardroom and the bedroom.
Lavish Loving by Zuri Day (4/18): Only one man can claim this Drake beauty's heart
After dazzling the fashion capitals of the world, London Drake comes home to Southern California for a well-earned rest at her family's resort spa. But a chance sighting of her former lover, international playboy and trending fashion designer Ace Montgomery, sends the headline-making supermodel into seductress mode. Only this time London wants more than a hot fling.
Eight years, and Ace still isn't over the sensual London. Reconnecting with her in West Coast wine country is fraught with risk, and not only to Ace's heart. She is the ideal candidate to be the face of his upcoming women's clothing line. As New York Fashion Week draws near and a rekindled passion leads to an intimate affair, is London finally ready to commit to Ace? Or will a dangerously obsessed stalker sabotage their precious second chance?
To Marry a Prince by A.C. Arther (4/18): A royal seduction
Crown prince Kristian DeSaunters has been groomed since birth to take his place as leader of his tropical kingdom—with the proper princess by his side. Never one to lose his control, he's stunned by his attraction to the free-spirited American stylist who arrives at the palace in his father's fiancée's entourage. Soon Kris and Landry Norris are sharing an instant sultry attraction that shows no signs of slowing down.
Landry couldn't turn down the opportunity of a lifetime to dress the princess-to-be on a private Caribbean island. Falling for Kris is definitely not part of her plan, but the independent LA beauty soon finds herself yearning for a fairy-tale ending of her own. Until someone sets out to sabotage the upcoming nuptials—and Landry becomes the prime suspect. Will Kris and Landry be able to stop a hidden enemy bent on destroying the DeSaunters reign—and save the possibility of a future together?
Thaw by Elyse Springer (4/24): Abigail is content with her quiet life as a librarian. But when she's invited to a high-profile charity auction, she finds herself dancing with one of the most beautiful women she's ever met. Abby's sure she'll never see her again, but then Gabrielle calls and asks her on a date. And soon after, another.
Supermodel Gabrielle Levesque has a reputation as the Ice Queen—cold and untouchable—except she warms up whenever she's with Abby. Only Abby isn't interested in the heat between them; she's asexual, and she's worried that admitting as much to Gabrielle might spell the end of their blooming romance.
They're two different women from two very different worlds, but Abby knows she can love Gabrielle. Her passion for books, travel, and theater prove there's more to the Ice Queen than meets the eye. But they'll have to overcome Abby's fears—and Gabrielle's own threatening secrets—in order to find their way to love.
Dangerous Consequences by Lisa Renee Johnson (4/25): Debut author Lisa Renee Johnson delivers an edgy, sexy novel about a man who has it all—until one night changes everything…
Dubbed the "Sex Doctor" on his local radio show, psychologist Donathan James advises callers on their sexual issues. With his gorgeous and brilliant neurosurgeon wife, Sydney, at home and women flirting with the hot doctor everywhere he goes, Donathan is living the high life. But when he wakes up naked and drugged in a hotel room, with no memory of the evening before, the doctor suddenly has problems of his own.
Soon, Donathan's sexy stalker is sending him photographic evidence of what they did that night, turning up in his office to rant about her unstable past, and demanding they meet again and again. All Donathan wants is his life back—and for his wife not to find out. But when the relentless stranger goes too far, it leads him to discover his beloved wife has secrets of her own. Now, to save their marriage, Mr. and Mrs. James will have to hold on tight to survive the bumpiest ride of their lives.
Seized by Seduction by Brenda Jackson (4/25): One glance is all it takes
From the moment his eyes meet hers across the crime-scene tape, ex-con turned bodyguard Quasar Patterson knows he has to see the mysterious Dr. Randi Fuller again. She's a renowned psychic investigator who can foresee danger for others, but not for herself. That makes Quasar doubly determined to watch over herthe closer, the betteras she's drawn into a dangerous gang rivalry.
Both her psychic gift and their blinding chemistry tell Randi that she and Quasar are fated to be entwined. Even as they surrender to the heat between them, there's no guarantee of a happily-ever-after now that an enemy has her in his sights. And claiming a future will take more than Quasar's strength and skill. If he can't risk the heart he's always held in check, they'll both lose for good
To Me I Wed by K.M. Jackson (4/25): Have your cake—and true love too…
Nightmare bridesmaids' dresses, tasteless fondant icing, budget-busting wedding expenses—some women just aren't about it. They'll laugh off tradition, make their own rules—and find the most outrageous ways possible to flip wedding day lockstep into true love.
She's done, finished, had it. Between her family's expectations and being always-a-bridesmaid, Lily Perry is fed up with being nagged to find a husband. She's happy with her life—and tired of being burned by "nice guys" who demand she fit their dreams. So she's going to settle the issue once and for all: by marrying herself. And celebrated chef Vincent Caro's fabulous restaurant is the perfect place for a big-time, blow-out, not-hearing-it-any-more wedding. Lily doesn't care if everyone—including Vincent—thinks she's crazy. Especially when his mouth-watering talent and no-commitments style ignites one sizzling, no-strings fling, or two…or more.
But no matter how hard they try to keep things light, their relationship keeps getting hotter. The more Vincent helps Lily tackle unexpected trouble, the more he finds she might be everything he's ever wanted. Can she afford to forget caution and finally let go? And can they both take a risk to discover if what they have is meant to last long after the dessert course?