This content contains affiliate links. When you buy through these links, we may earn an affiliate commission.
I don't know if the next few months have more diverse romances being traditionally published or I'm just getting better at finding them, but we have more than the last three months!
The books below feature people of color as one or both of the protagonists, are written by a person of color, and feature characters that may be genderqueer or disabled. I've always added some symbols to help readers find the books they'd like to read. An asterisk (*) means that a book is written by a person of color, but features white protagonists, and a cross (†) means that while the characters are diverse, the author may not be (i.e. a straight woman writing about gay characters, a white author writing about a black heroine, etc).
Also, please keep in mind that a majority of the information used to determine whether a book belongs on this list comes from the cover image, jacket copy, and some Googling.
August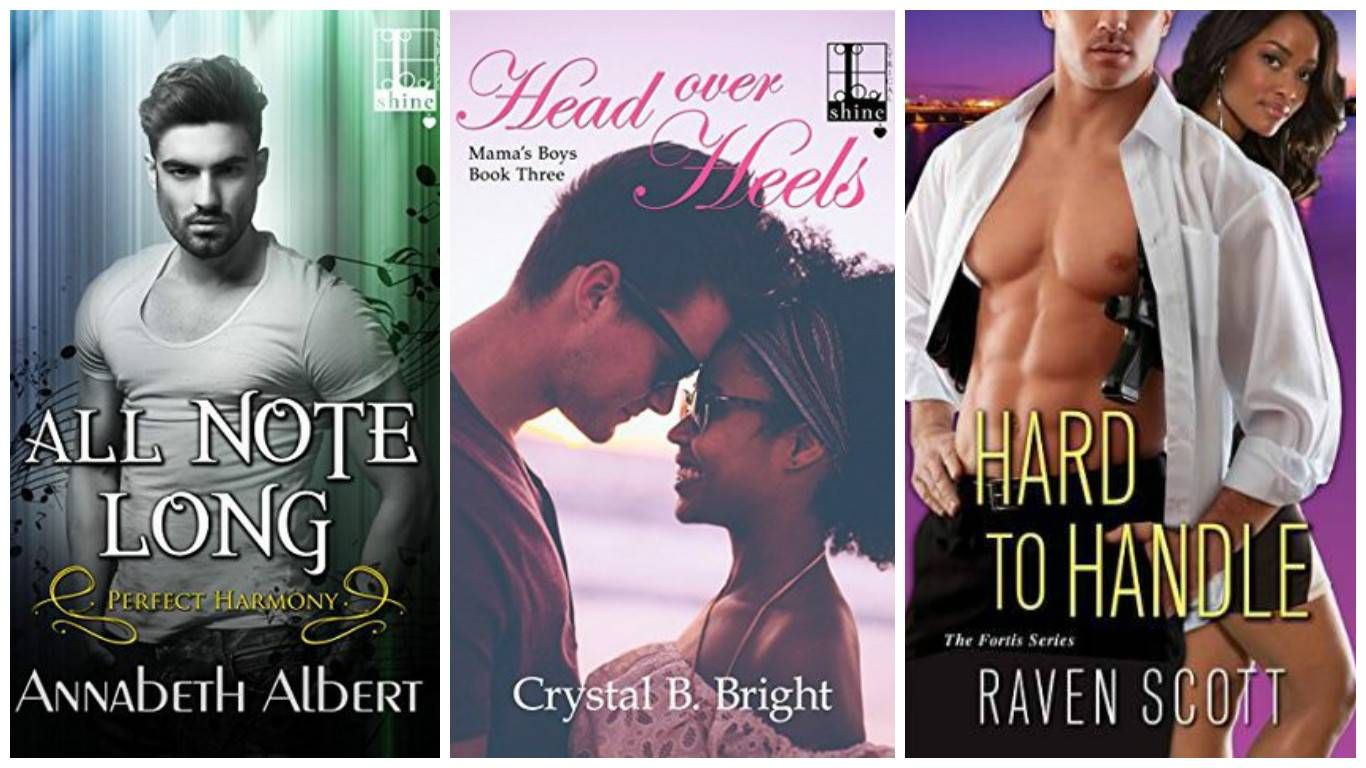 †All Note Long by Annabeth Albert (8/2): Michelin Moses is a country music star on the rise. With a hit single under his Texas-sized belt buckle and a sold-out concert tour underway, his childhood dreams of making it big are finally coming true. But there's one thing missing—a promise to his dying mother that he'd find it—him—when the time was right. With a little luck, he won't have to wait too long . . .
Lucky Ramirez is a hunky boy toy who dances at The Broom Closet, one of West Hollywood's hottest gay bars. He loves what he does, and he's good at it—almost as good as he is at playing dumb when he spots Michelin Moses at the bar. What happens next is off the charts—and keeps Michelin coming back for more. He's just not sure it's the right move for his career. But if Lucky gets his way, Michelin will get Lucky—and no matter how the media spins it, neither of them will be faking it . . .
Head Over Heels by Crystal B. Bright(8/2): At twenty-two, Thane Wells is the highest-paid pitcher in Major League Baseball—and he owes it all to his adoptive Mama, "Queen" Elizabeth Sommerville, a wise, beautiful, entrepreneurial African-American woman who always encouraged him and his two white brothers to reach for the stars…the woman Thane still talks to daily. He never dreamed their most recent conversation would be their last. With his beloved supporter suddenly gone, Thane is grief-stricken, shaken, and vulnerable—especially to a woman like Kari Meyers.
Kari's had her eye on Thane for a while, but strictly for business. As a junior sports agent, she's hungry to sign him, especially when she hears his current agent will be retiring soon. When she finally locates Thane, she's shocked to discover he's attending his mother's funeral—and he's shocked to find Kari in his hotel room. Assuming she's an escort is just the beginning of their misunderstandings. But one thing that's clear is their mutual attraction. As a single mom with an NBA ex, Kari has a rule against dating athletes. Yet as circumstances bring the two closer together, they just might find they're on the same team, heart and soul…
First Position by Melissa Brayden (8/16): Anastasia Mikhelson is the rising star of the New York City Ballet. She's sacrificed creature comforts, a social life, as well as her own physical well-being for perfection in dance. Even her reputation as The Ice Queen doesn't faze her. Though Ana's at the peak of her career, competition from a new and noteworthy dancer puts all she's worked for in jeopardy.
While Natalie Frederico has shown herself to be a prodigy when it comes to ballet, she much prefers modern dance and living on her own terms. Life is too short for anything else. However, when the opportunity to dance with the New York City Ballet is thrust upon her, it's not like she could say no. Dealing with the company's uptight lead is another story, however. When the two are forced to work side-by-side, sparks begin to fly onstage and off.
A Vow of Seduction by Nana Malone & Jamie Pope (8/23): Two lavish destination weddings set the stage for romance and desire…
Hot Night in the Hamptons by Nana Malone
A fling with the gorgeous best man is not on Elina Sinclair's to-do list as maid of honor at her best friend's Hamptons wedding. Yet former child star Gabe Anderson is intent on seduction. He's also a new client at her image consulting firm—which makes a relationship strictly forbidden. Can the onetime playboy convince her that he's the best mistake she'll ever make?
Seduced Before Sunrise by Jamie Pope
He was Willa Arthur's first kiss, her first everything, before his cruel betrayal shattered her confidence. Years later, Marcus Simpson has turned up in Costa Rica at the wedding of Willa's best friend. The white sandy beaches and lush jungles are irresistible—and unfortunately, so is the man she should hate. But Marcus wants more than just forgiveness. He wants Willa back, and a tropical paradise is the perfect place to prove how much…
Body and Soul by Jade Williams (8/30): One woman's private passions are about to become scandalously public…

With a bad breakup behind her and a milestone birthday ahead of her, love has become a four-letter word to music magazine director Carol Shaw. As for s-e-x, she's almost forgotten what goes where. Not that her work doesn't provide frequent reminders. Still, days filled with eye-candy and innuendo are just leaving Carol hot and bothered…until she's offered a spot as a judge on a top reality TV talent search. Now the contestants aren't the only ones whose fantasies may come true…
Soon Carol is surrounded by competing hotties—and the hottest is determined to make her his prize. But the most dangerous forbidden temptation is her fellow judge. He's got the kind of hard body and sultry voice that make Carol melt. She should know—he's her ex. And the rivals for her attention don't end there. Suddenly riding a wave of steamy suitors and tantalizing trysts, Carol is in danger of overlooking one important detail—the cameras are rolling…
Hard to Handle by Raven Scott (8/30): A covert ops specialist, a cyber-surveillance expert, and an unmatched international security and recovery pro. These are the men of Fortis. When money is no object, discretion is essential, and the police are not an option, the wealthy and powerful call on this trio of former government agents with elite military training—not to mention charm and good looks…
Samuel Mackenzie has his hands full with Fortis' latest assignment. Their client is a European real estate investor who is trying to close a multi-million dollar acquisition. But a competitor is attempting to block the deal by any means necessary, including threats and vandalism that quickly escalate to life threatening assault. For Samuel it's all in a day's work—except for one unexpected twist…
The mission requires protective detail for the client and his mistress, who is also his personal assistant. But the mistress is Mikayla Cummings—the only woman Samuel has ever loved, and who always seems out of his reach. Yet things aren't what they seem. Because Mikayla has a hidden agenda of her own, one that puts her directly in the crossfire. Now Samuel will have one chance to save her life…and make her his forever.
*Meant to Be Mine by Lisa Marie Perry (8/30): Sofia Mercer may have been sick as a teen, but she's no delicate flower. And she's proven it by making it on her own and starting a new life away from the town that turned against her, away from the boy who broke her already fragile heart. But when her aunt Luz dies unexpectedly, leaving Sofia with a mountain of regrets and the keys to a quirky boutique, Sofia has no choice but to return to Cape Cod. Only, this new life in her old town comes with complications.
Burke Wolf was Sofia's first love—a relationship that burned bright and went up in flames. Seeing him again, Sofia can't help but get caught up in that all-too-familiar tornado of passion and pain. He's battled his own demons—that much is clear. But Sofia can't afford to be careless with her heart . . . and loving Burke again might just break it completely.
September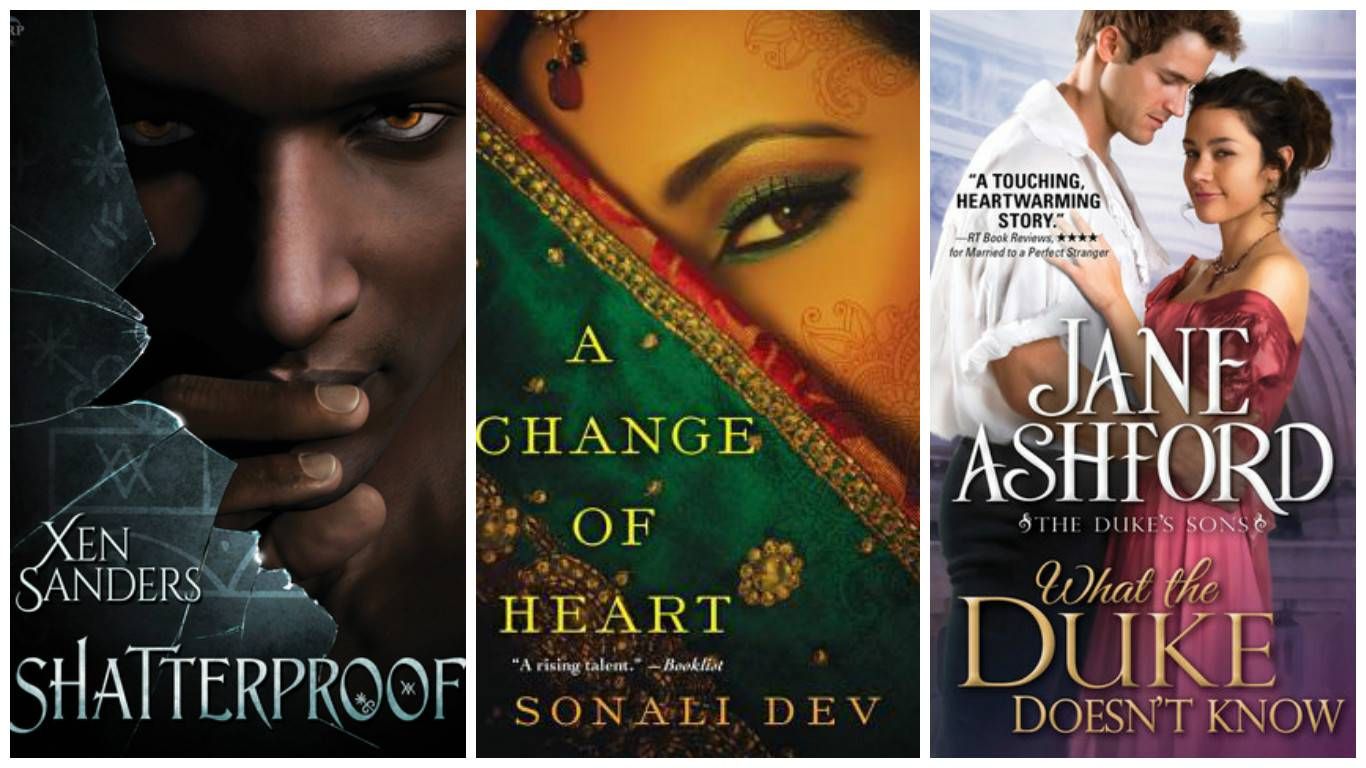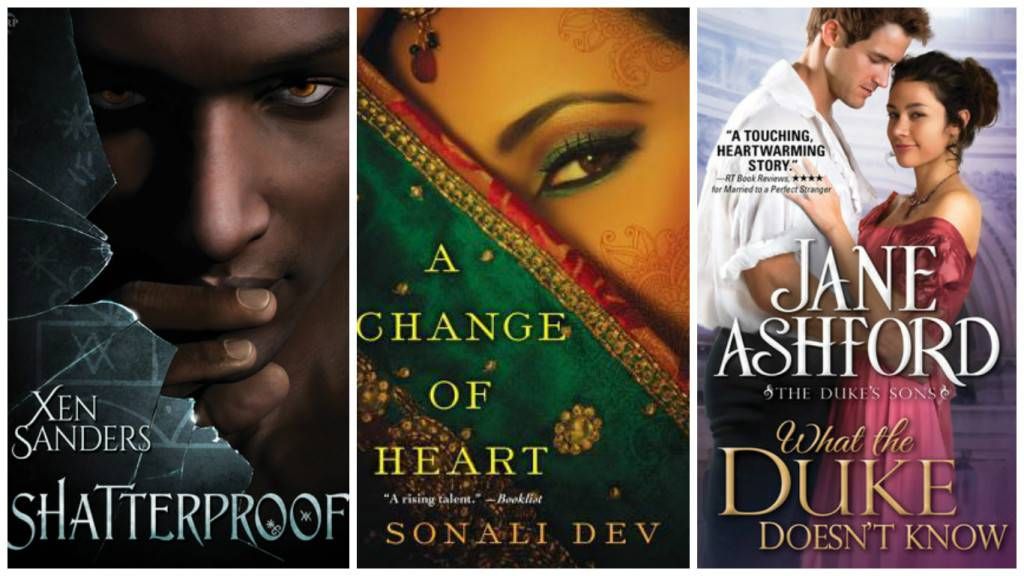 Shatterproof by Xen Sanders (9/5): Grey Jean-Marcelin wants to die. He thought painting his passion—vivid portrayals of Haitian life and vodou faith—would be enough to anchor him to this world. But it isn't. And when the mysterious man known only as Saint saves Grey from a suicide attempt, it's more curse than blessing—until Grey discovers that Saint isn't just an EMT. He's a banished fae, and can only survive by draining the lives of those he loves.
All Saint needed was a simple bargain: one life willingly given for another. But as Saint's feelings for Grey grow deeper, centuries of guilt leave him desperate to save a man who doesn't want salvation, even if Grey's life means Saint's death.
When Grey's depression consumes him, only he can decide if living is worth the struggle. Yet his choice may come too late to save his life . . . or Saint's soul. And whatever choice he makes, it may shatter them both.
†What the Duke Doesn't Know by Jane Ashford (9/6): A proper English wife, or the freedom of the sea?
Lord James Gresham is the fifth son of the Duke of Langford, a captain in the Royal Navy, and at a loss for what to do next. He's made his fortune; perhaps now he should find a proper wife and set up his nursery. But the sea calls to him, while his search for a wife leaves him uninspired. And then, a dark beauty with a heart for revenge is swept into his life.
He can't have both, but he won't give up either…
Half-English, half-Polynesian Kawena Benson is out to avenge her father and reclaim a cache of stolen jewels. There's nothing for James to do but protest his innocence and help Kawena search for the jewels, even though it turns his world upside down.
A Change of Heart by Sonali Dev (9/27): Dr. Nikhil 'Nic' Joshi had it all—marriage, career, purpose. Until, while working for Doctors Without Borders in a Mumbai slum, his wife, Jen, discovered a black market organ transplant ring. Before she could expose the truth, Jen was killed.
Two years after the tragedy, Nic is a cruise ship doctor who spends his days treating seasickness and sunburn and his nights in a boozy haze. On one of those blurry evenings on deck, Nic meets a woman who makes a startling claim: she received Jen's heart in a transplant and has a message for him. Nic wants to discount Jess Koirala's story as absurd, but there's something about her reckless desperation that resonates despite his doubts.
Jess has spent years working her way out of a nightmarish life in Calcutta and into a respectable Bollywood dance troupe. Now she faces losing the one thing that matters—her young son, Joy. She needs to uncover the secrets Jen risked everything for; but the unforeseen bond that results between her and Nic is both a lifeline and a perilous complication.
Delving beyond the surface of modern Indian-American life, acclaimed author Sonali Dev's page-turning novel is both riveting and emotionally rewarding—an extraordinary story of human connection, bravery, and hope.
His Last Name by Daaimah S. Poole (9/27): From pretty girls to wealthy wifeys, five women snagged the championship ring and the title…
When her husband Damien's lucrative NFL career ends, Tiffany Holcomb targets hubby number two: Hollywood leading man Warren Michael Joseph. Trouble is, Damien's not giving up that easily…
Monique Hall is thrilled when her baby boy, Kadir, gets a multimillion-dollar NBA contract. But Monique's romance with her son's teammate is a costly foul…
Zakiya Lee's church community considers her a role model for a successful marriage. Too bad she'll have to play dirty to get rid of her NBA star husband Jabril's side chick—again…
Shanice Whitaker has risen from video vixen to top men's magazine model. Now she wants to get back with the married man she loved and let go. And she's happy to play the position of Jabril's main mistress…
To win back custody of her daughter from her vengeful NFL player ex-husband, Adrienne Sheppard has to do someone a shady favor. But it leads her into the arms of actor Warren Michael Joseph—and a secret that could fill her bank account and break her heart….
What's in a name? For these ladies, just about everything…
October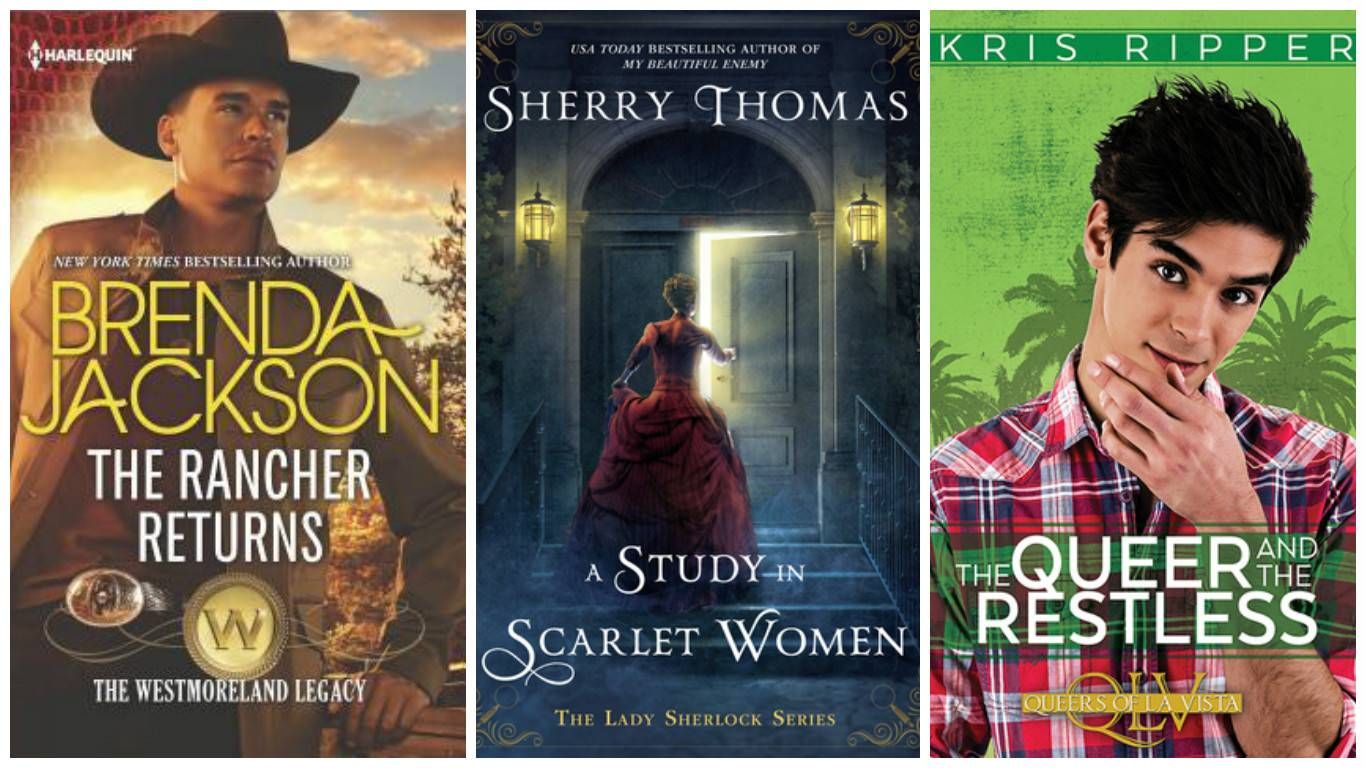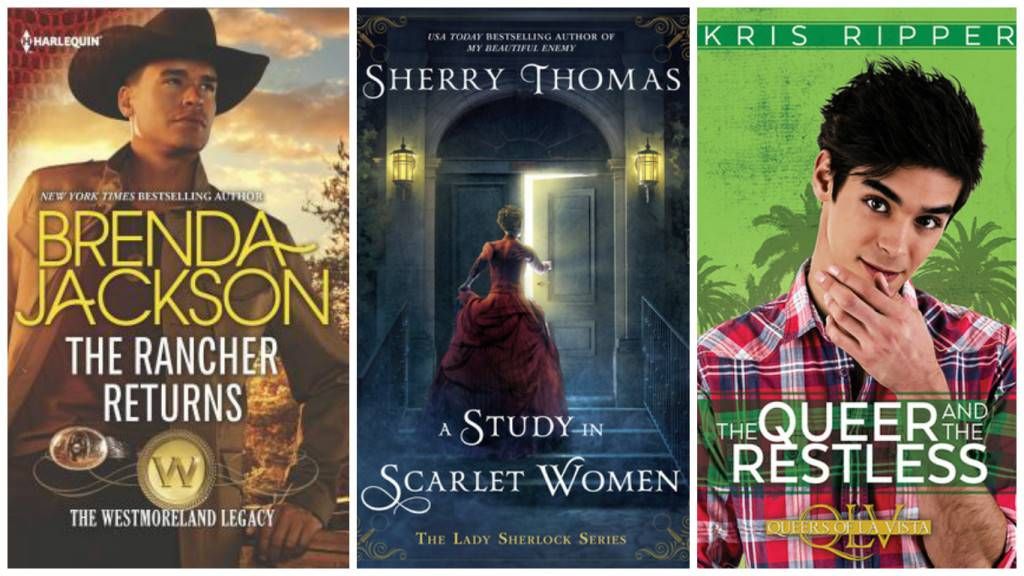 Places in My Heart by Sheryl Lister (10/1): Omar Drummond is a pro football superstar with a body that's a pure work of art. But Morgan Gray is forbidden to act on their chemistry, or repeat their impulsive kiss. Proving her worth as a sports agent means securing the notorious celebrity as a client, not a lover. Yet between flowers, sweet notes and heady hotel interludes, Omar is shamelessly seducing her…
Other agents—and exes—have tried using Omar as a meal ticket, and he's closed himself off from emotional entanglements. With Morgan, it's a whole new playbook. Smart and tough, she can negotiate a contract and turn him on all in one go, and he craves more. But in matters of trust, he's just fumbled badly. To win her, he has to show her the man he can be away from the pitch and the limelight, and hope that this time they're both playing for keeps.
The Rancher Returns by Brenda Jackson (10/1): Discover New York Times bestselling author Brenda Jackson's The Westmoreland Legacy—a navy SEAL returns to his ranch…and finds irresistible desire!
Returning from active duty to find his ranch being dug up by a beautiful stranger isn't the homecoming navy SEAL Gavin Blake expected. Layla Harris is convinced there's buried treasure on his land. But the only treasure this wealthy rancher wants to uncover is the professor's secret desires! When Layla unearths family secrets—and mysterious threats—he vows to do whatever it takes to protect her. Even as her revelations change everything…
†Bedmates by Nichole Chase (10/4): Everyone makes mistakes, especially in college. But when you're the daughter of the President of the United States, any little slip up is a huge embarrassment. Maddie McGuire's latest error in judgment lands her in police custody, giving the press a field day. Agreeing to do community service as penance and to restore her tattered reputation, Maddie never dreams incredibly good looking but extremely annoying vice president's son, Jake Simmon, will be along for the ride.
Recently returning from Afghanistan with a life-altering injury, Jake is wrestling with his own demons. He doesn't have the time or patience to deal with the likes of Maddie. They're like oil and water and every time they're together, it's combustible. But there's a thin line between love and hate, and it's not long before their fiery arguments give way to infinitely sexier encounters.
When Jake receives devastating news about the last remaining member of his unit, the darkness he's resisted for so long begins to overwhelm him. Scared to let anyone close, he pushes Maddie away. But she isn't about to give up on Jake that easily. Maddie's fallen for him, and she'll do anything to keep him from the edge as they both discover that love is a battlefield and there are some fights you just can't lose.
*A Study in Scarlet Women by Sherry Thomas (10/18): USA Today bestselling author Sherry Thomas turns the story of the renowned Sherlock Holmes upside down…
With her inquisitive mind, Charlotte Holmes has never felt comfortable with the demureness expected of the fairer sex in upper class society. But even she never thought that she would become a social pariah, an outcast fending for herself on the mean streets of London.
When the city is struck by a trio of unexpected deaths and suspicion falls on her sister and her father, Charlotte is desperate to find the true culprits and clear the family name. She'll have help from friends new and old—a kind-hearted widow, a police inspector, and a man who has long loved her. But in the end, it will be up to Charlotte, under the assumed name Sherlock Holmes, to challenge society's expectations and match wits against an unseen mastermind.
†The Crush by Heather Heyford (10/25): In the first of Heather Heyford's new series, set in Oregon's Willamette Valley wine country, the grape isn't the only source of intoxication . . .
Juniper Hart has her dream job—or rather, her dream job has her. Under Junie's management, the winery her late father started is finally getting noticed. But she's lonely, deep in debt, and overwhelmed with work. Even if she had time to date, the only men she meets are smug, stemware-breaking hotshots like Lieutenant Manolo Santos, whose good looks and smooth charm don't half make up for the sour taste he leaves on Junie's palate.
After years as an army engineer and a childhood in a restaurant kitchen, Manolo can see Junie's winery is about to go sideways—and he's bursting with ideas to help. Except Junie's far too magnetic for comfort. He left New Jersey to escape becoming one more Santos man shackled to a captivating woman and a failing family business. But in the misty hills of Oregon, with a sip of supple Pinot on his tongue, pulling away is the last thing he wants to do . . .
Perfect Pleasures by Deborah Fletcher Mello (10/25): World famous MMA champion Zachary Barrett has returned to his home in Phuket, Thailand, and his elite training camp, Revolution. Thanks to his twin brother, a renowned pro trainer in Colorado, Zachary is primed and ready for his next title bout—but his toughest match may be with the sports journalist assigned to write an exposé on him. Not only is she gorgeous, she's after a well-guarded secret that Zach soon realizes makes her off limits in every way…
It's true that Kenzie Monroe has an ulterior motive for pursuing Zachary. The half-Asian beauty believes he's connected to her estranged father, a former MMA fighter who disappeared years ago. And the more Zachary avoids her, the more determined she is—and the hotter their game of cat and mouse becomes…until they both surrender. But as lust, love, and friendship combine, Zachary knows he has to answer all of Kenzie's questions—because outside of the ring, the heart makes the rules…
†Waking Savannah by Terri Lynne-DeFino (10/25): Savannah Callowell left Georgia determined not to let the past define her. Buying an old farm in Bitterly, Connecticut was as far as she could imagine from all that happened, from all she had been. In farming the land, Savannah finds peace, friends, and a new life. If it weren't for the headaches always plaguing her, she'd call herself happy.
Life in Bitterly has been blissfully uneventful for eleven years. Savannah keeps her secrets to herself, and her friends at a distance. But when her foreman tells her he is retiring and offers his son as a replacement, Savannah gets more than she bargained for. Adelmo Gallegos is not the college kid she was expecting, but a grown man running from his own past.
The closer she gets to Adelmo, the worse her headaches become. No matter what she once believed, Savannah is forced to consider that her past is not as firmly left behind as she imagined.
Some memories are best left behind; some refuse to be.
The Queer and the Restless by Kris Ripper (10/31): Ed Masiello has been on testosterone for a year, is working his dream job as a reporter, and is finally passing as a man (so long as you don't ask his abuela). But the investigation of a murder case is starting to take over his life. Afraid he's becoming obsessed, he goes to the local club to relax, and meets the flighty, whimsical Alisha.
Alisha is a free spirit who's tossed aside ambition for travel and adventure. Her approach to life is a far cry from Ed's, and while Ed has always assumed that meeting his goals would make him happy, Alisha is much more content than him—despite all the plans she can't yet fulfill.
As their relationship heats up, so does the murder case. Alisha thinks Ed needs a break, but someone's got to find this killer, and he wants to be there when it all goes down. Besides, taking off into the great unknown with Alisha is crazy. But opting for what's safe is just another way of living in fear, and Ed vowed to stop living like that a long time ago.