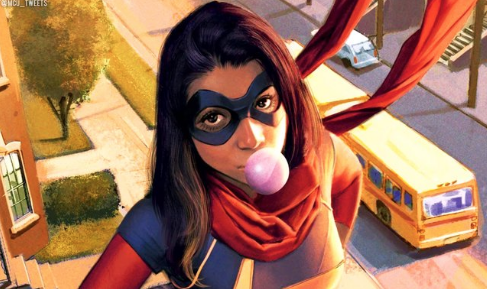 As a South Asian Muslim reader I have been starved for books that feature people like me for a ridiculously long time. Ever since Ms. Marvel entered the fold, I have felt seen in a genre and medium where I never felt like I belonged. Kamala Khan is a character who is unapologetically Muslim and Pakistani. Her character is as much about her heroism as it is about the role that her marginalised identities play in her choices.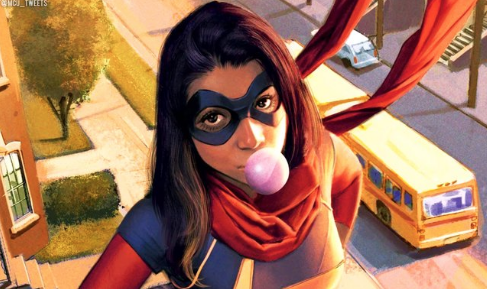 As a staunch Ms. Marvel fan, I was excited when a few weeks ago the producer of Captain Marvel, Kevin Feige, suggested that a Ms. Marvel movie might be in our near future. I was cautiously optimistic because of Marvel's history of whitewashing its Asian characters, afraid that a character that means so much to me, and to many other Pakistani and/or Muslim readers, might not get the treatment on the big screen that she and her dedicated readership deserve.
Almost as soon as news of the possible movie dropped, people were quick to start fancasting, with Indian actress Priyanka Chopra being top of their list. Even though Priyanka Chopra is a talented South Asian actor, she could not be farther from Kamala Khan. Not only is she not a teen, she is also not Muslim, nor Pakistani. Given Kamala Khan's links to both her heritage and her religion, it would be disingenuous for a potential movie about her to cast an actor who isn't Muslim and/or Pakistani. This is especially important given that Pakistanis and Muslims are rarely represented in media at large, particularly in positive roles.
And while the casting of Kamala Khan is immensely important, Ms. Marvel would not be what it is without the diverse creative team behind the comic, which includes Pakistani American Sana Amanat and, of course, G. Willow Wilson, who is Muslim. Kamala Khan's storylines have continually been reflective of the creative team behind it, depicting themes that resonate with Muslims, South Asians, and immigrants. It constantly shows that the creative team behind the comic books are keenly aware of the struggles that a Pakistani American Muslim teen might face.
This is why the creative team behind any Ms. Marvel movie must be just as diverse and must include both Pakistani and Muslim women amongst it. Riz Ahmed, Mindy Kaling, and Kumail Nanjani have already shown interest in getting involved with the movie. Nanjani has already portrayed brown, Muslim women in damaging ways, something that women in the community have been highly critical of. Nanjani, of course, is not the only South Asian man who has failed to create developed South Asian female characters. In fact, this is a pattern that has been perpetrated many times in media, with South Asian women falling to the wayside in order to create space for white female love interests.
This is not to say that a team of Riz Ahmed, Mindy Kaling, and Kumail Nanjani will continue on this pattern, though I do hope that Hollywood is willing to make space for a creative team that consists of Muslim, Pakistani, and other South Asian women, especially as these spaces are rarely available to them. We've already seen from the Black Panther movie that a creative team which acutely understands the depths of their character can create a blockbuster movie that resonates with many.
Kamala Khan, of course, is already a strong, developed character in her own right, proudly made up of all of the nuances of her identity that guide her story forward. Whoever takes the helm of the Ms. Marvel project will have some brilliant source material to work from, and will hopefully continue to grow Ms. Marvel as a Pakistani American Muslim superhero who resonates with many both on and off screen.