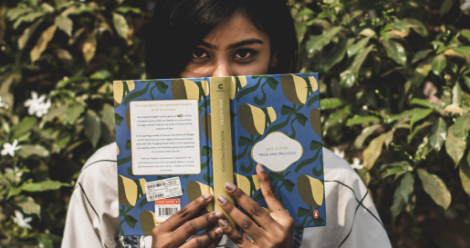 Lists
6 Diverse Jane Austen Retellings
This content contains affiliate links. When you buy through these links, we may earn an affiliate commission.
It is a truth universally acknowledged that any story as beloved as Pride and Prejudice must be in want of retellings. And there's been a wonderful ongoing trend lately of Jane Austen retellings (especially Pride and Prejudice— who's surprised?) with a more diverse cast and setting. It's nice to finally see some more universal reimaginings of her classic Regency-era stories. Basically: these 6 diverse Jane Austen retellings are everything you could possibly want and more.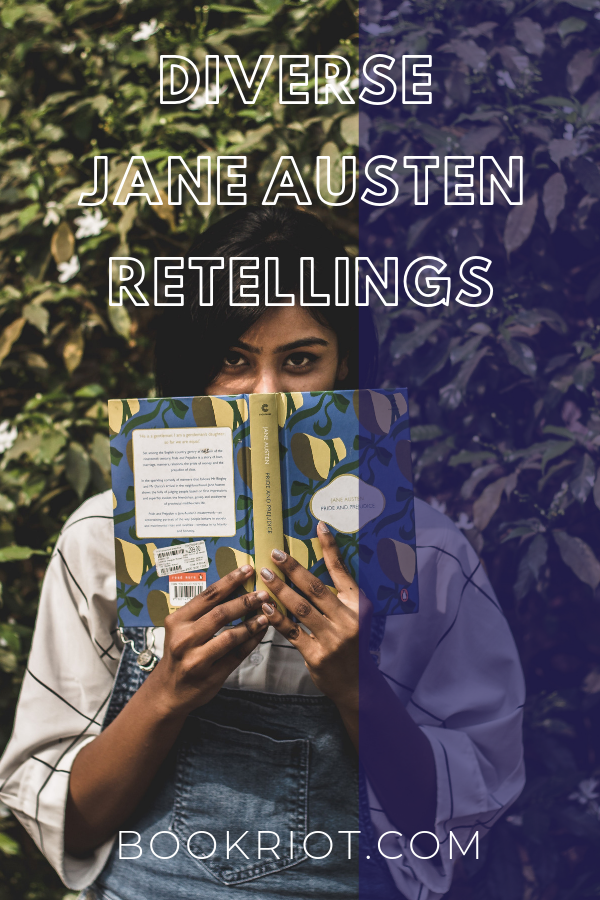 This modern-day Pakistani retelling of Pride and Prejudice introduces us to Alys Binat, a young English teacher who's sworn to never marry. But when the Binat family lands an invitation to the biggest wedding of the year, her mother is sure it's her chance to see all her daughters happily married. Alys' isn't so sure. Especially when she meets Mr. Darsee whose brusque manner and insults immediately sour their relationship. But over the course of the wedding, she begins to wonder if that harsh exterior is hiding someone far more complex… and maybe even worthy of her attention.
There's no denying that this sounds like a wonderfully updated take on Austen's tale of love, marriage, class, and sisterhood.
Pride by Ibi Zoboi
You've probably heard of this awesome YA Pride and Prejudice reimagining by the bestselling author of American Street by now. If not, it's high time to check it out. The Benitez sisters have a lot of Brooklyn pride. But when a rich family moves in across the street, Zuri Benitez worries gentrification has come to take over her block. She's not interested in the Darcys, not Ainsley, who her sister Janae seems to be falling for, and definitely not the stuck up Darius who doesn't seem to understand what life here is all about. With college applications looming, a busy family and four wild sisters to keep up with, Zuri hardly has time for boys anyway. But then, sometimes people surprise you. And Darius might not be exactly the stuck up rich boy she thought he was.
If Pride and Prejudice isn't so much your thing, maybe this modern take on Emma will be a perfect match. Theodosia Sullivan is happy with her life of matchmaking in paradise. She manages a local surf shop in Hanalei Bay where Kini ʻŌpūnui has been a mainstay ever since she took over her parent's bakery. Her younger brother married Theodosia's older sister, which makes her a bit of a mainstay in Theo's life, too. But when Theo ignores Kini's warnings about her meddling, everything begins to fall apart. Especially when she realizes–maybe too late–that its' Kini she's loved all along.
The first book in Sonali Dev's new series tells the story of the Raje family in San Francisco. Trisha Raje may be the city's most acclaimed neurosurgeon, but that's not enough for her Indian American family who want her to stay in line and do nothing to jeopardize her brother's political career. Easier said than done. Then chef DJ Caine comes to work for the Rajes. The two don't get off to a good start. Trisha is too arrogant, and DJ holds firmly to his pride. But as the two get to know each other–and DJ learns that Trisha is the only neurosurgeon who may be able to save his sister's life–their initial assumptions begin to crumble.
This loose retelling also has a wonderful genderbent element as well, since Trisha more closely resembles Darcy while DJ is more like Elizabeth.
Ayesha at Last by Uzma Jalaluddin (June 4, 2019 by Berkley Books)
This heartwarming P&P retelling set in the Toronto Muslim community is already getting all sort of buzz–and it's definitely deserved! Ayesha at Last is coming out in the U.S. soon, but the movie rights have already been snagged, which is telling. So if you want to get on board before this book turns into your next favorite rom-com, go ahead and add this one to your TBR.
Ayesha has an independent spirit. She's a substitute teacher by day to pay back her uncle for helping her through college, but by night she allows herself to enjoy her true love: spoken word poetry. Then there's Khalid. He's everything she never thought she wanted: deeply religious, judgemental, does whatever his mother says. But against their better judgment, they begin to develop feelings for each other. The only problem? In a case of mistaken identity of monumental proportions, Khalid thinks Ayesha is her cousin Hafsa. Which only gets more complicated when Khalid's mother announces his engagement to Hafsa–the real Hafsa. And Ayesha seems to be the only one who realizes the mistake.
Polite Society by Mahesh Rao (August 20, 2019 by G.P. Putnam's Sons)
This retelling is being described as Emma with a touch of Crazy, Rich, Asians, and I don't know about you but that sounds like the mashup of my dreams. Ania Khurana is the daughter of a wealthy family in Delhi with a gift for matchmaking. And her latest project is Dimple, her sweet new friend who also just happens to be the poorest person she knows. When her aunt's handsome nephew arrives from America, she thinks she's found the perfect match. But things are never quite that simple when it comes to matters of the heart– especially when someone is trying to meddle with them. Sounds like a social comedy for the modern ages!
---
We're pretty big fans of Austen and Austen retellings over here if you couldn't tell, so you might also want to check out these awesome articles on new Pride and Prejudice retellings, YA Jane Austen retellings, contemporary YA Jane Austen retellings, and this definitive ranking of Austen's heroes.