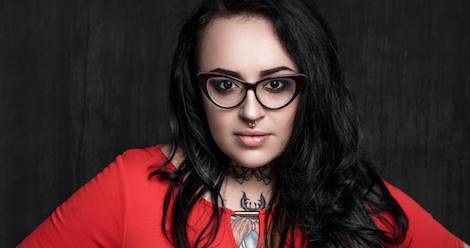 News
Dispatches from Library Land: September 2016
This content contains affiliate links. When you buy through these links, we may earn an affiliate commission.
Welcome to our monthly open love letter to libraries. Our librarian staff and contributors have hand-picked some of the most interesting topics affecting libraries at this very moment — cool projects, important news, innovative programs, awesome people — and gathered them here in a handy roundup for everyone who hearts libraries as much as we do.
This month we talk about an Oregon library that recommends books based on people's tattoos, a Texas library that refuses to remove LGBT books from the kids section, Canadian libraries that lend out musical instruments, and more.
Have a library tip? Find us on Facebook, Twitter, or email and let us know!
The Story: Librarians to Portland Readers: 'Show Us Your Tats!'
What It's About: The librarians at Portland's Multnomah County Library are matching up book recommendations based on people's tattoos.
Why I'm Talking About It: This is such a fun, creative, engaging way to get people talking about books and connecting readers to things they might not otherwise think would be up their alley. More than that, though, this is the sort of outreach — it began through their Twitter account — that draws readers into the library who may have otherwise not felt welcomed or like there was something there "for them." Portland is a liberal and artsy city, so tattoos are a norm there, but something like this service could be hugely fun and beneficial and welcoming in libraries where such climates are lacking.
I love the idea of looking at a piece of art a person has on their body — a thing that is wildly intimate and important enough to have marked on their flesh for life — and suggesting a good book that might have the same sort of lasting impact internally.
The Story: Book on LGBT Issues to Remain in Kids Section at Texas Library
What It's About: After hearing multiple challenges from local parents, the public library of Hood County, Texas voted to keep two LGBT-themed books for children on the shelves: This Day in June by Gayle E. Pitman and My Princess Boy by Cheryl Kilodavis. The objecting patrons then took the library's decision to court, where the original decision to keep the books was upheld.
Why I'm Talking About It: Libraries hear challenges on books all the time, but it does my heart good to see a library publicly support marginalized groups, especially in a traditionally conservative state like Texas. Many of the patrons who spoke out against the books said that their presence was an affront to traditional child-rearing practices and an inappropriate use of tax dollars, but the director, Courtney Kincaid, said "We have lesbians and gays in the community and they deserve to have items in the collection for themselves or for their families," and told concerned parents to just find something else to check out. I don't think I need to explain how BS these patrons' objections are, but I just want to send out a fist bump to Ms. Kincaid and her library for supporting their LGBT community.
The Story: Musical Instruments Circulate in Canadian Public Libraries
What It's About: Canadian public libraries start lending out musical instruments, with help from talent agent Shaw Saltzber and Sun Life Financial
Why I'm Talking About It: Because I need to move North! First Canada had a Sharing Depot Library of Things where folks can borrow just about anything (stuff to throw a party! equipment to mow your lawn! camping gear!). And now Canadian public libraries have partnered to create a library lending musical instruments – over 100 instruments ready to check out in Vancouver, and 200 in Toronto public libraries. It's such a great idea that serves a public need. In fact, as my young nieces and nephews go back to school and try to decide which instrument to pick up this year, and the school is short on them and parents are in no rush to buy an instrument outright if it's only to be used for a semester – this is a brilliant idea.
Library patrons can borrow one instrument at a time for up to three weeks, and can even check out sheet music or books to show them how to play the instruments. It' the perfect reason to renew that library card or get one for the first time. Just make sure to return the instruments in good condition. Vancouver Public Library is already working on collecting gently used instruments to supplement the collection, and partnering with local music schools to determine just how gently used the donations are, and to repair instruments already in the collection. There's something for everyone: you can borrow classics like a clarinet or trumpet, or go crazy and try out instruments from around the world, like a doumbek drum from Egypt and a cajón (percussion instrument) from Peru. All good fun.
The Story: The Teacher-Librarian that Changed My Life
What It's About: Bill Gates writes about the librarian he met in 4th grade who changed his life by taking him "under her wing and helped make it okay for me to be a messy, nerdy boy who was reading lots of books."
Why I'm Talking About It: Taking an interest in a child and introducing them to books that spark their imagination is a powerful thing. Gates marvels at how Blanche Caffiere impacted his life, but I'm betting she did the same for many more children throughout the years.
The Story: Frugal Librarian Robert Morin Drove an Old Car, Ate TV Dinners — and Left $4 Million to His University
What It's About: A longtime cataloguer at the University of New Hampshire library lived a simple, frugal life while quietly amassing millions. He recently passed away at 77 years old, and left his estate to the school — which, to everyone's surprise, is worth $4 million. A portion of the gift is specially earmarked for scholarships so library support staff can continue their library-science education.
Why I'm Talking About It: Librarianship, at it's heart, is about serving the public and creating access to information and education, and here's a librarian who was truly devoted to that cause. Mr. Morin was apparently a well-known and unusual figure around campus. He always had Fritos and Coke for breakfast, a cheese sandwich for lunch, and cooked at home with just a microwave. People at the school knew him to smoke his pipe in the library courtyard where he loved to chat with students. His gift to the school is such a beautiful way to make an exit — the whole story just warms my heart. <3
The Story: High-tech Imaging Reveals Rare Precolonial Mexican Manuscript Hidden from View for 500 Years
What It's About: Hyperspectral imaging revealed that a pre-colonial Codex housed at the Bodleian Library was in fact a palimpsest, and an older, unique Mixtec manuscript was concealed beneath a layer of gesso.
Why I'm Talking About It: I love working in a public library, but when I read a story about researchers exhuming hidden histories in archives, I wistfully think of what my career would have looked like had I followed my original path in academia. The rational me knows that most archival work is monotonous, solitary, and routine, but sometimes I think of the excitement that would accompany discoveries such as these would make up for it. Plus, hyperspectral imaging just sounds like something out of the Ghostbusters movie. Very cool.