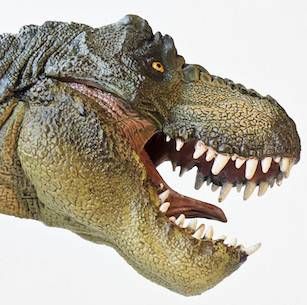 Lists
DINOVEMBER: An All-Ages Reading List
This content contains affiliate links. When you buy through these links, we may earn an affiliate commission.
Canadians celebrate their Thanksgiving in the wrong month, so that it gets swallowed by goblins and ghouls and come November it's like wtf do I seasonally decorate my door with now.
Dinosaurs, bitches. It's Dinovember.

Hooray!
Dinovember conveniently and low-keyedly bridges the gap between Halloween and Christmas. It requires zero preparation except maybe buying a few plastic dinosaurs and then moving them around your house after your kids go to bed. It has all the magical whimsy of Elf on the Shelf, with none of the Big Brother creepiness. It is fucking fantastic.
If you're feeling dinofestive, here are some dinoreads for every era age group.
All ages
[Edited to add, because I forgot, because in my head it was so obvious]
What the Dinosaurs Did Last Night
– Refe Tuma, Susan Tuma (originators of
Dinovember
and enthusiastic dinohijinxers)
The Smithsonian Dinosaur! Book is incredible and large and full of IMAGERY! And FACTS!
Dinotopia: A Land Apart from Time – James Gurney
Board books
Oh My, Oh My, Oh Dinosaurs – Sandra Boynton (this is basically the best book for babies ever written, dinosaurs completely aside)
Also Dinos to Go: 7 Nifty Dinosaurs in 1 Swell Book by her Boyntonness
The How do Dinosaurs (Clean Their Rooms; Say Goodnight; Eat Their Food) series – Jane Yolen
Goodnight, Dinosaur – Mark Jasper, Adam Gamble
My First Dinosaur Board Book – Dorling Dk

I am, actually. That's why I have so many board books.
Picture Books
Digger the Dinosaur – Rebecca Dotlich
Harry and the Dinosaurs: Roar to the Rescue – Ian Whybrow
Mad Scientist Academy: The Dinosaur Disaster– Matthew McElligott (comic)
Dinosaur! – Peter Sís (no words! Only pictures)
Winnie's Dinosaur Day – Valérie Thomas
Middle Grade
Feather Brain – Maureen Bush
The Magic Treehouse: Dinosaurs Before Dark – Mary Pope Osborne
Dinosaur Boy – Cory Putman Oakes
Jacob Two-Two and the Dinosaur – Mordecai Richler
Mom, There's a Dinosaur in Beeson's Lake – Trudi Trueit
The Fossil Factory: A Kid's Guide to Digging Up Dinosaurs, Exploring Evolution, and Finding Fossils – Niles, Gregory, and Douglas Eldredge
Young Adult
Z. Rex (and the rest of the Z. [Dinosaur Name] novels) – Steve Cole
Age of Reptiles – Ricardo Delgado (wordless graphic novel, KINDA GORY, not for littles)
Dinosaur Summer – Greg Bear
The Dechronization of Sam Magruder – George Gaylord Simpson
Emperor Mage, third in the Immortals series by Tamora Pierce (isn't ABOUT dinos but HAS dinos if you wanna be way less literal about this whole thing and also Tamora Pierce is so great)
Adult persons
Oh man, I though I was going to be short-changed with my grown-up-type dinovember reads, because all I could think of was Jurassic Park, but the dinosaur riches are an embarrassment. You got you some:
Non-fiction: My Beloved Brontosaurus: On the Road with Old Bones, New Science, and Our Favorite Dinosaurs – Brian Switek (on my nightstand rn and I am learning so much)
Classic Lit: The Lost World – Sir Arthur Conan Doyle
Romance: Love in the Age of Dinosaurs – Sorcha Lang
Noir: The Dinosaur Feather – S J Gazan, trans. Charlotte Barslund
Western: The Dinosaur Hunter – Homer Hickman
Medieval knights riding dinosaurs like they (the dinosaurs) are horses: The Dinosaur Lords – Victor Milán (I am beyond excited about this)
ALSO DINOSAUR EROTICA IS A THING THAT EXISTS I DON'T KNOW YOU OR YOUR LIFE MAYBE YOU'RE INTO IT ANYWAY JUST LEAVING THE WORDS TAKEN BY THE T-REX HERE AND RUNNING AWAY BYEEEEE.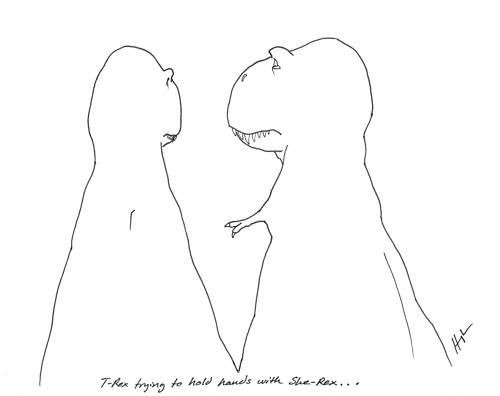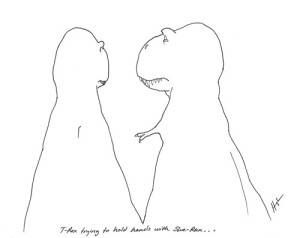 I just…I don't understand the mechanics. (Source)
What are your favorite prehistoric reads?
Save