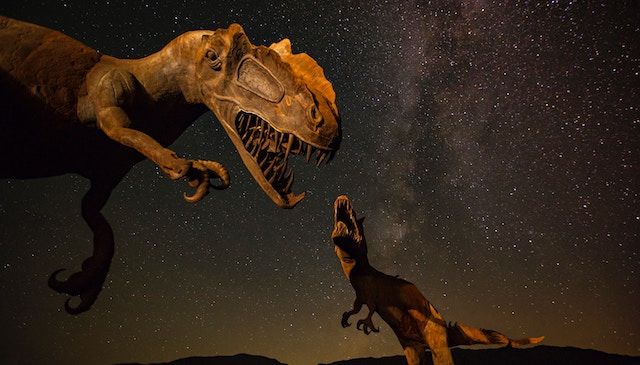 This content contains affiliate links. When you buy through these links, we may earn an affiliate commission.
Who doesn't love dinosaurs? There's a reason why these scaly creatures feature so prominently in kids' books, and that reason is, quite simply, that dinosaurs are amazing. There's a whole herd of dinosaur books for kids out there, some sticking closely to the facts, others diving into fantasy and alternate history, with options for readers of all ages. So grab your excavation tools, watch out for T-rexes, and find some new reads for your favourite dinosaur fan!
The Best Dinosaur Books for Kids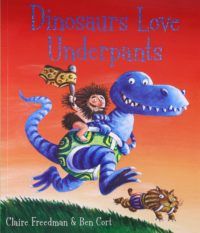 This fun, silly book gives an alternate (and delightfully inaccurate) reason for the dinosaurs going extinct. More Flintstones than factual, it tells the story of dinosaurs stealing newly invented underpants from Neanderthals, with colourful illustrations and lots of laughs for small readers.
If your kid is a budding palaeontologist, they'll love flicking through the beautiful illustrations and diagrams that make up Dinosaur Valley. With information on how dinosaurs become fossils, and a run-down of how palaeontologists carry out their work, this book will inspire future fossil-hunters.
Dinosaur Roar! by Henrietta Stickland and Paul Stickland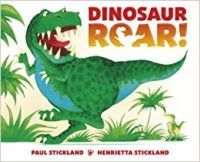 This classic picture book has recently been reissued, now in association with the Natural History Museum, and it's a brilliant read for parents and kids. Dinosaur Roar! has fantastic pictures, friendly and accessible descriptions, and, of course, plenty of opportunities for roaring.
The Pirates of Pangea by Dan Hartwell and Niall Cameron
One for middle grade readers, this comic explores an alternate world with potentially the best hook ever (no pun intended): pirates riding dinosaurs. Originally published in The Phoenix Comic, this collection is a rollicking adventure with characters so energetic that they seem to jump out of the page.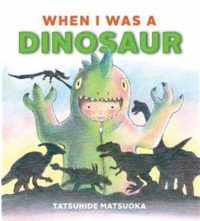 If you have a kid in your life who doesn't know if they want to learn about dinosaurs or actually be one (or both!), this is the book for them. In this gorgeous picture book, a little boy gets a dinosaur costume for his birthday, and ends up befriending a group of real dinosaurs.
This book is perfect for young readers who are full of questions about dinosaurs – when they lived, what they ate, how they interacted with each other, and much more. The interactive lift-the-flap answers make this a great read for a child and their adult, or for more experienced readers to tackle on their own.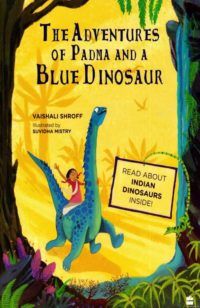 This dinosaur book for kids has something for everyone – a potted history of palaeontology in India, a bright and curious heroine, and a cute dinosaur companion. Follow Padma and her pal Bluethingosaurus as they learn all about the history of dinosaurs in India.
For very small readers with a big love of dinosaurs, you can't go wrong with this fun and comprehensive introduction. Each chapter features a different dinosaur, with plenty of exciting information and facts, and lots of suggestions for parents and guardians on activities to try after you've finished reading.
A sweet story about father-son relationships and found family, this picture book follows a T-rex who accidentally adopts a baby ankylosaurus (aka literally the best dinosaur, I will hear no arguments on this). Young readers will learn about the differences between carnivores and herbivores, and about how you don't have to be the same as another person in order to care about them.
Dorling Kindersley (DK) are famous for their children's nonfiction, and for good reason – their colourful and informative books have been popular for generations now, and this dinosaur book for kids is another great addition to their roster. With this encyclopedia, kids can learn about different dinosaur types, discover loads of fascinating facts, and look through the breathtaking illustrations.
One for the slightly older dinosaur fan, this book has details on nearly 400 dinosaurs, looking at the three major periods when these creatures roamed the earth – the Triassic, Jurassic, and Cretaceous. It also has plenty of information on non-dinosaurs who lived at the same time, such as ichthyosaurs, plesiosaurs and ptersoaurs, making it a great resource for anyone doing a school project or who wants to learn more about these early creatures.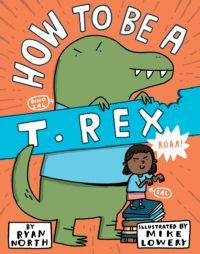 A cute story for younger readers featuring Sal, who has big plans for what she wants to be when she grows up. Instead of being something boring like a human, Sal knows exactly what she wants to be – a T-rex! Great to read as a family, this funny story teaches that it's great to stand up for yourself.
Knowledge Encyclopedia Dinosaur! by Darren Naish and John Woodward
Another one from DK, this book contains more fun facts, with information on dinosaurs, early lizards, and even woolly mammoths. This book comes with a great reference section explaining how we've learned what we know about dinosaurs, including a rundown of more modern techniques such as computer imaging.
I dare anyone to read this and not fall in love with the illustrations, or the cute, toddlerish dinosaur characters. Leaning more towards fantasy than fact, this story has a group of dinosaur kids arguing over who gets to use their new seesaw, in a tale that teaches the importance of sharing and friendship.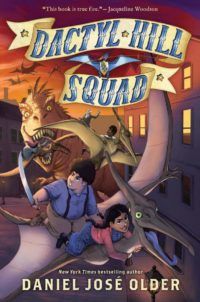 Middle grade and older readers who still love dinosaurs (and like I said at the beginning, who doesn't?) will enjoy this alternate history adventure. Set during a Civil War where Union and Southern soldiers ride raptors instead of horses, this story follows the adventures of Magdalys Roca and her friends, former residents of the Colored Orphan Asylum who learn to ride pterodactyls and take down the racist Magistrate Riker.
---
Whether adventure or encyclopedia, grounded in fact or flying on the wings of fancy, there are dinosaur books for kids of all ages and tastes. If you're looking for more inspiration for early readers, try 7 Dinosaur Books for Preschoolers. If you're an adult who still loves dinosaurs, firstly, hi, can we be friends, and secondly, top up your TBR pile with 10 Terrific Dinosaur Books for Adults.