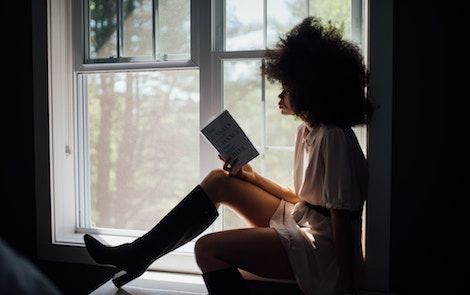 Nonfiction
What Are the Major Differences Between Memoir and Autobiography?
This content contains affiliate links. When you buy through these links, we may earn an affiliate commission.
Feeling confused about the difference between memoir and autobiography? You're not the only one. The terms are sometimes used interchangeably, and there is a lot of overlap between the two, so confusion is understandable. But there are some basic differences that will help you distinguish between them and make sure you are using the most appropriate word. Knowing the difference will help you choose what to read, as well: you should know what you are getting into when you pick up a book labeled memoir vs. autobiography.
First, let's discuss similarities between the two. Both autobiography and memoir are first-person accounts of the writer's life. This means the writer is describing her or his life using "I" and "me" ("I did this, then this happened to me," etc.) One exception to this is that sometimes autobiographies are written in the third person (where the author refers to him or herself as "he" or "she"), but this is not common and rarely seen in contemporary writing. Mostly, both genres are about writers telling readers about their lives in their own voice.
That's pretty simple. What's trickier is figuring out what makes these genres different. So here's a breakdown of the difference between memoir and autobiography, that I'll discuss more below.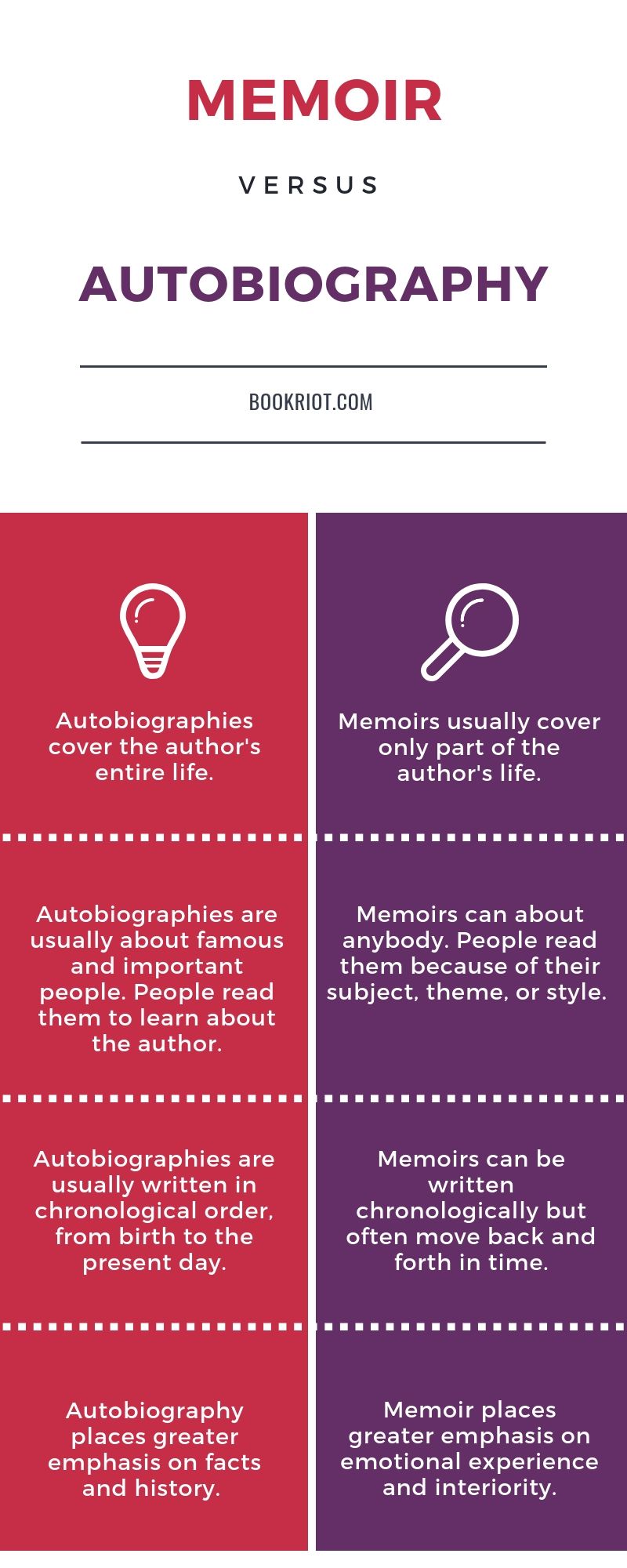 Memoir vs. Autobiography Basics
1. Autobiography usually covers the author's entire life up to the point of writing, while memoir focuses only on a part of the author's life.
There are going to be exceptions to every point on this list, but generally speaking, autobiography aims to be comprehensive, while memoir does not. Autobiographers set out to tell the story of their life, and while some parts will get more detail than others, they usually cover most or all of it.
Memoirists will often choose a particularly important or interesting part of their life to write about and ignore or briefly summarize the rest. They will sometimes choose a theme or subject and tell stories from different parts of their life that illustrate its significance to them.
As examples, The Autobiography of Malcolm X covers the major points of Malcolm X's life, while Abandon Me: A Memoir by Melissa Febos focuses mainly on two significant relationships (with her father and with a lover).
2. In autobiography, authors usually tell their life stories because they are famous and important. A memoirist can be anybody, famous or not.
Long Walk to Freedom, Nelson Mandela's autobiography, is a good example: he was an important person whose personal account of his life matters because of who he was and everything he accomplished.
For memoir, Mary Karr's The Liar's Club is not the story of a famous person; instead, it's an account of a regular person's childhood. Her childhood was especially eventful, but it doesn't stand out because she was famous. Memoirists do sometimes become famous, but usually it's for writing memoirs.
3. People read autobiographies because they want to know about a particular (probably famous) person. They read memoirs because they are interested in a certain subject or story or they are drawn to the writer's style or voice.
The Autobiography of Benjamin Franklin is a book people might read because they want to learn about an important historical figure. They may also have heard it's exceptionally interesting and well-written, but the desire to learn about a person who shaped U.S. history is probably the main motivation.
On the other hand, readers may pick up Roxane Gay's memoir Hunger: A Memoir of (My) Body because they want to read about food, weight, and body image. Or they may admire Gay's essays available online and want to explore more of her work. The motivation here is more about subject and style and less about the writer as a historical or cultural figure.
4. Autobiographies tend to be written in chronological order, while memoirs often move back and forth in time.
When readers pick up an autobiography, they expect it to begin with the author's childhood (or perhaps even with the author's parents' lives), to proceed through young adulthood and middle age, through to the time of the writing. Olaudah Equiano's The Interesting Narrative of the Life of Olaudah Equiano does just that, opening with his childhood and proceeding in a straightforward manner through time.
Memoirs, on the other hand, can be much looser in their treatment of time. Heart Berries by Terese Marie Mailhot shifts back and forth in time and has a structure more focused on theme than chronology. We finish the book with a sense of the major events of Mailhot's life, but not necessarily their order.
5. Autobiography places greater emphasis on facts and how the writer fits into the historical record, while memoir emphasizes personal experience and interiority.
Autobiographies are sometimes thought of as a form of history and they are used as source material for historians. While it's possible for both autobiographers and memoirists to get their facts wrong, the stakes are higher for the autobiographer who made history or witnessed historically-important events.
Frederick Douglass's Narrative of the Life of Frederick Douglass is important in part because of Douglass's work as an orator, statesman, and abolitionist. His historical stature adds to the significance of his book.
The facts matter in memoir, but it's understood that memoirists select and shape the facts of their lives to explore their chosen theme. Darin Strauss's Half a Life: A Memoir is rooted in a real-life event—a car crash in which Strauss accidentally hit and killed a classmate—but it focuses on the emotional aftereffects of this event rather than the historical context of Strauss's life.
---
And there you have it! Again, these distinctions are loose ones, but hopefully they have helped you understand the different connotations of the two words.
Want to read more about memoir? Check out this list of 100 must-read memoirs, this discussion of how to define the term "memoir," and this post on short memoirs.