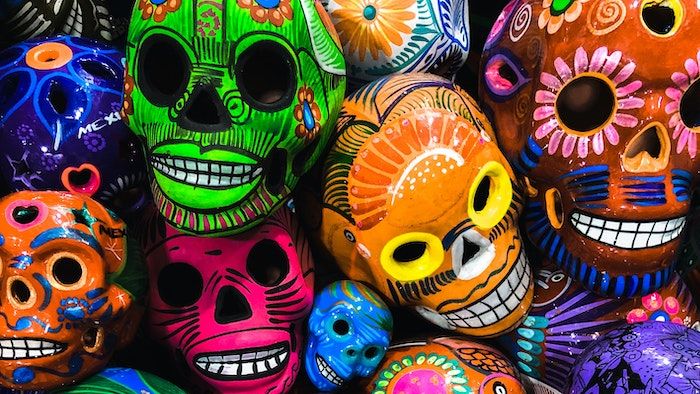 Lists
8 Books That Feature Día de Muertos
This content contains affiliate links. When you buy through these links, we may earn an affiliate commission.
Right off the bat, I want to say that I absolutely LOVE Día de muertos. I'm Mexican, and this is one of the things I love most about my culture. It's a very colorful, heart-warming, and somehow cozy tradition. I'll work my way to some books that feature Día de muertos. But first, let me talk to you a bit about the celebration.
In English, it's known as The Day of the Dead. Día de muertos is a Mexican tradition to remember friends and family (even pets!) who have passed away. Typically, you put up a type of altar called an ofrenda, and you fill it with food, flowers, photographs, sugar skulls, Catrinas, and other knickknacks that belonged to — or remind you of — the deceased. There's also pan de muerto — a delicious bread that's usually coated with sugar. But I digress. It's all very personal, so you can put whatever you want in your own ofrenda. Some people make them in cemeteries, but it's equally common to put up the altar in your house.
Día de muertos is celebrated the first two days of November, though some people put up their ofrendas way before that. It's celebrated those days because it's believed that that's when the veil is thinner. So the dead may cross over and enjoy the offerings set out for them. Be it because of that, or because you put up things that remind you of your loved ones, they feel closer during that time.
If that sounds like something you want to read more of, fret not! There aren't that many books about — or featuring — Día de muertos. Most of them are board books, but we already have a list for those. But, that's not to say there aren't any books about it. So I've compiled this list of eight books about/featuring Día de muertos and divided it by age and genre. There will be some nonfiction — so you can learn more about the tradition — plus some children's and young adult books.
So get ready for eight great books that talk about Día de muertos one way or the other.
Día de muertos Books
Nonfiction
Children's Fiction
Young Adult Fiction
---
If you want to read more about Mexico and Latinx books in general, check out our Latinx archives! We also have an archive about Latin American books that you can read.