4 Designers of Color to Follow For Beautiful Bookish Merch
We like to collect items inspired by our favorite books. We like to show them off on our shelves and line them up next to our books. We like to take pictures and show them to the world. But also we like to support the books and our fellow readers and designers who create these masterpieces. I want to highlight some of my favorite designers of color, so you can all go and check them out.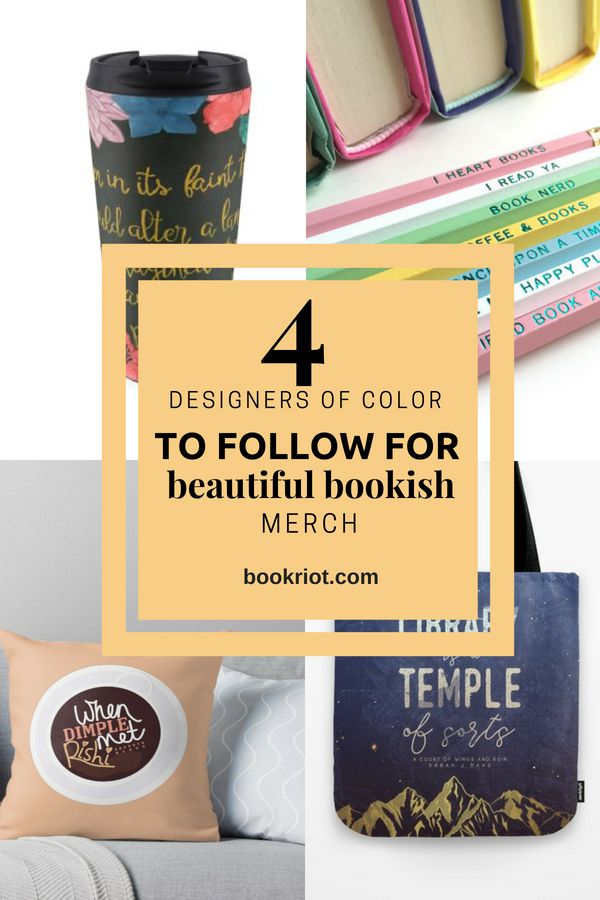 I love that you can pretty much get any design you want in every way possible. A tote? Check. A pillow? Check. A notebook? Check. And these designers have so many great creations that you can literally have a complete set of everything. I also got one designer who creates out-of-this-world beautiful bookish things like pencils and journals.
Check them out and I hope you click that button multiple times.
Mana from bookartbymana
when dimple met rishi typo + graphic (by the wonderful @smenonbooks) https://t.co/4XQa7NQbho pic.twitter.com/7Dmrq3XNPe

— mana ☆ (@lorenhaIe) June 5, 2018
What I love about Mana's designs (besides the beautiful style she has) is that she does bookish merch for underrated books. By underrated books I mean books that don't usually get all the hype or don't get a lot of merchandise created for them. Mana mixes art and typography so smoothly. She also puts on display catchy phrases from our favorite books so you can have them with you at all times.
In the tweet above you can see a design inspired by the book, When Dimple Met Rishi by Sandhya Menon.
Fadwa from Word Wonders Designs
🌺 Wild Beauty 🌺https://t.co/Wp1kJboCOu pic.twitter.com/e11F2R3nHK

— Fadwa 🐼 فدوى – PREORDER MIRAGE BY SOMAIYA DAUD (@wordwoonders) March 31, 2018
Fadwa is an amazing designer who creates magnificent pieces for diverse books. Seriously, she's so talented with a brush and her calligraphy is just perfect. Her designs are some of my favorites ever.
The design shown above is for the book, Wild Beauty by Anna-Marie McLemore.
Aentee from Read at Midnight
Here's an #ACOWAR quote I can agree with. On Society6: https://t.co/HLfZgXEkX9 pic.twitter.com/xtEXyMco67

— aentee 🌙 no peak clan + poppy army (@readatmidnight) May 18, 2017
Aentee's typography designs are paintings in a museum, I swear. Every single one of them should be in your house right this second. The colors she uses are so aesthetically pleasing and fit so well with the design. She has designs inspired by books but she also has book-related phrases like a "Currently Reading" quote, a "Treat Your Shelf" quote, and more! You will want to throw money to all her merch, promise.
Hafsah from IceyDesigns
Designer and soon-to-be author Hafsah is truly a shining sea star. Her debut novel just sounds epic and I'm sure it's going to be one of my all-time favorites. But she also creates beautiful things on her Etsy shop, including pencil sets, enamel pins, and the most gorgeous journals ever created.
Bookish merchandise is truly the cherry on the top of a sundae. When you finish a book and then you find out that there is merchandise inspired from that book you love. And they're all done with care and love, so I highly recommend to *one-click* them all.