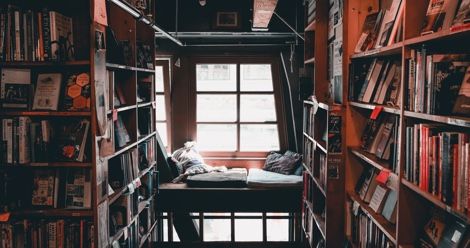 How To
How to Create the Perfect Reading Nook
It's a gloomy, cloud-filled sky October weekend. There are no responsibilities asking for your attention, for a few hours, and you are finally able to pick up a novel that you've been meaning to read for months. But, before you dive into that story, why not create the perfect, cozy atmosphere to read and relax for an hour or two?
Here are a few things that you can do in order to create the best reading nook in your own home.
Find the Perfect Space
Think about your favorite place to read at home. It could be an office where there are no interruptions to break your concentration on your story. It could be your living room or your bedroom where you are free to lounge and unwind with a novel in hand. Find that perfect space and claim it as your reading nook where you can see yourself devouring novels on rainy weekends.
Grab Some Pillows and Blankets for Your Space
Now that you've found the perfect place to read in, let's make it cozier! You can do this by getting your favorite blanket to throw over yourself as you read. Or you can gather some pillows to create the perfect level of comfiness. You can even make a blanket fort if one wanted to! It's all up to you. If you love layering blankets or having none at all, you do you!
Put on Your Favorite Comfy Outfit
Everyone has that one outfit that they put on whenever they want to wind down and relax, once they get home from a long day. For me, my perfect relaxing outfit is a pair of leggings and an oversized pullover. Whether it's simply putting on a pair of cozy socks or staying in your pajamas for a bit longer than usual, find something warm and inviting to wear when reading a good book. It will help you feel at peace for however long you decide to read.
Light Some Candles
Set the mood by lighting your favorite candle! I personally like wood wick candles because they crackle as they burn and can last for hours on hand. Woodwick candles never fail to makes me feel as though I'm sitting beside a fireplace as I read. They are perfect for a chilly autumn day spent indoors.
Get Your Favorite Drink and Snack!
Before you dedicate the next hour or two to read in your book nook, grab a snack and your favorite drink. There's nothing better than sipping on a drink you love while munching on some cookies when getting lost in your current read.
Open a Window
Push back your curtains, raise your window blinds, and open a window. Let the breeze roll into the room and listen to the subtle sounds flowing around you. By having sunlight stream into your room, you're making your space brighter and more inviting. Sunlight is sure to help raise your spirits and pour some happiness into you, and it also allows you to have a well-lit room to read in!
Turn on Some Lights
Decorate your reading corner with a glow of light that can either come from a lamp or some fairy lights, if you have some nearby that you can hang up around your space. Warm lighting helps with that extra level of comfort that every reading space needs in order to feel complete. Whether you have fairy lights to hang up around you or a nice reading lamp to brighten the space, turn on some lights to really complete the look of the space!
Lastly, enjoy your space!
Everyone has their own version of their perfect reading space in their home. Some may read in bed while others may have a miniature library that they snuggle in with a good book to read. Creating the perfect space to read in isn't hard. It's simply a place that you can find comfort in and call your own. Hopefully, these tips will help you create your very own personalized place to read that will allow you to dive into fictional worlds for hours on hand.