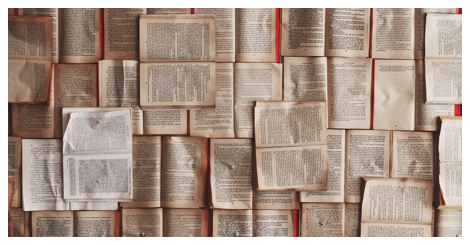 It started with a search for books about people who were on one path and then decided to get off that path and try another. I wanted stories about people quitting their job, strapping on a backpack, and trekking through Amazon. Or a story about a house painter who decided to go to medical school at age forty, or vice versa. Basically I wanted stories about people who made drastic changes in their lives – the more dramatic the change, the better. So I started searching. I Googled. I used the "more like this" or equivalent function on bookstore websites and in library catalogs. Eventually I ended up on Goodreads and discovered its treasure trove of sometimes helpful, other times confounding, and almost always delightful idiosyncratic book lists.
Falling Down A Rabbit Hole
It sometimes feels like I spend nearly as much time reading about books as I do actually reading them. Reading lists of book titles are yet another rabbit hole I often find myself falling into. Fortunately it is a pleasurable fall, as reading lists make for interesting, informative, and often funny reading. I'm not talking about lists written by professional reviewers. Those can be useful but are usually not that entertaining or surprising. No, the book lists I'm talking about are the ones created by readers.
Book lists are readily found on the internet. Personally I have a special fondness for those on Goodreads. I adore their odd specificity and uniqueness, especially their titles. They provide a peek into how people think and feel. I mean you create a list like "Gay Romance Featuring a Vegetarian/Vegan MC" or "Best Accidentally Pregnant in Romance Novels" for a reason. The lists are a testament to the creativity and taste of their creators. A not insignificant amount of my time has been lost to these lists.
Searching and Findability
As a librarian and information professional I also appreciate the lists for the insight they offer into how people categorize, describe, and think about books. Part of my job involves thinking about how people search for things. It doesn't matter what the thing is – it could be a book, movie, court opinion, database, or anything else. Knowing how a person will conduct a search informs how items are described and systems are designed. This includes anticipating what keywords a person might use to search to find the thing they want. What's interesting about reader generated book lists is not just the books on the list, but the range in the type and degree of description of the lists' titles.
Many list titles are simple and straightforward, referencing a genre, theme, favorite books, or some combination thereof:
Best Steampunk Books
Penguin Classics
Favorite Historical Romance Novels
Best Survival Stories
Best Southern Gothic Literature
Other lists are similarly straightforward but more descriptive and specific:
I found a few of the dramatic life change stories I was looking for on Escaping the Grind–Books About Leaving It All Behind, a list of books whose premise is picking up and leaving for a remote, tropical, or other adventurous destinations.
If cheating heroes and heroines are your thing see the list Cheaters.
Deaf, Mute, Speechless Romance Heroes and Heroines highlights romance novels with main characters who have hearing or speech impairments.
Damsels in Shining Armor & Dudes in Distress focuses on lady rescuers and their gentlemen love interests.
If you're looking for suspenseful or psychological thrillers written by women and featuring female protagonists, then check out the list Female Psychological Thrillers/Suspense.
If the current political situation has you worried about the future of America, the list Dystopian Novels That May Soon Become Reality in Trump's America might interest you.
Quirky and Confounding Titles
My favorite lists are the ones with interesting or quirky titles, especially the ones that are so idiosyncratic that the only way to discover them is by accidentally stumbling across them because I would have never thought to look for them. Then there are the lists that I look at and just wonder why.
I thought Dangerous Books – Fiction That Bites and Stings had something to do with insects and reptiles but turns out it refers to the kind of books Franz Kafka talked about, books that "moved you, changed you, and worked their way into your soul."
Intoxicating Books could have gone in one of two ways – books about alcohol or books that overwhelm and exhilarate you. According to the description it is a list of books for what "ales" you, so the former.
There Ought to be a Band is not a list of books about rock stars or music, but rather a list of books whose titles would make a good name for a band or an album.
Love for sparrows, much love is an accurate title for this list of books about sparrows but I can't help but wonder why this lists exists.
The titles of some book lists are accurate enough but don't make it easy to find books, at least not in a conventional way. Take lists that reference colors for example. I get how a good cover sticks with you. The reddish-orange hair of a woman bent at the waist and wearing a cornflower blue skirt against a deep blue background on my copy of Paulo Coelho's The Witch of Portobello is a cover I'll never forget. Still I wouldn't think to search for it by searching for books with blue covers. But apparently lots of people do in fact categorize books based on color or the suggestion of color. Examples of such list include:
Cold Colored Covers
M/M Romance With (Mostly) Green Covers
Sapphire from the Deepest Ocean
Wrapped in Clouds
Fair is the Red Rose
Purple Mists Turning into Fabric (Who knew there were enough books with covers of purple mists turning into fabric to make a list!)
Reading through book lists on Goodreads got me thinking about the lists I would like to see or create. A couple of lists I'm working on now are:
Girls & women do what they want and the world just can't handle it: The title says it all. Number one on the list will be The Secret Place by Tana French.
Hidden Depths: A list dedicated to characters whose suburban personas belie surprising backstories like Rebecca Miller's The Private Lives of Pippa Lee.
What lists do you want to see or create?