Crafting
Rockin' Around the Book Tree: A Roundup of Festive Ideas for Decorating with Books
The holidays are upon us—I am listening to Mariah Carey as I type—and you're probably planning your decor. Are you using books? Why not? If you need some inspiration, here's a roundup of cute ideas for decorating with books this holiday season.
Book Trees
This book tree from National Bookstore is huge and amazing. The inclusion of snowpeople, garlands, and flowers is what makes it so eye-catching!
I also love this smaller, slightly different take on a book tree because it's something you can easily make at home, even in a small space. As long as you don't mind sacrificing a few hardcovers. I love the use of twinkle lights!
Here is a more conceptual, minimalist take on a book tree.
And here is a very lovely small book tree, complete with a star.
Bookstore And Library Displays
Romance bookstore The Ripped Bodice in Los Angeles always has wonderful window displays. This year, they've created an entire fireplace and chimney from books!
This is an extreme and amazing way to decorate with books from Starfield Library in Seoul!
This book Grinch at Denali Elementary Library is DELIGHTFUL.
As is this wonderfully cheery snowperson at Andover Public Library.
This snowperson has a reindeer friend!
This Barnes and Noble location has made a wreath out of books.
Type Books in Toronto has a lovely banner made from the pages of books.
Bookish Holiday Crafts
How adorable is this book ornament? It looks like little hearts cut from the pages of a book. I want it. (P.S. If you do, too, it's available on Etsy along with lots of other lovely book ornaments from the same seller.)
I ALSO love these wee little ornaments crafted out of books—they look like presents! Good news, they are also for sale on Etsy.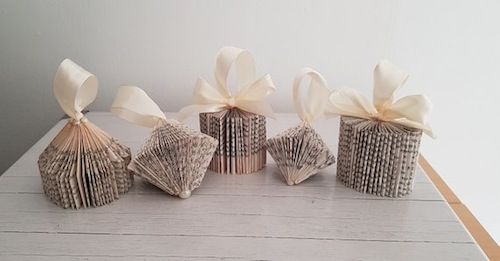 Perhaps you're crafty enough to make a wreath out of pages from a book?
https://www.instagram.com/p/BpC4kMMFihD/
There is also the option of decorating with books—as in literally hanging up teeny tiny books—which I am 100% in favor of.
https://www.instagram.com/p/BnwwSYpn16e/
Or perhaps sending a nice holiday message through a book? This is made by folding pages.
If you're going to create your own folded message, might I suggest "Happy Bookmas"? And find more tips for decorating with books for the holiday season right here.