Comics Newsletter
DEADMAN: DARK MANSION OF FORBIDDEN LOVE is the Queer Gothic Romance Comic We've Always Wanted
This content contains affiliate links. When you buy through these links, we may earn an affiliate commission.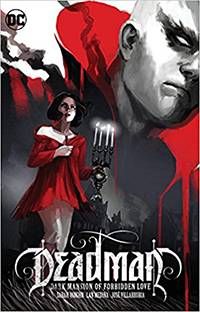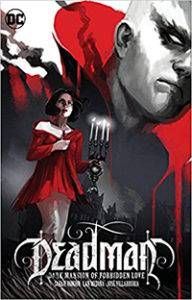 A few months back, I was browsing through the new releases on ComiXology when I came across a book I had never heard of, but which immediately looked intriguing: Deadman: Dark Mansion of Forbidden Love, by Sarah Vaughn, Lan Medina, José Villarrubia, and Janice Chiang. The title and cover promised something we almost never see in contemporary comics: a throwback gothic romance. And, the prominent use of red gave the whole thing a strong Crimson Peak vibe. So, of course I had to give it a try.
Wow, am I glad that I did. As I dove into the book, I discovered Deadman: Dark Mansion of Forbidden Love is the queer gothic romance comic we've been waiting for.
If you've never heard of Deadman before, don't worry. Here's all you need to know: Deadman used to be a circus aerialist named Boston Brand, who was murdered during a performance. After his death, he was tasked with helping to better the lives of others. But, as a ghost, he has limited tools at his disposal, so he primarily resorts to possessing those around him to interact with others.
But while Deadman's name might be in big letters on the cover, but he is at best co-lead, sharing the stage with Berenice Yoon Milonas, who takes centerstage for most of the book. And it is Berenice who makes this such a delightful read.
In classic gothic fashion, Berenice finds herself living in a creepy old mansion while her fiancé, Nathan, finishes writing his book. But, Berenice has the power to see and interact with ghosts, making life in a creepy old mansion extra creepy.
At Berenice's side through all of this is her "pal" Sam. From the beginning, it's clear there's some intense chemistry going on between the two of them, which Berenice pretty much acknowledges right up front. "The moment I saw them I knew, deep in myself, that this person was someone who was meant to be in my life, that I needed to know them."
Notice those "thems" in there? Sam is non-binary, and Vaughn and Medina deal with this absolutely effortlessly. Early in the first issue, Deadman misgenders Sam, leading Berenice to explain, "Ah, Sam uses they/them pronouns. They're non-binary. Not a woman or a man. Just awesome."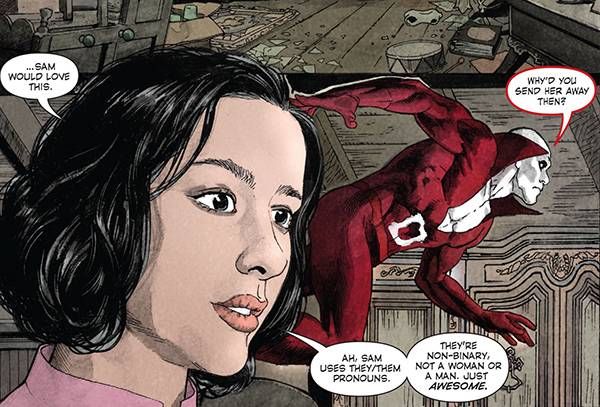 While webcomics are slightly better, there are practically no non-binary characters in Big 2 comics. The closest I could come up with is Marvel's Loki, who is more genderfluid than non-binary. So, having a non-binary character in a Big 2 comic is—especially one who is both overtly recognized as such in the text and treated with respect—a big deal.

It's an even bigger deal that Sam is not just a supporting character, but also one of Berenice's love interests. (Remember that writer fiancé mentioned earlier? He's the other.) Vaughn and Medina give Sam a genuine depth of character—they are genuinely believable and, as Berenice said, "just awesome." Even more impressive is how well Medina draws Sam, with a look and mannerisms that are neither male nor female. Everything about Sam is handled ridiculously well. Other writers, take note: This is how you do it!
If that weren't enough, Vaughn and Medina also overtly address the issue of consent in view of Deadman's possessing Berenice. This is a book that takes these issues seriously, and handles them in a way that feels naturally-integrated into the plot.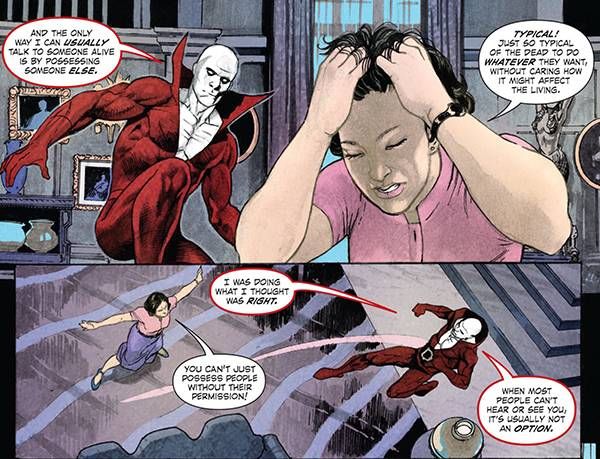 Ahh, yes, the plot… Berenice and Deadman must team up to help the ghost of Adelia Ruskin, who died under mysterious circumstances immediately after her wedding to the man who built the creepy old gothic mansion all of this takes place in. There's also a strange dark force that periodically lashes out at Adelia and the house's inhabitants. Basically everything you could want in a gothic ghost story.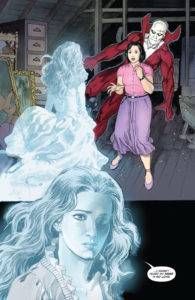 As if that were not enough, this is just a genuinely beautiful book to look at. Medina's art style is absolutely perfect for this sort of story. It is intricately detailed without ever being distracting. I am particularly impressed by Medina's clothing, which obeys the laws of gravity while looking incredible. And Villarrubia's colors give everything life, with a palette that leans heavily into pastels as well as earth tones, helping to accentuate the romantic aspect of the gothic setting.
Seriously, I love this book. I read a ton of comics, and Deadman: Dark Mansion of Forbidden Love is easily my favorite so far of 2017. If you have been looking for a nice gothic romance or have been craving some solid enby representation, go get this now. You won't regret it.