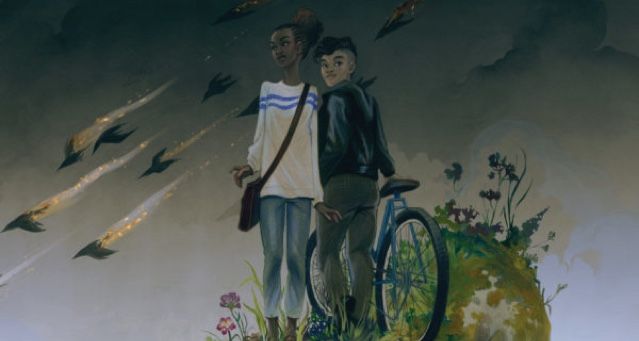 Comics Newsletter
Carmen Maria Machado Goes "Pennsylvania Gothic" in THE LOW, LOW WOODS
This content contains affiliate links. When you buy through these links, we may earn an affiliate commission.
Christmas is coming early this year, horror comics fans.
Though I should warn you, your gifts are in Joe Hill's hands which, if you've read or seen NOS4A2, you know will be an extremely creepy thing. Avoid covered bridges and pinwheels and turn down anything in a heart-shaped box.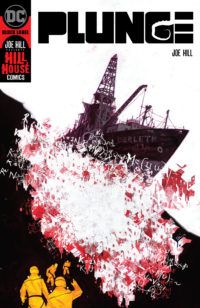 Still interested? I thought you might be. Here come the deets:
Locke & Key author Hill is curating Hill House Comics for DC Black Label, a pop-up line of five original, limited horror books that will feature titles from not only the man himself but Mike Carey (Lucifer, The Devil You Know), Laura Marks (Bethany, The Expanse), and Carmen Maria Machado (Her Body and Other Parties, In the Dream House).
Says the maestro:
"At Hill House Comics we aim to shock the senses and soak the page in red, with new, hooky horror from seasoned old hands and young masters of the field, all set free to share their most disturbing nightmares…for your pleasure! The books are backed by DC's second-to-none comic book craftsmanship, and we're working with the very best editors on parole from Arkham Asylum to craft unputdownable tales of menace and madness. I can't wait to share some fresh scares with comic book readers everywhere. It's going to be fun."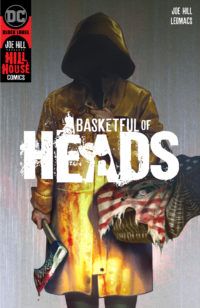 The line will launch October 30th (see? Goth Christmas!) with Hill and Massimilliano Leomac's Basketful of Heads, "the story of June Branch, a young woman trapped with four cunning criminals who have snatched her boyfriend for deranged reasons of their own. Now she must fight for her life with the help of an impossible 8th-century Viking axe that can pass through a man's neck in a single swipe—and leave the severed head still conscious and capable of supernatural speech…"
Hill will also be working on Plunge with an as yet undetermined artist: In 1983 the Derleth disappeared, wiped out in a storm on the edge of the Arctic circle—the world's most advanced research vessel in the hunt for oil, lost in the aftermath of a tsunami. Almost 40 years later, the Derleth begins to transmit its distress signal once again, calling in to Alaska's remote Attu Station from the most forlorn place on earth…nothing could prepare the salvage team for the reappearance of the Derleth's crew from the island cave, no older than they were four decades ago, every one of them struck blind by an inexplicable infection…and yet capable of seeing in new ways, possessed of extraordinary powers and stripped of all but they last vestiges of humanity…
And Sea Dogs, a serial that will feature in each Hill House issue:
The Revolution is screwed.
In 1779 the pathetic American navy is a pile of smoldering wrecks choking the Penobscot River. Imperial Britain has amassed the mightiest fleet the world has ever known, led by the HMS Havoc, a 90-gun second rate that has sunk a forest of French, Spanish and American frigates, sketching a trail of devastation that stretches all the way from St. Kitts to Machias, Maine. The faltering Continental Congress can't hope to match England's sea power, and they're just desperate enough to make a deal with the devil…or even three. Spymaster Benjamin Tallmadge proposes allowing three lycanthropes to be pressed into British service aboard the Havoc…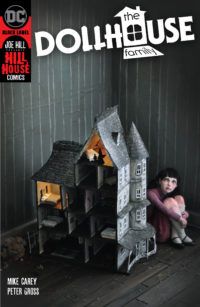 Heads will be followed by Carey and Peter Gross's The Dollhouse Family in which Alice, on her 6th birthday, is gifted with her dying great-aunt's big, beautiful 19th-century dollhouse, complete with a family of antique dolls. In hardly any time at all, the dollhouse isn't just Alice's favorite toy…it's her whole world. Soon, young Alice learns she can enter the house, to visit a new group of friends, straight out of a heartwarming children's novel: the Dollhouse family. As the years pass, Alice finds herself visiting their world more frequently, slowly losing track of where reality ends and make-believe begins. What starts as play ends in an eruption of madness and violence.
Childhood ends—but that little house casts a long shadow over Alice's adult life. When the world becomes too much for her to bear, Alice finds herself returning to the dollhouse and the little folk within. The house can offer her a shelter from all her sorrows…but only if she gives it what it wants, and god help her if she tries to walk away again…
Marks and Kelley Jones's Daphne Byrne, set in 19th century New York, centers on the titular character and the rage that builds inside 14-year-old Daphne after the sudden death of her father leaves her alone with her irresponsible, grief-stricken mother—who becomes easy prey for a group of occultists promising to contact her dead husband.
While fighting to disentangle her mother from these charlatans, Daphne begins to sense a strange, insidious presence in her own body…an entity with unspeakable appetites…
Carmen Maria Machado will be working with artist Dani on The Low, Low Woods, the tale of a mysterious plague afflicting the small mining town of Shudder to Think, Pennsylvania. It strikes seemingly at random, eating away at the memories of those suffering from it. From tales of rabbits with human eyes to deer women who come to the windows of hungry girls at night, this town is one of those places where strange things are always happening. But no one ever seems to question why…
Two teenage women try to uncover the truth about the mysterious memory-devouring illness affecting them and the people of the small mining town they call home—and the more they discover, the more disturbing the truth becomes.
Machado was kind enough to speak with me about her first foray into writing comics, the horror genre in general, and a very special thing she calls Pennsylvania Gothic.
Currently the writer in residence at the University of Pennsylvania, Machado grew up in Allentown, Pennsylvania, a more rural part of the state surrounded by not only farmland but steel refineries and coal mines, a few of which are still operational but most of which have been abandoned, along with many of the towns they once supported.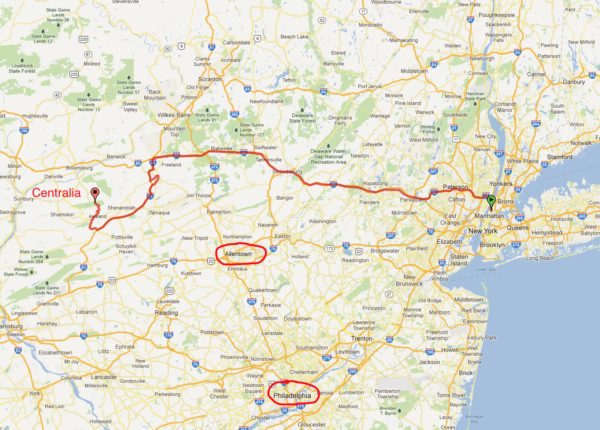 For fun, she and her friends would drive to Centralia, PA where a fire has been burning in one of the coal mines since 1962, the fumes so toxic that all but seven residents have fled the town and those who remain do so at special dispensation of the state. "We used to watch the smoke coming out of the ground," Machado told me. "I've always been interested in Pennsylvania as a gothic setting…in the way industries like coal and steel have chewed up the landscape in this horrifying way but it's a really beautiful place…" Machado said she's had the "Pennsylvania Gothic" setting in mind for a while but never found quite the right project for it until DC approached her about writing a comic for the Hill House line. "The idea of a comic…explaining how Pennsylvania feels, with this really heavy visual element, so a comic seems like it might be the perfect vehicle."
Machado used Centralia as an inspiration but says she ended up creating an imaginary town as the setting for The Low, Low Woods because she didn't want to be constrained by history. She does reference both the town and the abandoned resorts in the Poconos, "which are a really creepy setting," in the fabric of Shudder to Think (which could 100% be the name of a small Pennsylvania town). And while she doesn't use any specific Pennsylvania legends as part of her story, Machado does use the natural features of the state as monsters in the form of a deer woman, rabbits with human eyes, and trees that bleed. "Nature is unknown," she explained. "Even with all the technology and access, there are parts of the woods that are hard to get to and mysteries we don't fully understand…then you add the way people press into nature and nature pressed back and now you have a strip mine that's been on fire for decades and the people had to leave. I think there's something fundamentally creepy about that."
Horror is a genre, Machado explained, that speaks, "to the very intense anxieties we have," which is one of the reasons she chose to focus on the loss of memory in The Low, Low Woods. "I can't imagine anything scarier than waking up and remembering you've been somewhere but not remembering where you've been. Or knowing something happened to you but not knowing what happened. Memory is a very intimate thing. The most intimate thing. If you're in a group of people who are told their memories aren't what they remember them to be or are gaslit, I think that becomes a familiar fear." When I asked why she so often chooses to focus on body horror specifically, Machado explained, "Even the very basic metaphor inherent in monsters like werewolves, vampires, comes down to the question of what bodies can do and the ways bodies can fail and the ways they can hurt other people. We think about all the traumatic things that happen to us in our lives like puberty and sex and aging and illness and injury and eventual death, all those things are tied to the body. It's a really natural vehicle for exploring the marginalization of women and people of color and other marginalized groups."
While Machado has never written a comic before, she is a long time consumer of the medium, citing Strangers in Paradise by Terry Moore and the work of Junji Ito as some of her favorites. Though she spends the majority of her working life immersed in horror, she continues to read heavily within the genre and tends to choose horror films when given a choice.
My final question during interviews is usually what color the interviewees lightsaber would be but, as this was a special occasion, I asked Machado who her "Survive the night in a haunted house team" would be. She decided on Francine and and Katchoo from Strangers in Paradise.
Carmen Maria Machado's book of short stories, Her Body and Other Parties is available now. Her memoir In the Dream House is scheduled for publication on November 5th, 2019. The Low, Low Woods with artist Dani does not yet have a publication date but we'll update as more information becomes available.