Fiction
On David Duchovny's Fiction
This content contains affiliate links. When you buy through these links, we may earn an affiliate commission.
While we at the Riot take some time off to rest and catch up on our reading, we're re-running some of our favorite posts from the last several months. Enjoy our highlight reel, and we'll be back with new stuff on Tuesday, January 3rd.
This post originally ran August 21, 2016.
---
Academic and Sci-Fi fans rejoice.
I have an inkling that I'm a little bit late to the party in this discovery, but it turns out that Spooky Mulder writes books. David Duchovny, aka sex-crazed Californication's Hank Moody, Aquarius' Hardass cop Sam Hodiak and of course, the most lovable conspiracy theorist on television, is an author and academic. Duchovny graduated with an English Literature Degree at Princeton, and went on to become a Yale postgrad, graduating with a Master's Degree in English Literature, before putting his doctorate on hiatus to pursue a career in acting. So go figure.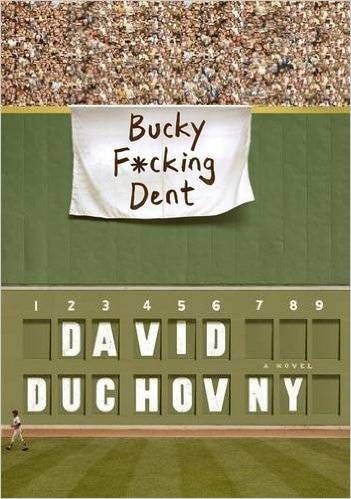 His latest novel Bucky F*cking Dent, which was released in April this year, is an infuriatingly great novel. I say infuriatingly because there's nothing overly complex about the formula here; guy has absentee father who was inattentive to him and his mother, they had a falling out after she died, then it comes to pass that said shitty father is terminally ill, and hijinks ensue when the angry son is disgruntledly obliged to try and mend that bridge. The dying father's grief counsellor happens to be a wonderful lady who Ted gets a bit of a crush on, and the rest is probably a given, yeah?
Maybe. But it's so friggen good, though. The story is set in the seventies, the angry son is Ted, a guy who works as the peanut guy at yankee stadium "throwing peanuts to the philistines" as his disapproving father refers to it, despite Ted's Ivy League education that was supposed to lead to him becoming a writer. Ted gets a call, he has to go down to the hospital where he meets the love interest Mariana, who delivers him the bad news that his father Marty is dying from cancer.
So Ted takes his father home, but after a really touching silence over the phone, Ted decides to move in with his father and look after him. There are tensions surrounding the subject of Ted's late mother, and his lack of a father figure during his childhood. Mariana occasionally comes to visit, and this impacts Ted and his attentiveness to his father and his appearance.
Ted notices that Marty's health/willness to exist depends upon the success of the Red Sox, who are going through a pretty rough season. So Ted, along with the help of the paper boy and his father's friends 'the Gray Panthers' stages the Red Sox's turnaround in success, in an attempt to keep his father alive longer. Meanwhile, Ted comes across an unfinished book that his father has written, which speaks of an affair and his father refuses to elaborate. So Ted and Mariana go on a quest to find the lady within Marty's unfinished story.
Bucky F*cking Dent is definitely a love story, but not your run-of-the-mill kind. It's filled with politically incorrect dad-humour, awkward courtships, bitter flashbacks, and a few things that might make you cry a little. The best book of 2016, as far as I'm concerned.
Duchovny's earlier book Holy Cow, is of the lighter variety, both in reading and in content. I managed to finish it during a four-hour train ride. A book that states that it is meant to be suitable for young adults, but the messages within the story are of a political nature that just about everyone should read.
Now, with this book, you need to know the mode you're in from the get-go. See, the story is told from the perspective of Elsie, a young cow living on a farm. She talks of the mundanities in life, bulls that show off for the cows, messing with the minds of crazy-intelligent pigs, and wondering why the farmer kid likes to take selfies when he's milking her. Anyway, one night, Elsie spies through the window of the farmhouse, something that makes her realise that she needs to leave the farm ASAP.
Along with her turkey and pig friends who decide they're coming along for the ride, they make a plan to break out of there to a place where they will be loved more than they are there. Although it was a lovely, breezy read, I didn't connect to this book as much as Bucky F*cking Dent. Having said that, there were some truly moving moments within this book, particularly within the area of animal rights and the affecting acknowledgment of sentience of the creatures we choose to eat.
So, in addition to a couple of books up his sleeve, a Master's Degree, and an impressive collective of film and television roles behind him, he is a musician as well, having created an album Hell or Highwater, which you can listen to here.
And in case you were needing any more reasons to love this guy, his bio pic in his books is none other than his headshot from X-Files.
If you're wondering what next to read, get onto Bucky F*cking Dent. It's such a wonderful novel. However, if you're feeling like you need a book hangover read, after a book that has broken your heart, have a look at Holy Cow, a gorgeous, easy read to inspire reading like a kid again.