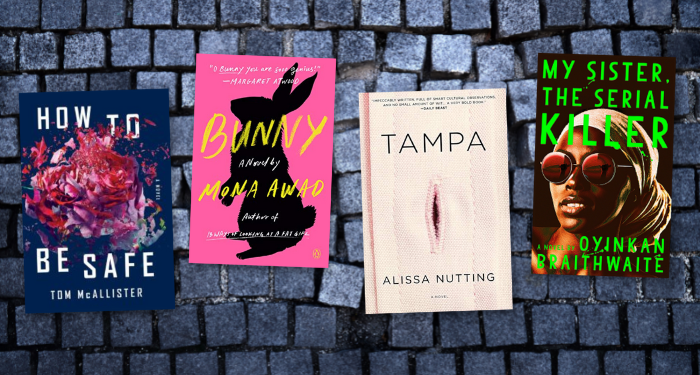 Lists
9 Dark Humor Books to Provoke Your Uneasy Laughter
This content contains affiliate links. When you buy through these links, we may earn an affiliate commission.
I have long been a fan of works that braid together the dark and the humorous. In 2021 especially, I leaned heavily on comedic horror to make it through a year of emotional overwhelm. As I DNF'd works of literary fiction and sweeping cultural critiques, my list of favorite reads included the likes of Grady Hendrix, Rachel Harrison, and Claire Kohda. Give me laughter, I demanded. Give me horror that is too outsized to ever be real.
But dark humor books are something else entirely. Not necessarily limited to horror alone, the word "dark" instead refers to the subject matter of the book, which in this particular genre is often considered taboo, serious, or far too painful to discuss. War is one example of a common theme in the genre. Poverty. Death. Disease.
The themes are horrific but, in employing humor, authors of these works can explore these topics while provoking serious thought, deep introspection and, yes, uneasy, uncomfortable laughter.
The titles in the list below sprawl across several genres. In addition to being labeled as dark comedy, they are also works of satire, dark academia, surrealism, absurdism, literary fiction and, yes, horror. No matter the genre, they're sure to make you think differently about everything from war to sexual violence to racism to transphobia. It should go without saying but, by dint of the genre, content warnings could be applied to all of the titles below. I appreciate, however, how all of the authors handle their subject matter with thoughtfulness and care.
---
If the thought of the books above makes you wince, perhaps you'd enjoy some full-on horror instead?