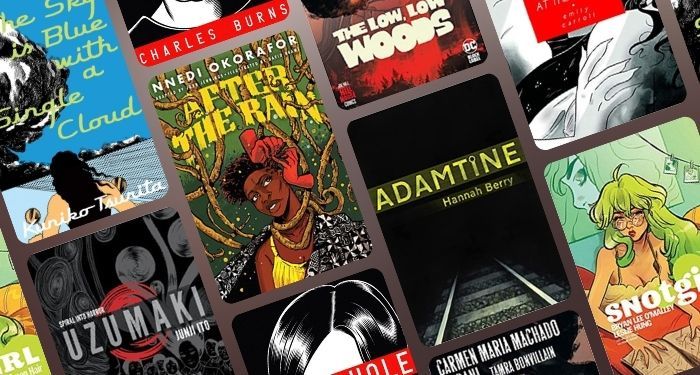 This content contains affiliate links. When you buy through these links, we may earn an affiliate commission.
I love a good weird, dark, twisty graphic novel. A book that transports you somewhere you'd like to not stay long. A book that leaves you guessing, reaching, wondering, Did that really just happen? Books that touch on the absurd, the uncanny, the strange — that tap into that dread and suspense that accompanies late-night goosebumps, a strange sound coming from your radiator, a tree branch tapping against your window.
And maybe it doesn't give you all the answers. It's up to you to put together the pieces. I know some readers don't love when loose ends aren't always tightly knotted by the end, but when it's done right, those loose ends are sublimely unsettling, the perfect way to evoke an extra strangeness, an extra element of the uncanny, and pull it into the pages. When a book leaves you deliciously unsettled, still tugging at dark shadows and mysteries, that's when the story is most likely to follow you off the page. You'll put your head down on the pillow and still be thinking about the empty spaces.
These eight graphic novels range from unconventional to darkly absurd to downright scary. The art styles range widely, and are some of the most creative and unique approaches I've seen — from Junji Ito's tight, spiraling ink work to Hannah Berry's rich greenish shadows. These books will keep you on your toes. From murderous influencers with bad intentions to a hypnotic horror taking over a town, from strange diseases to liminal spaces, the stories illustrated in these eight comics will capture your attention and refuse to let you go.
---
For more on graphic novels, discover how to train your brain to read comics and graphic novels, or find the best graphic novels to give beginners. Discover comics and graphic novels featuring women, or check out eight 2022 queer graphic novels and memoirs.